WWE: 3 Championship Reigns That Should Last Until 2017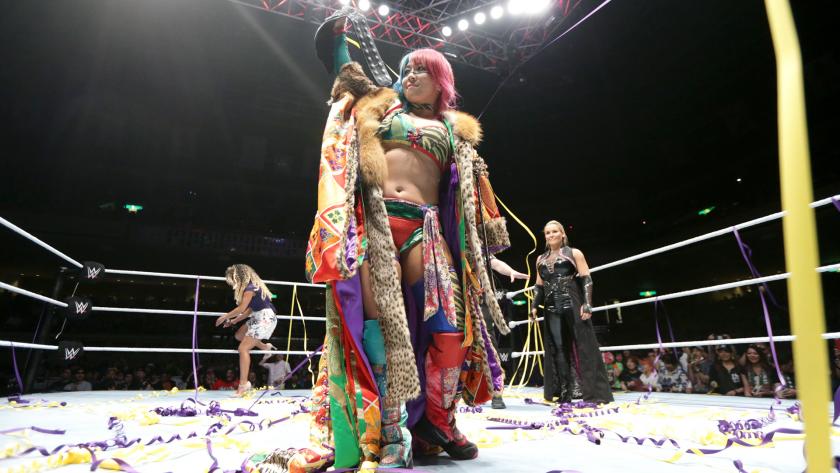 Some title reigns in WWE deserve to be over, but these three stars should be holding their belts until 2017.
WWE's title vault has nearly doubled this year, due to the Brand Extension. We saw the WWE Universal, SmackDown Women's, SmackDown Tag Team, and Cruiserweight Championships introduced over the past two months, which means more opportunities for the talent. Each of these belts has received their inaugural title holder (Cruiserweight Championship got reintroduced) since being brought to their respective show.
Here's a look at WWE's title landscape as of September 16:
Raw
Kevin Owens – WWE Universal Championship
Charlotte – Raw Women's Championship
New Day – Raw Tag Team Championship
Rusev – United States Championship
TJ Perkins – Cruiserweight Championship
SmackDown
AJ Styles – WWE World Championship
Becky Lynch – SmackDown Women's Championship
Heath Slater and Rhyno – SmackDown Tag Team Championship
The Miz – Intercontinental Championship
NXT
Shinsuke Nakamura – NXT Championship
Asuka – NXT Women's Championship
The Revival – NXT Tag Team Championship
Some of these reigns have lasted for most of 2016, while others recently began, like Styles, Lynch, Heath Slater and Rhyno winning at WWE Backlash. Nakamura even started as NXT Champion less than one month ago.
Title runs come and go, though. Ones like Zack Ryder's time with the Intercontinental Championship could last one day, or Seth Rollins with the WWE World Heavyweight Championship of nearly six months. Some of the ongoing ones should last for a while, though, given the available competitors and how well they've defended their titles.
So, which three WWE stars should continue their title reigns into 2017?
3. AJ Styles
We're fresh off AJ Styles winning the WWE World Championship at Backlash, so it seems like a no-brainer for him to remain champion until 2017, right?
Well, the statistics for 2017 may tell a different story.
Since Seth Rollins dropped the world title in November 2015, the belt hasn't been held for more than 84 days, which is astonishly low. Including the new Universal Championship, the top titles have changed hands six times in 2016, seven if you include Finn Balor winning at SummerSlam. If you include the final seven weeks of 2015, which was the post-Rollins reign, the belt traded hands three more times, none of which lasted more than 41 days. Has WWE turned their championships into a hot potato then?
This could all change, though, with Styles holding the world championship through the year.
The Phenomenal One is arguably the hottest heel in WWE. He's coming off two singles match victories over John Cena, which rarely anyone achieves. Styles then defeated Ambrose for SmackDown's top title, and sent his momentum to the moon.
Despite being placed into a title defense against Cena and Ambrose, it's difficult to think that Styles will drop the belt to either one of these Superstars. Getting the most out of the former NJPW star's reign is a must, and needs longevity for it to become credible. So, working as champion through 2017, would work best.
2. Asuka
We're nearing the one-year anniversary of Asuka signing with WWE. It's been a whirlwind of a 12 months for her, as no NXT woman has been able to successfully defeat her. The list has built up over this time, featuring Bayley, Dana Brooke, Emma, Eva Marie, and Nia Jax. So, The Empress of Tomorrow hasn't just been defeating enhancment talents. She's a menacing force in the NXT women's division, and there's no indication of this ending.
As for her NXT Women's Championship reign, don't expect it to end in 2016, either.
The women's division got cleared out from April to July. This saw Bayley, Brooke, Carmella, Emma, Jax, Marie, and Alexa Bliss all receive a call-up. So, the brand is left a bit thin with established competitors, despite the abundance of talent. Aliyah, Billie Kay, Ember Moon, Liv Morgan, Nikki Cross, and Peyton Royce are among this group. While Moon has received the biggest push of them all, she's just one month into her NXT stay. Can the former Athena be booked as a threat that quickly? If not her, then there's no chance of the others dethroning Asuka in 2016.
Well, there is Morgan going for the Japanese Sensation. After winning two matches, she called out the champion. The Jersey Girl doesn't have credibility, and will likely be squashed in minutes.
No one is going to beat Asuka, at least in 2016. There needs to be a dominant player in the NXT women's division, which has yet to come to fruition with a handful of talent gone.
1. The Miz
One night after Zack Ryder surprisingly won the WWE Intercontinental Championship at WrestleMania 32, The Miz swooped in. Someone who always seems to be around this belt, the A-lister made it known that he wanted this belt back after last holding it in 2014. He played hot potato with Dolph Ziggler over the prestigious title.
Well, Miz defeated Ryder with help from his wife, Maryse, and set sail on what has turned out to be a lengthy reign of 165 days and counting. With three-and-a-half months left in 2016, the "never-ending reign" deserves to continue into 2017 more than anyone else.
The matches during this title reign haven't been consistent. They've either been red-hot, like at Extreme Rules and Backlash, or ice cold, as in the five-minute match with Apollo Crews at SummerSlam. However, the character work has outweighed all of this.
The Miz had been entertaining since realigning with Maryse in April. It gave his character needed life and an extra layer, which he has been able to do almost flawlessly for two years. He's been arrogant and full of himself, but it works.
What everyone will remember about this title reign is the now classic WWE Talking Smack promo, where the former Tough Enough star laid into Daniel Bryan. He insulted the former WWE World Heavyweight Champion for not going back in the ring, and speaking about his lack of injuries while wrestling. This infuriated Bryan, who walked off the set. Miz proceeded to yell into the camera and finished off potentially the best promo of his career.
An explanation of what happened doesn't do this justice.
Miz would then enter a program with Ziggler, which saw the former retain the belt via help from Maryse. They received 18 minutes to tell their story, the longest IC title match since Extreme Rules. This shows WWE is taking this title reign seriously, but more importantly, they're investing time in the 35-year-old. It's something that seemingly has no end in sight, which is for the best.
Seeing the great work that Miz has done with the title crumble soon after his momentum rose would be a mistake. This should last into 2017, potentially up to WrestleMania, where a momentum-filled babyface could capture the title and end this reign.
This article originally appeared on