Why Austin Aries is Perfect for WWE 205 Live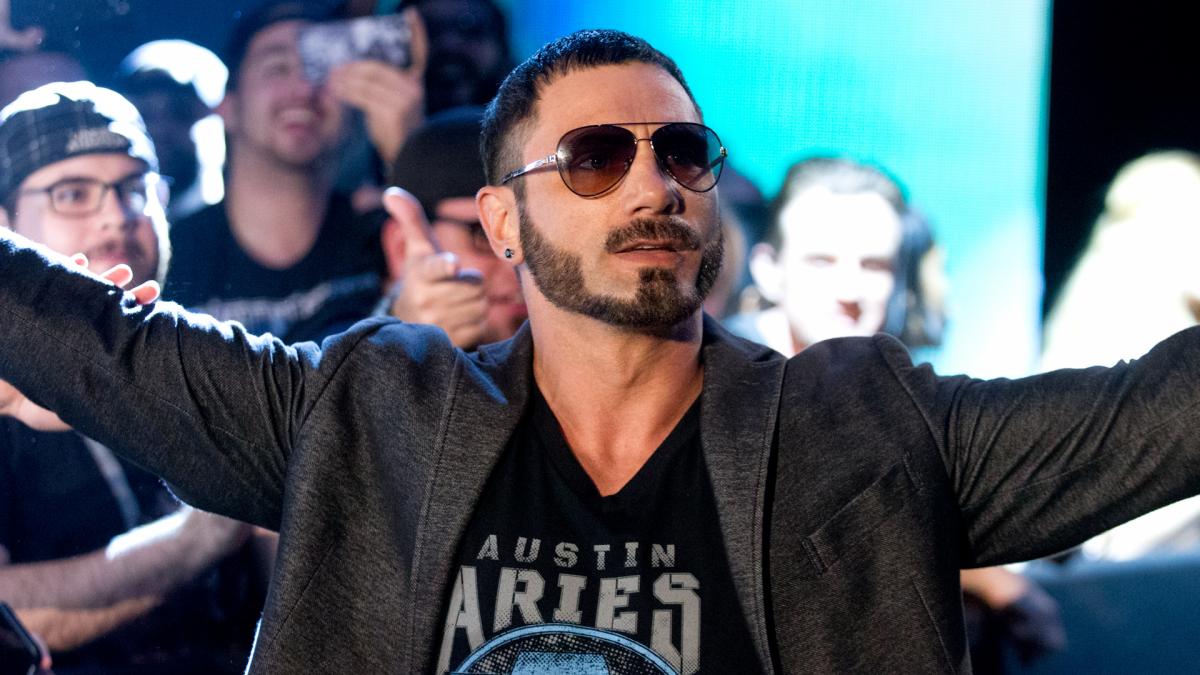 Being a part of 205 Live could be the perfect role for the Greatest Man That Ever Lived, Austin Aries.
205 Live premiered last night, and at the start of the show they introduced the roster of superstars who would be appearing on WWE Network's newest program. The lineup included not only stars who have already made WWE appearances since then, such as TJ Perkins, Brian Kendrick, and Rich Swann, but also new faces such as Jack Gallagher, Akira Tozawa, and plenty of others. But one name that was announced was that of one of the men behind the announce table, and no I'm not expecting Mauro Ranallo to step into the ring anytime soon.
Austin Aries made a somewhat surprising appearance on 205 Live as he joined Ranallo and Corey Graves on commentary. Even more surprisingly, he made his intentions immediately known, saying he was going to be a part of 205 Live and pursue the Cruiserweight Championship. It appears that the only reason he isn't already competing on the show is due to the eye injury he suffered a few months ago that has kept him on the shelf since.
Some are critical of 205 Live and the Cruiserweight division as a whole because it relegates a lot of talented superstars to one level of competition, while guys like Finn Balor and Sami Zayn, who could compete under the 205 pound weight limit as well, are free to compete in whatever they choose. But moving to the Cruiserweight division will be nothing but a good thing for Aries. In fact, it's the perfect fit for both him and 205 Live.
Sure, Aries probably could have found success in NXT if he chose to compete there exclusively. But being a part of 205 Live makes too much sense for him in the short term. The biggest reason being that he makes the show and the Cruiserweight Championship feel more important than it already does.
Aries is the one superstar on the 205 Live roster who did not compete in the Cruiserweight Classic. That shows that 205 Live isn't just going to be the show where the guys from that tournament are sent to compete. Instead, Aries makes it seem like something to shoot for. It's an honor to compete on 205 Live and chase the Cruiserweight title. After all, Aries left (or will at least split time between) a brand that would likely have allowed him to chase a world title, that being the NXT Championship. The only thing that would make it seem more important is someone like the aforementioned Balor coming there to compete, but obviously that won't be happening anytime soon.
Aries competing there also adds another name brand to the show. In the long-term, 205 Live will look to build up names like Gran Metalik, Cedric Alexander, Tony Nese, and everyone else on the roster. But in the short term, it certainly doesn't hurt to have someone like Aries who, in addition to The Brian Kendrick, will be nationally recognizable to fans who may not have watched the CWC or kept up with the Indie careers of its participants. His TNA tenure makes him a name that any wrestling fan who is at least aware of the existence of non-WWE promotions should recognize.
Joining 205 Live is one of the most mutually beneficial moves Aries could make. When he does finally step through those purple ropes for the first time, the show and the Cruiserweight division as a whole will receive a huge boost.
This article originally appeared on