Seth Rollins Jumps from Top of Steel Cage on WWE Raw (Video)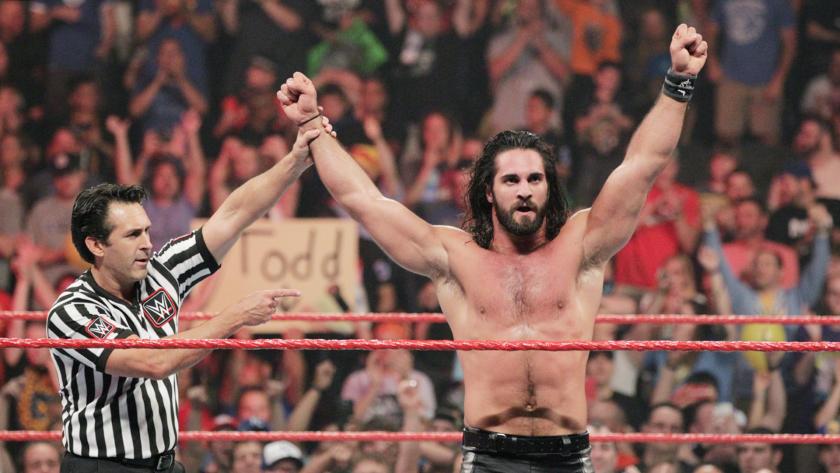 To close out WWE Raw, Seth Rollins took a leap of faith from the top of the steel cage.
Seth Rollins has been making the transition from heel to face on the past few weeks of WWE programming. This started after Triple H interfered in the second-ever Universal Championship match, turning on Rollins to help Kevin Owens win the title. The Owens vs. Rollins title match would be set for WWE Clash of Champions for Sunday, September 25.
On the go-home episode of Raw, the main event saw Owens battle Roman Reigns in a Steel Cage match. The result saw the former Shield man win after successfully climbing out of the structure.
Afterward, Rusev ran out to attack Reigns. KO assisted him in the ring with the assault, until Rollins made the save.
However, what The Architect did saw him take a grand leap of faith. He stood atop of the cage and jumped, landing on The Bulgarian Brute and Owens to close the show.
This leap placed an exclamation point on the evening, which leads us into Clash of Champions.
The dynamic of this closing moment is interesting. Rollins making the save for someone who he's feuded with for a few years doesn't make the most sense. Maybe we'll get a succeeding segment on this soon. However, it's not a guarantee with WWE's inconsistent continuity.
Leaping off the cage did mark a significant moment in Rollins' babyface turn, though. He got a big pop when his entrance music played, and the crowd cheered for the jump. We could see similar things from Rollins on Sunday, when he has his first babyface PPV match in over two years. Will he walk out of Clash with the Universal Championship?
What did you think of Seth Rollins' leap off the cage?
This article originally appeared on