Samoa Joe Comments on His NXT TakeOver: Toronto Win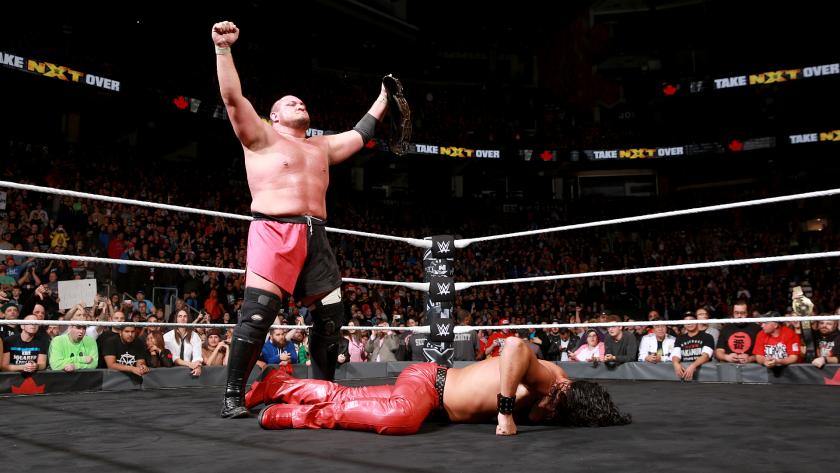 What did Samoa Joe have to say about his victory over Shinsuke Nakamura from NXT TakeOver: Toronto?
The main event of NXT TakeOver: Toronto pitted Samoa Joe and Shinsuke Nakamura against each other for the NXT Championship. Nakamura had won this from Joe at TakeOver: Brooklyn II, with the build toward the rematch taking place throughout the past three months. The Samoan Submission Machine had been owed this all along, so the title match announcement for Toronto came as little surprise.
However, what did come as a somewhat shocking result was Joe beating Nakamura to become the first-ever two-time NXT champion at TakeOver. This also handed the King of Strong Style his first loss in WWE since arriving in April.
Well, about an hour after TakeOver ended, the new NXT champion took to Twitter to comment on his match and promise he made.
This is true. Very true.
Not often do titles change hands in rematches, but that became the case here. Something that had normally been an anomaly has become somewhat of a trend in WWE in 2016. This started with the Revival winning back the NXT Tag Team Championship from American Alpha at TakeOver: The End. Then, Charlotte not once, but twice won rematches against Sasha Banks to reclaim the Raw Women's Championship. So, WWE has provided a bit of a shock factor with the second (or third) go-around with this championship matches.
However, Joe winning back the title from Nakamura, arguably the top star of NXT, may have been the biggest upset of them all. We'll now get another rematch between the two, potentially to close the year or in early 2017. If the former NJPW star loses, could he be on his way to WWE's main roster?
All we know for sure is the reign of Samoa Joe has restarted. We'll see what's next for him after the NXT TV taping on November 30.
This article originally appeared on