Paige's Redemption is Crucial for WWE Return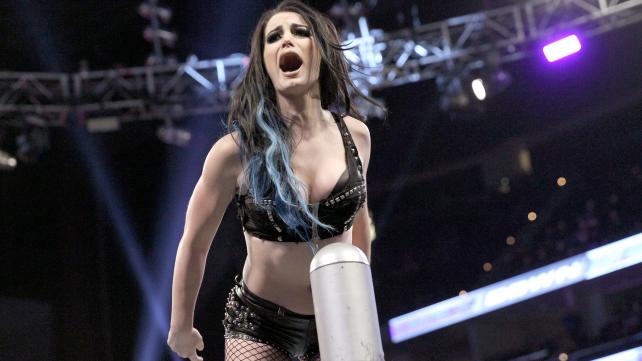 Now that Paige's suspension has ended, her comeback has all but happened.  One thing is for certain, she has a lot of work to do to get back on top of the WWE Women's Division.
Paige has recently broken her silence last week via social media.  In a statement posted on Instagram, she denied rumors of leaving the company and addressed her wellness policy violation.  The former anti-diva cleared the air about her WWE career and left it at that.
Perhaps in her case, the details about her personal life are better left unsaid.  Since the summer, Paige has been in the gossip mill of WWE fans when she and boyfriend Alberto Del Rio went public.  Now that Del Rio has officially left the company; Paige can focus on her return to the ring.
Which that bring this topic to just that.  Paige has just come off of her suspension, resulting in rumors running wild concerning her.  While we don't know how she will return in what capacity just yet, it has been a long time coming.  Paige has all but disappeared from the scene as it has been reported that she has dealt with numerous injuries through the year.  2016 hasn't been kind to the former Divas Champion thus far.  Her fans can only hope that she can finish the tumultuous year off strong.
Paige must redeem herself if she wants to be taken seriously in the new Women's Division.  It should be all business and no BS from here on out.  It has been far too long since Paige has made any kind of impact in the ring.  Paige must use her second chance to remind fans why she was the first NXT Women's Champion, and why she has helped change the game in the Divas/Women's Division transition period.  Whatever storyline she is a part of, she must excel in her role.  Paige is too young to have a throwaway career.  She has many years and so much potential ahead of her.
When Paige does return, which direction could she go in?  The great thing about Paige is that she can go as a face or a heel.  With the female talent that occupies Raw, fans are most certainly in for a possible surprise in regards to who she could feud with.
Scenario One
With Alicia Fox v. Nia Jax part two at Clash of Champions this Sunday, could Paige return to back up her friend this time around?  Paige and Fox's friendship has been highlighted on Total Divas.  However, Fox isn't part of the cast anymore, so between that and this match being on the pre-show, this may seem unlikely.  But a Paige return could make a hot start for the night on Sunday.  I could see something similar to Gail Kim v. Awesome Kong if Paige were to feud with Nia Jax.  Overcoming Jax would be a huge stepping stone to the Women's Championship picture.  However, the Championship picture is stacked right now.
Scenario Two
There is a lot of tension concerning the Women's Championship picture on Sunday.  Bayley has been added to the Championship match on Sunday, making the match a triple threat between her, Sasha Banks and Charlotte.  The glory days of the NXT Women's Division will be spotlighted once more, however, Dana Brooke is in the picture too.  I'm inclined to think Brooke will turn face Sunday as she is about one slap and push away from snapping on Charlotte.  Those two are due to feud,
however if Paige is still injured, she could possibly be the new best friend to Charlotte given that they have mended the fences from their PCB days.  It would give her screen time upon her return.
Scenario Three
With the Women's Championship posing two feuds on the rise, how could Paige fit into the fold?  There was the scenario I explained prior, but if she were to return I absolutely would not mind if she were to feud with Bayley.    A heel Paige and super loved Bayley would be interesting for sure.  There would have to be rhyme and reason behind this, and the prime factor could be jealousy.  This also seems unlikely right now.  Where would that put Banks?  The problem with putting Paige in the Championship picture is that she would be the third wheel while Banks and Charlotte have their own business to take care of.  Between the Charlotte and Brooke drama and rising tension with Banks and Bayley, it just doesn't seem like it could make sense.
It's a tricky process and situation.  But this is WWE; they will figure out a way to weave Paige in if they are invested in her.  It seems a lot of damage has been done during her time off, and it will take time for her to get back to where she used to be.  That was on top, but for now she just may have to start at the bottom once more.
This article originally appeared on