NXT TakeOver: Toronto: Predictions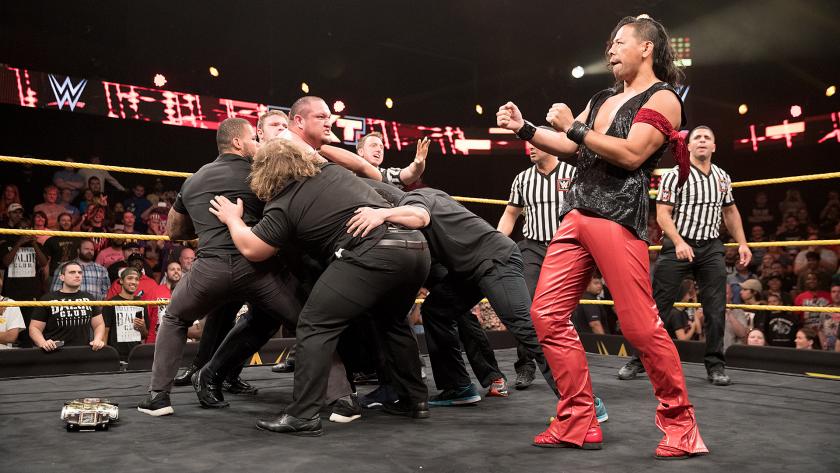 Predictions for Saturday night's NXT TakeOver: Toronto.
Let's just admit what everyone else is thinking.  NXT is just flat-out better than the WWE main roster product right now and with each passing edition of TakeOver, the gap widens.  NXT is wrestling at it's simplest.  There's no silly, sideshow gimmicks, no convoluted story telling, and no pointless matches.  It's pure, unadulterated wrestling that wrestling fans have been eating up for over 4 years now.
Saturday night, on paper at least, looks like it will continue that trend.  Three titles will be on the line, as well as the finals of the 2nd annual Dusty Rhodes Tag Team Classic.  There are some very interesting story lines going into Sunday night.  Can Samoa Joe beat Shinsuke Nakamura and get back the title he so desperately fought to take from Finn Balor?  After 7 years away from the WWE, can Mickie James still compete with one of the best female wrestlers in the world in Asuka.  Can Tommaso Ciampa and Johnny Gargano finally dethrone The Revival for the NXT tag titles?  All these questions and hopefully more will be settled after the final bell Saturday night.
Ahead we break down NXT TakeOver: Toronto with predictions for all of its 5 matches.
Bobby Roode vs Tye Dillinger
The result of this match between "The Glorious One" and "The Perfect 10" is all about who has the bigger future prospects.  On one hand, you got Dillinger, the 35-year-old  veteran that has spent the past 3 years basically losing the majority of his matches on the NXT brand but at the same time garnering massive support from the NXT universe.  This support eventually turned into a change from heel to baby face and his results have recently gotten better.
And on the other hand, there's Bobby Roode.  Nearly a 20-year pro, Roode won 11 championships in TNA including two world titles while establishing himself as one of the best wrestlers ever to compete in that promotion.  Roode's resume speaks for itself and the NXT fans know it.  They've been pro-Roode since the day he showed up.
This has the opportunity of being a number one contender's match for the NXT championship.  Roode, because of his history is already on the cusp of a title shot but if Dillinger manages to pull off the upset then he immediately becomes relevant.  This is a big match.
So at the end of the day, Roode is 39 years-old and his career clock his ticking.  The WWE didn't bring him in at this point to hang around on the NXT mid card.  Expect Dillinger to impress, but Roode takes this one and becomes the next challenger for the NXT Championship.
Winner: Bobby Roode
Dusty Rhodes Tag Team Classic Final
TM-61 vs The Authors of Pain w/Paul Ellering
When this tournament started most people assumed these two teams would do well.  But due to the fact that NXT champs The Revival, Tommaso Ciampa and Johnny Gargano, Austin Aries and Roderick Strong, and SAnitY were all competing as well, the chances of them both making the finals seemed slim.  The two teams breezed through to the finals and looked good doing it with The Authors getting a signature win over DIY and TM-61 doing the same over SAnitY.
This match is essentially a toss up.  They are two young teams with massive upside and could one day in the very near future contend for tag team gold.  This may come down to who goes over in the tag team title match because this is very clearly a number one contender's match.
It will be nip and tuck all the way through with TM-61 using speed and agility to offset the gargantuan strength of AOP but in the end, power will trump agility and Pual Ellering will get to accept the trophy dedicated to his late friend Dusty Rhodes.
Winners: Authors of Pain
NXT Women's Championship Match
Asuka (c) vs Mickie James
Well isn't this pairing a welcome sight?  One of the most popular female wrestler's in WWE history, Mickie James returns to the WWE looking to dethrone Asuka and thus capturing her 7th women's title in the WWE.  James is exactly what Asuka and NXT need right now.  The title contenders for Asuka's belt are there but they're inexperienced.  Between Liv Morgan, Peyton Royce, Billie Kay, and Ember Moon, anyone of them could be future champions, but they need time to get a little bit better.
So how does a match go down between Asuka and Mickie?  Although she hasn't been in the WWE since 2006, James has still been quite active, snatching up 3 championships during her time in TNA.  So suffice to say, she's not rusty.  But in Asuka she's a facing a whole different animal.  The NXT Women's champion is still undefeated in singles competition since coming to NXT and has dispatched the likes Bayley, Nia Jax, and Carmella in the process.  Mickie will have her hands full with "The Empress of Tomorrow".
So what it comes down to is what makes the most sense here.  On one hand, Asuka is clearly ready to make the jump to the main roster.  She'd be an immediate title contender to either Charlotte or Becky Lynch.  But on the other hand, where would that leave the NXT Women's division?  You'd have a champion who hasn't been in the WWE for 6 years with a bunch of inexperienced youngsters.
Asuka losing here seems far-fetched.  Dropping the belt to Mickie who has been in TNA for half a decade hurts her reputation.  That is, unless Mickie cheats, which is highly unlikely.
Winner and still champion: Asuka
NXT Tag Team Championship Match
The Revival (c) vs DIY
This is going to be good.  In a rematch of their scintillating battle and bona fide match of the year candidate at NXT TakeOver: Brooklyn II, The Revival and DIY go at it again Sunday night.  The buzz for this match has been strong ever since their first 19 minutes ended in August and if they even come close to replicating that again in Toronto, we're all in store for something very special.
An argument can be made that The Revival is the best team in the entire WWE right now. Whether it's their battles with The Vaudevillains, American Alpha, and DIY, it seems every time they step into the ring it's an event.  Their consistency as champions has stabilized the NXT tag division for the last year and their future potential once on the main roster is limitless.
On the flip side, this is a win-win for Gargano and Ciampa.  A win obviously means a title reign but a loss could be just as beneficial.  Whether as singles competitors or a tag team, these guys are both ready to take the next step up the ladder to either Smackdown or RAW and that may be exactly what happens should they come up short on Sunday.
At the end of the day, it doesn't make a ton of sense for Gargano and Ciampa to get another crack at the titles on two consecutive TakeOvers just to lose twice.  They take the belts and The Revival goes to the main roster.
Winners and new NXT Tag Team Champions: Johnny Gargano and Tomasso Ciampa
NXT Championship Match
Shinsuke Nakamura (c) vs Samoa Joe
Since late July, Joe and Nakamura have been engaged in a bitter, contentious feud that has seen both men dish out various amounts of punishment to each other so much so that it landed Joe on the shelf with a dislocated jaw during his unsuccessful title defense against Nakamura at TakeOver: Brooklyn in August.  Joe followed that up after his return by attacking his foe, seemingly injuring his neck.  The following weeks leading up to Saturday night have seen the two go after each other time after time leaving numerous security guards in their wake.  This is going to be a slug fest.
This is a big time match.  These guys have accomplished more outside of the ring than most of the NXT roster combined and will be big stars on the main roster before long.  Between his time in TNA and Ring of Honor, Joe is one the most decorated wrestlers in American wrestling promotions.  Nakamura made his mark in Japan, winning every major championship in New Japan Pro Wrestling before coming to the states.  The fact that these two are competing for the NXT championship is a testament to how good their product is.
With all that being said, Nakamura won't lose the title this quickly and Joe is more than ready to move up.  Joe will give him all he can handle and their match Saturday will be better than their clash in Brooklyn but "The King of Strong Style" will reign supreme and Joe will go to SmackDown Live.
Winner: Shinsuke Nakamura
Who should walk out victorious at NXT TakeOver: Toronot?
This article originally appeared on