Luke Harper Needs to Sign With WWE SmackDown Live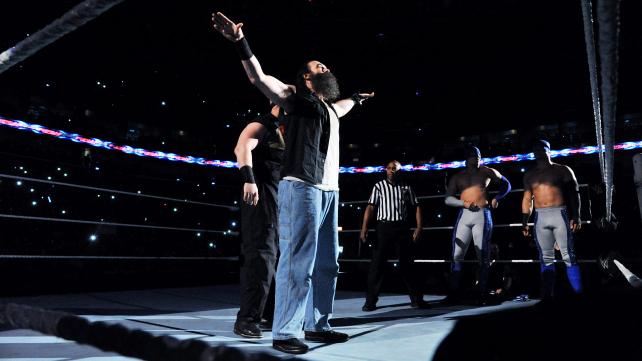 With rumors of his return happening within the next few weeks, Luke Harper needs to align with The Wyatt Family and sign with Smackdown Live. 
For the last few months, Luke Harper has been absent from WWE programming due to a knee injury. Due to this, he got left out of the WWE Draft back in July marking him a free agent.
Reports came out from Wrestlezone recently that Harper was now healthy enough to return to WWE. They also claimed that he was at Monday Night Raw on September 19.
With Harper apparently ready to come back, the question now arises on if he will go to RAW or Smackdown Live. With the majority of the Wyatt Family over on Smackdown Live (Bray Wyatt and Erick Rowan), the smart move would be to have Harper on the blue brand.
The first superstar this would help is the leader of the family, Bray Wyatt. During his time in WWE, The Eater of Worlds has shown that he is stronger when he is with his family members than when he is without them.
Wyatt running Wyatt Family on Smackdown Live would be a great thing for him, and he could take over the brand with Rowan and Harper at his side. With the draft splitting up many factions and groups, The Wyatts would be appealing because they would be the only active faction in the WWE at the moment.
The other superstar this would help is Rowan. Despite being aligned with Wyatt since being on Smackdown Live, The Wyatt's Family's Sheep has been doing nothing more than jobbing and putting people over.
Before his injury, Harper and Rowan were becoming a pretty dominant tag team in the WWE. They seemed poised that were going to feud with The New Day and possibly win the belts, until Harper went down in March.
With Harper returning, he should pair up once again with Rowan. They could become the monster tag team that Smackdown Live is missing. Becoming foes to the likes of Slater and Rhyno, American Alpha and The Hype Bros are potential options afterward.
With Bray Wyatt as the leader, The Wyatt Family could easily run rampant over on Smackdown Live. Wyatt could be in the main event picture, and Harper and Rowan would dominate the tag division, making this a deadly faction.
Finally, Smackdown Live would be the better show for Harper to compete on because of their mid card being a bit thin. While Smackdown Live has a great main event picture, their mid-card leaves something to be desired.
Harper could easily be a huge addition to the mid card and could enter feuds with the likes of Dolph Ziggler and Apollo Crews. The 36-year-old had a short run as a mid carder winning the Intercontinental Championship in late 2014.
If WWE doesn't want to reunite Rowan with Harper, then adding him to the mid card on Smackdown would be a great thing to do. For a big guy, Harper is great in the ring and can cut decent promos as well.
Anyway you look at it Luke Harper is much needed on Smackdown Live than on Monday Night RAW. With multiple options that WWE could use him on the Blue Brand, the smart move is putting The Wyatt Family member on Tuesday nights.
This article originally appeared on