Kris Bryant Wears WWE Championship Belt at Cubs World Series Parade (Video))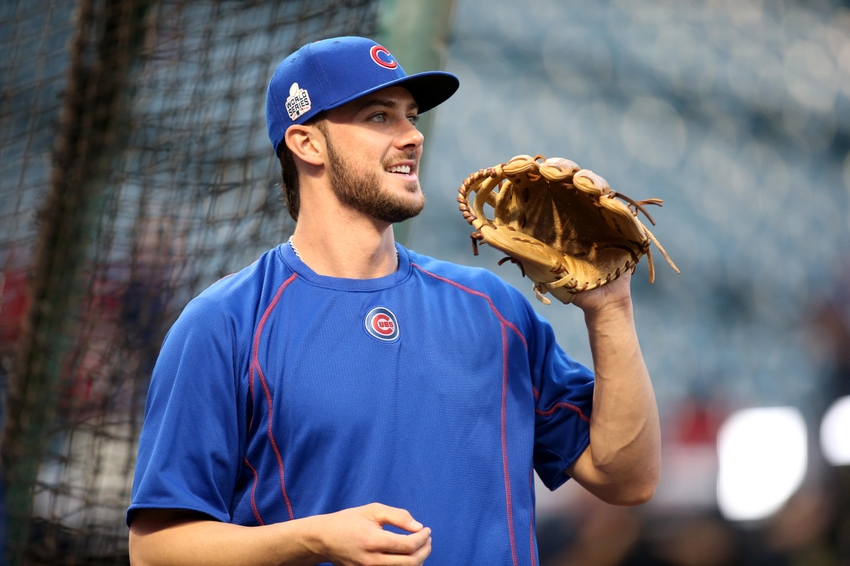 Chicago Cubs star Kris Bryant rocked the championship belt that WWE sent the team.
On Wednesday, the MLB's Chicago Cubs beat the Cleveland Indians to win the 2016 World Series. This took seven games, slugging from the likes of Kris Bryant, Addison Russell, and Anthony Rizzo, and strong pitching from Jon Lester and Kyle Hendricks. Some even called the last game of the series the best Game 7 ever.
After a major professional sports team wins a title, WWE typically sends them a championship belt. They have done this for the past few years with WWE executive Triple H doing the honors. He did so again by posting on Twitter that the Cubs will receive their own championship belt.
On Friday, the Cubs would have their World Series parade through the streets of Chicago. Before the event began, though, Kris Bryant showed up on TV with the WWE Championship around his waist. So, it's safe to say the team received the title and are wearing it with pride for this celebration.
The Cubs will have Friday to celebrate this victory with the fans. It will be a moment all of them won't forget as they go through the streets to enjoy something that hadn't happened to their organization in 108 years. Maybe we'll see the WWE Championship have a presence in the process. This would surely make WWE happy for getting big airtime on something that will be seen by thousands, in person, and even more from home.
Who will be the next team that Triple H sends the WWE Championship to within the next year?
This article originally appeared on