Kevin Owens on Brock Lesnar: 'I Think I'd Make Him My B—h'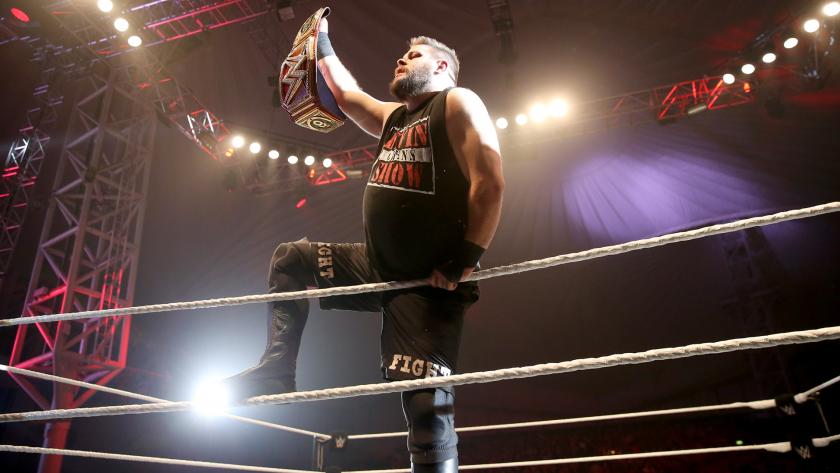 Kevin Owens still wants to face Brock Lesnar in a match, and even took to Facebook Live to state why.
During WrestleMania 32 season, Kevin Owens had been rumored to face Brock Lesnar. Nothing materialized, though, as Owens defended the WWE Intercontinental Championship and Lesnar faced Dean Ambrose. Despite this, KO has continued to say he wants The Beast Incarnate in a match.
Based on where current WWE programming is going, nothing indicates that they are going to clash anytime soon. However, Owens is continuing to call out Lesnar for a match like he did earlier in 2016.
In a recent Facebook Live Q&A with the Daily Record, the desire for facing the former WWE World Heavyweight Champion got brought up again. This time, Owens took his language on it one step further (h/t Wrestling Inc for transcription).
"The biggest, most interesting part about this thing with me versus Brock, is that people don't think I'd have a chance, and I love proving people wrong," Owens said. "So not only would I survive Suplex City, I think I'd take him to Suplex City. [Lesnar] goes around calling people his b—h, I think I'd make him my b—h!"
Owens clearly still wants a match with Lesnar at some point. Whether it happens is still an unknown and hasn't even been rumored since earlier this year. It's always possible this is in the plans at some point, though, especially if there becomes a lack of available challengers for the Universal Championship, or if these Shane McMahon plans change. If Lesnar and McMahon are going to collide at WrestleMania, maybe a spot could open for the Royal Rumble. The title being around Owens' waist may not even matter for this match to happen either.
Would you want to see Kevin Owens and Brock Lesnar have a match? Does it stand a chance of happening?
This article originally appeared on