John Cena's 5 Best Moments from Hosting 'SNL'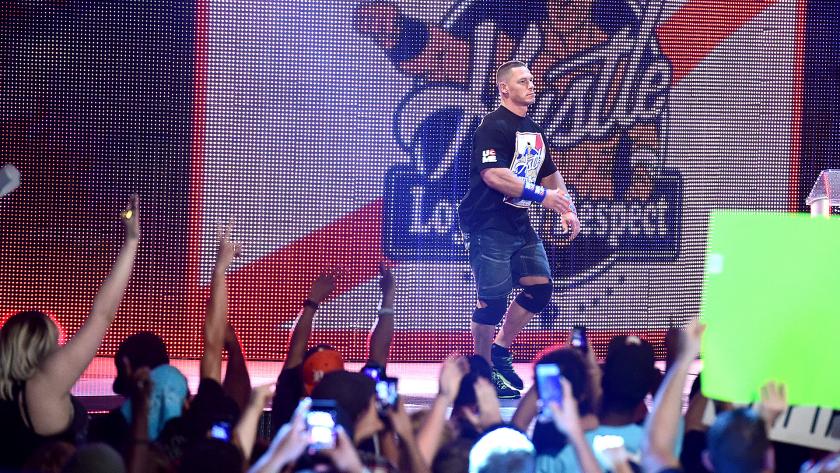 What were some of the top moments from John Cena hosting the latest edition of 'SNL'?
For the past few years, John Cena has been beginning to enjoy life outside of WWE. Instead of taking bumps and going through a grinding schedule, he's in Hollywood, working on other media projects. This has included roles in "Sisters," "Trainwreck," and as host of the FOX reality show, "American Grit." He's in the middle of filming Season 2 of this program, which will air in 2017. Cena even recently announced the trailer for the movie, "The Wall," which has him as one of the main stars.
Well, on Saturday night, Cena took his talents to New York City to host "SNL" for the first time ever. This will be his chance to perform comedic skits for one of the longest running TV shows and display the acting skills that have gotten him notoriety.
However, there would be a question of if the Face That Somewhat Runs the Place can be funny on "SNL." We haven't seen him tested on this type of live TV outside of WWE, so how would perform in front of the millions that watch this program?
Cena would take center stage on "SNL" on NBC at 11:30 p.m. ET. He would get to show off his comedic chops to millions of people and show that he isn't just a wrestler. What kind of skits did he perform? Did any of them include wrestling?
Here are the five best moments from Cena's 90 minutes of hosting "SNL" on December 10.
5. Cena as Sammy Knox, a Judo Master
John Cena played a few quirky roles on "SNL." One saw him look like Fabio with the open shirt and long hair. Another saw him with an owl getting sprayed in the last skit, something that wasn't the funniest thing the show put on during the 90 minutes.
In this unusual segment that somewhat worked, Cena played the role of a judoka who outsized and outmuscled his scrawnier opponent. The guy would try to get talked up by his coach, but every time it seemed that he would get some offense in, Cena, who acted like a "dork" (he called his opponent a dork) punched him through multiple walls. When the guy would try getting up, Cena sent him through the walls once again.
Besides this, the Leader of the Cenation would mock the kid by calling him a "virgin" for taking karate, and used a voice to make him sound like a kid. It come off like a tough guy, though, which at least didn't seem like the intention. So, he pretty much had a big body and a wimpy voice.
4. The "SNL" Opening
The opening of "SNL" actually turned out to be one of the best parts of the night for John Cena. He started off the show with the normal entrance and introduction for the show, and started talking about the evening. This was until Bobby Moynihan and Leslie Jones interrupted him.
Cena would try to somewhat go head-to-head with Moynihan and Jones as they tried being WWE Superstars. However, he mostly stood still and tried to act normal and not like he was going to wrestle one of them.
The closest Cena came to his wrestling persona was when Keenan Thompson interrupted the segment. This led to the 39-year-old taking off his shirt to prepare to fight Thompson, which ended up scaring him off and getting a few laughs out of everyone. He even used the "You want some? Come get some!" phrase that WWE fans are very much familiar with.
3. John Cena as a Date Show Host
One of the first skits of the show saw John Cena as a date show host for a girl (Cecily Strong) trying to pick out which one of three guys she wanted to date. She would be choosing her "hunk". But, when Strong saw Cena and how he was built, she immediately got attracted to him, which annoyed the three contestants.
Cena didn't have to do much in this segment except be subtly arrogant about how he looked. He spewed off a few lines that made him show off how he looked before the game could even start, and this made him fall for Strong and anger the contestants even more. This led to the two of them kissing after staring into each other's eyes for so long.
Also, the 15-time world champion had hair that looked exactly like WWE commentator JBL's; he had a comb over that looked the part and except for the lack of the Southern accent, he could have been passed off for the former tag team champion.
This skit was one of many with "SNL" trying to show off Cena as being this muscle guy, as evidenced by all the "hunk" material in this one. Would it end up being a positive theme?
2. Cena as Rob Gronkowski
John Cena would dress up as New England Patriots tight end Rob Gronkowski on the game show, "Where'd Your Money Go?" This would be about professional athletes trying to learn how to save their money. Cena looked and fit the part of Gronkowski, even getting some of his mannerisms down, and fit the part well. It almost looked like a mix of actor Mark Wahlberg, which is a mix of everything Boston.
Cena acted foolish and silly like Gronkowski would, using his hands to talk and speaking in an accent that made him seem like a "dude". He got mocked by the host, who played Charles Barkley, pretty much every time he made a response.
This skit had its moments, which were mostly highlighted by Cena playing the jocky Gronkowski. It would be a theme of most of the evening as "SNL" played off his muscles and look throughout the show.
1. Trolling Alabama Football
College sports has been mocked for its grading system, that has allegedly helped players succeed with easy assignments to get on the field. So, in one of his first skits of the evening, John Cena and "SNL" took aim at Alabama football, trolling them for how they treat their football players in the classroom.
Cena had to show off his science project to his teachers, which were overly lenient to him since he's on the football team. They let him get by with a project that had him nailing bananas to a piece of wood. Each banana was in a different stage. This compared to another person's particle accelerator (The Flash?), who got a 20-percent while Cena's character got 100.
Given that Cena looks like a jock, he easily passed off for a "dumb jock" and played the role great. He acted idiotically while everyone bought it just so he could play football. This sold the character well, especially when the statements he made seemed to get sillier every time he spoke. The peanut butter jelly time bit may have been the best of them.
This article originally appeared on