John Cena and Dean Ambrose Must Feud After WWE No Mercy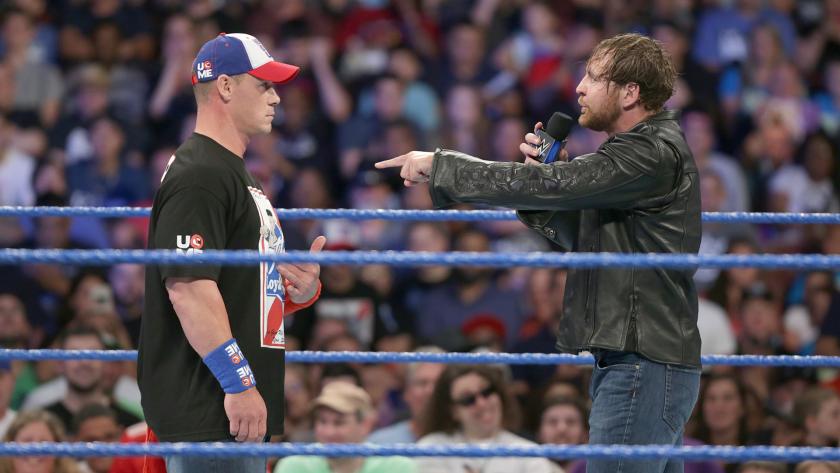 With both John Cena and Dean Ambrose involved in the triple threat main event at No Mercy, the duo needs to enter a one on one feud after the show.
A recent episode of Smackdown saw the return of John Cena back to the show. He had been absent from the program since losing to AJ Styles at Summerslam. Afterward, Styles would become the No. 1 Contender to Dean Ambrose's WWE World Championship, which they would face off against one another at Backlash for.
After nailing Ambrose with a low-blow, Styles hit the Styles Clash and won the WWE Championship. So, going into Smackdown, both Cena, and The Lunatic Fringe had unfinished business with The Phenomenal One.
During Styles' championship celebration, Cena and Ambrose came out to confront and challenge AJ to a match at No Mercy. However, a confrontation soon arose between the two challengers.
Cena claimed that Ambrose was nothing more than a whiner and complainer, not taking his loss to Styles like a man. Ambrose said that Cena has not been around that much recently, and claimed that he was nothing more than a part-timer, trying to steal the spotlight from the talent that is here weekly like him.
However, before the two could confront each other even more, Shane McMahon came to the ring announcing Cena and Ambrose would face AJ Styles for the WWE Championship at No Mercy.
While the match should be the conclusion for both when it comes to their feuds with AJ Styles, the should be just beginning of a one on one feud between Ambrose and Cena. The two planted the seeds for a feud later on Smackdown that night.
After Ambrose and Cena defeated Styles and The Miz in a tag team match, Ambrose laid out Cena with the Dirty Deeds following the pinfall. Could this mean the former Shield man turns heel soon?
We saw a heelish Ambrose during his short feud with Dolph Ziggler. With Cena being the poster boy for WWE, it seems logical that Ambrose will be the bad guy. An Ambrose heel turn has been overdue, as his Lunatic Fringe character has become annoyingly comedic and lost its edge.
Ambrose has not been a heel since his days in The Shield, and entering a program with Cena could help him. His persona fits better when it's being played as a heelish character, and could help become the top villain in WWE.
While he will still get cheered (because he is feuding with Cena), Ambrose turning heel is the best way to go. He could then enter feuds with Randy Orton, and Ziggler, again, down the line.
As for Cena, this program can help continue what he has been doing for the last two years, which is helping put new talent over. It's no secret that Cena has been spending less time on the road recently.
The days of The Face That Runs the Place being a regular member of the roster seem to be coming to close, as outside ventures seem to be presenting themselves to him. With that in mind, Cena can continue to help put over the talent on the Blue Brand.
There is no better way to start than helping SmackDown's first overall pick begin his heel run on the right track. The duo could run their program throughout the fall with Ambrose winning their final clash, giving Cena another opportunity to bow out of WWE for awhile.
With both of these men about to conclude their rivalry with AJ Styles, now is the time for the Lunatic Fringe and Mr. Hustle, Loyalty and Respect to enter their first major feud. They could make this a worthy program and help continue to solidly Smackdown as the stronger of the two brands.
As John Cena looks to be a more of a part-timer, and Dean Ambrose needing to freshen up his character, this is the perfect feud for both of them.
This article originally appeared on