James Ellsworth: 'I Have Officially Been Given a WWE Contract' (Video)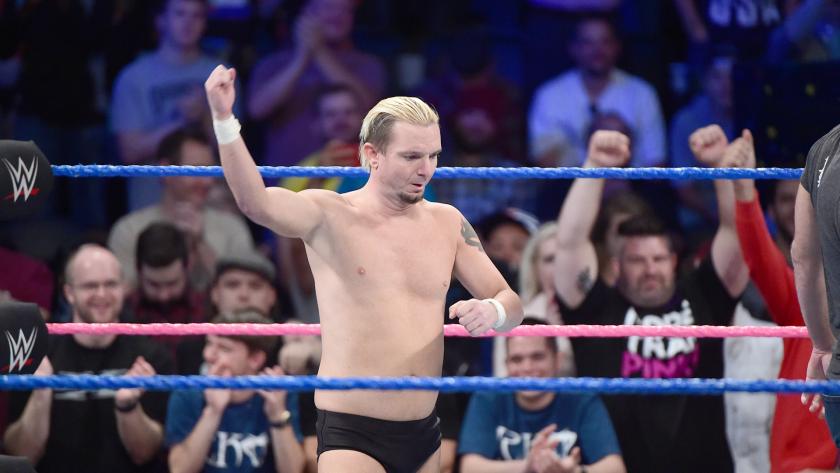 James Ellsworth is about to become a full-time WWE Superstar as he announced this at an independent wrestling show.
James Ellsworth had only been meant to be a jobber to Braun Strowman in late July. WWE wanted to use wrestlers like this to enhance their greener stars to get them over, something also done for Nia Jax for a few months.
Well, after Ellsworth cut his now famous "any man with two hands" promo, he became popular. WWE noticed this too and brought him back on multiple occasions. By October, the 31-year-old became a recurring face on SmackDown Live, teaming with Dean Ambrose in his conquest to get the WWE World Championship back from AJ Styles. This even saw Ellsworth get a title opportunity after a fluky win.
The constant appearances made it seem like the Chinless Wonder had been signed to WWE, but nothing ever got confirmed. However, he set the record straight at a recent Big Time Wrestling event and announced that WWE had given him a contract.
The video can be seen below, courtesy of Wrestling Inc, who first received the clip.
Ellsworth's popularity and t-shirt sales may have won him this contract. It's something that had minimal odds when he first appeared on TV in July, but he was able to make a name for himself over the past four months to get this deal.
The first appearance for the newly-contracted WWE Superstar will be at the Survivor Series pay-per-view. He got announced as SmackDown's mascot for the 5-on-5 traditional elimination match against Raw. This will see Ellsworth's buddy Ambrose, Styles, Shane McMahon, Randy Orton, and Bray Wyatt go for brand bragging rights. What Ellsworth's impact on the match is, remains to be seen.
So, James Ellsworth is now a WWE Superstar for however long he got signed for. Thoughts on this?
More from Daily DDT
This article originally appeared on