Is Tye Dillinger Ready for the WWE Main Roster?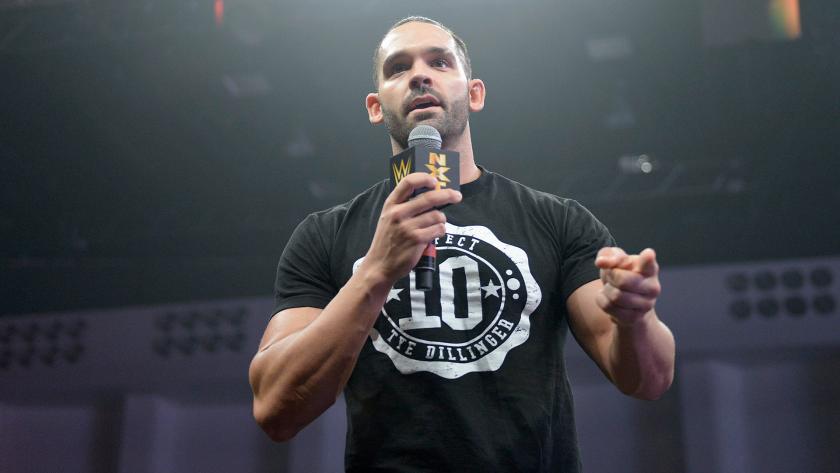 It came as no surprise to fans Saturday night that NXT Takeover: Toronto was a huge success.  The opening match between Tye Dillinger and Bobby Roode played a huge part in that.
Saturday night started off hot in Toronto as NXT Takeover began to take shape.  The crowd was hot through the night, but the reaction that both Tye Dillinger and Bobby Roode got during the match spoke volumes of the two seasoned veterans.  It was great to see for someone of Dillinger's caliber, whose history is well documented through the years.
Some older fans remember Dillinger as "Stan" from 2006 Cyber Sunday, where Shawn Michaels served him Sweet Chin Music.  That led him to the revived ECW brand as Gavin Spears.  While his run was short-lived, he would be released in 2009 only to re-sign with WWE in 2013.  Dillinger received another chance and now he is finding the perfect gimmick – literally – with The Perfect Ten.
With his face turn, Dillinger has been tremendously over especially since his Ten taunts are rather catchy, to begin with.  With sympathy of Roode turning on him, the crowd is fully behind Dillinger.  One could hope that bigger things are on the horizon for the 35-year-old veteran.  The standing ovation that Dillinger received after his loss to Roode is a good indication of that for sure.
Dillinger has received praises recently for his consistently great performances at Takeover despite carrying a losing record.  Things could look to change for Dillinger and it should.  Which brings up the question, is he ready for the Main Roster?  While his great showings have the NXT crowd behind him, what would the casual fans think of The Perfect Ten?  Would his successful gimmick follow Dillinger to the main roster or would he be a part of NXT talents who become lost on the roster?  There are more questions than answers and it remains to be seen what the future holds for Dillinger.
My opinion is that Dillinger is, in fact, ready for the main roster.  He also has prior experience being a part of it, as noted.  But perhaps now isn't the right time for him considering it is the cusp of WrestleMania season.  However, there is the famed Raw after WrestleMania where NXT stars have made their main roster debuts.  Could Dillinger be a part of that in 2017?
Perhaps the time between now and then can be used to build up Dillinger even further.  Dillinger has grown into his gimmick so to speak and is on cruising altitude with The Perfect Ten.  He is one of NXT's secret weapons, and also one of their biggest underdogs.  Fans love rooting for the underdog, and perhaps Dillinger will find even more success in that role.
Dillinger's time is now or never.  Perhaps his career will follow that of Dolph Ziggler, who was actually his tag team partner in FCW.  Regardless his future certainly looks bright for him.  He knows what it takes to make it to the main roster.  The second time around might just be his calling after all.
This article originally appeared on