How WWE Can Build Kofi Kingston After New Day Splits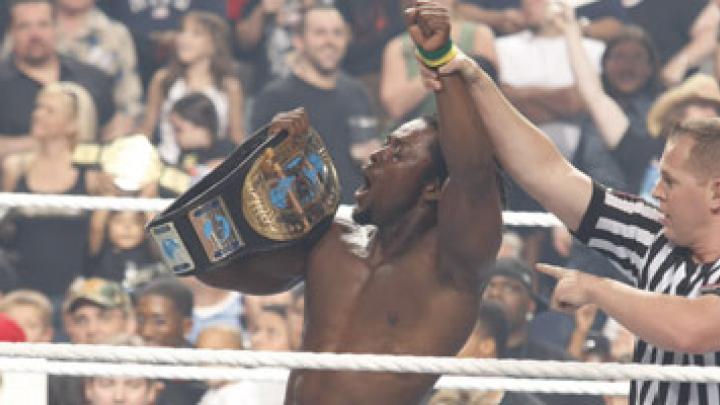 Kofi Kingston should be in line for a main event push when, not if, the New Day is split up on WWE television. This could include a needed heel turn.
It's been a fun ride, but we all have to come to the collective reality that there will be a day when the New Day finally passes on. There will be a "New Tomorrow," meaning that the faction of Kofi Kingston, Xavier Woods, and Big E are going to go their separate ways.
While some might think about what the WWE has planned for younger superstars in Xavier Woods and Big E, Kofi Kingston might be the most important superstar the WWE should focus on moving forward. While it's true that he's had time to be a singles superstar, he does deserve a main event push.
Kofi Kingston has been one of the most athletic and gifted superstars since first debuting on WWE television in 2007. His in-ring prowess has been showcased for several years in larger events, especially at the annual Royal Rumble match. Everyone always looks to see what Kingston does with a near elimination that is turned into getting back into the ring.
That should actually be a big part of what the WWE does with Kofi Kingston moving forward. In a lot of ways, Kingston has been an underutilized superstar who could have a lot of potential as a main event superstar. He's able to have a lot of great matches during the original brand split with big names like Randy Orton. But it never led to him being put into the world championship picture.
Maybe five years ago, Kofi Kingston would have never had a realistic chance to be viewed as world championship material. But the WWE has certainly altered with the new generation of wrestlers who are finding themselves in the main event spotlight. Now could be the right time to allow Kingston to be in the main event picture with wrestlers like Sami Zayn, Kevin Owens, and Seth Rollins.
However, the WWE might need to do something different with Kofi Kingston's demeanor – a full heel turn. While some might point out that he was a heel during the early parts of the New Day's run, he's never really been a heel when he competing on his own. Kingston had some success with winning the Intercontinental and United States championships, but never moved past that point.
Considering how Kofi Kingston is like a human highlight reel, the WWE could give him a character similar to Montel Vontavious Porter – a.k.a. MVP. This doesn't mean giving Kingston the million-dollar jewelry, but someone who thinks he's better than settling for the WWE Tag Team Championship. Someone who feels he should have been a breakout star and wants to have the opportunities he should have had by now.
The beginning of the storyline could be having Kingston decide to make a heel turn with Big E, who becomes his bodyguard. The two could leave Xavier Woods during a tag team match. Creatively, this could make sense if they bring up the feud with the Wyatt Family to explain losing trust in Woods.
If done correctly, Kofi Kingston could be a main event star that can have memorable rivalries with the likes of newer talents. At the very least, Kingston should be in the conversation after the line of work during nearly 10 years with the WWE.
This article originally appeared on