How the WWE Women's Division's Standard Continues to Rise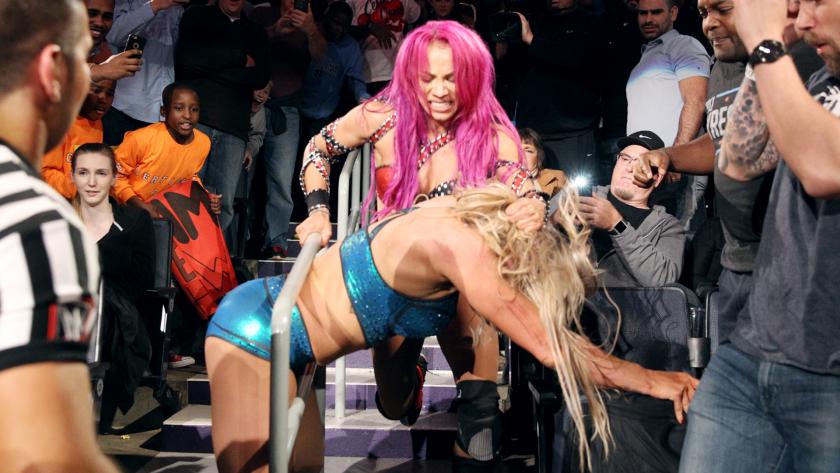 After the intense bout Monday night that saw Sasha Banks reclaiming the Raw Women's Championship from Charlotte Flair, it is now transcended to another level for the WWE Women's Division.
Monday night's main event (once more) between Sasha Banks and Charlotte Flair was a wrestling fan's dream.  No seriously, hear me out here.  What started out as the original match being a double count out, Raw General Manger Mick Foley made sure fans got what they deserved when he decided to restart the match later on that night.  Foley was onto something, and it was a foreshadowing that WWE fans were in for one of the best moments of the year.
The feud of Banks and Flair had everything that makes for a great storyline.  There was passion and emotion from both women that were executed perfectly.  The determination of each woman as they overcame each other grew with each win and loss.  The tenacity and persistence of both women showed through their matches and even in the build up towards them.  This feud will define Banks and Flair for years to come.
The entire Banks and Flair storyline is based on who is the best in the Raw Women's Division.  Flair has had quite the transformation of becoming the Superstar she was destined to be.  Flair is the villain of this generation.  Banks is the sweetheart that fans love.  She wears her heart on her sleeve and fights for what is right.  Her passion shows both in and out of the ring.  She's not afraid of the obstacles that are placed before her.  It is a classic good v. evil bout that is making history and paving the way for younger women.
As Foley said Monday night, this feud has transcended.  Both women have won and lost some.  They were embarrassed, and they were brought to their breaking points in this feud.  The drive to prove who the best woman is in a quest for superiority, is what fueled the feud to where it is now.  That is why the hot potato style of the Championship reigns is happening.  It's a deeper story behind the changes.  If something you cherished was taken away from you, you would want it back, right?  Exactly my point.
This feud is changing the game for women's wrestling in WWE.  Most older fans know the story.  The Women's Division used to be an afterthought, with silly contests to appease the male fans.  There were few women who stood out from those eras.  That was why the Trish Stratus and Lita feud was so big years ago, and why the Banks and Flair feud is huge now.  It used to not be like this and with the evolution of Women's wrestling in WWE surpassing the now legendary feud; this is what women like AJ Lee fought so hard for.  They are more than pretty faces, and they wanted to be taken just as seriously as the men.
2015 was big for Banks and Bayley, who stole the show at last year's Takeover Brooklyn followed with main eventing the next Takeover in the first ever Women's 30 minute Iron man match.  2016 came and the ladies would steal the show at WrestleMania, main event Raw twice and main evented a PPV inside Hell in a Cell.  What will 2017 bring?  The stakes are getting bigger and bigger for the WWE Women's Division.  The bar is already set high thanks to Banks, Flair and Bayley.  There's still work to be done, and if this year was anything to go by, then this upcoming year will be even better.
This article originally appeared on