Heath Slater Has to Evolve to Sustain His WWE SmackDown Push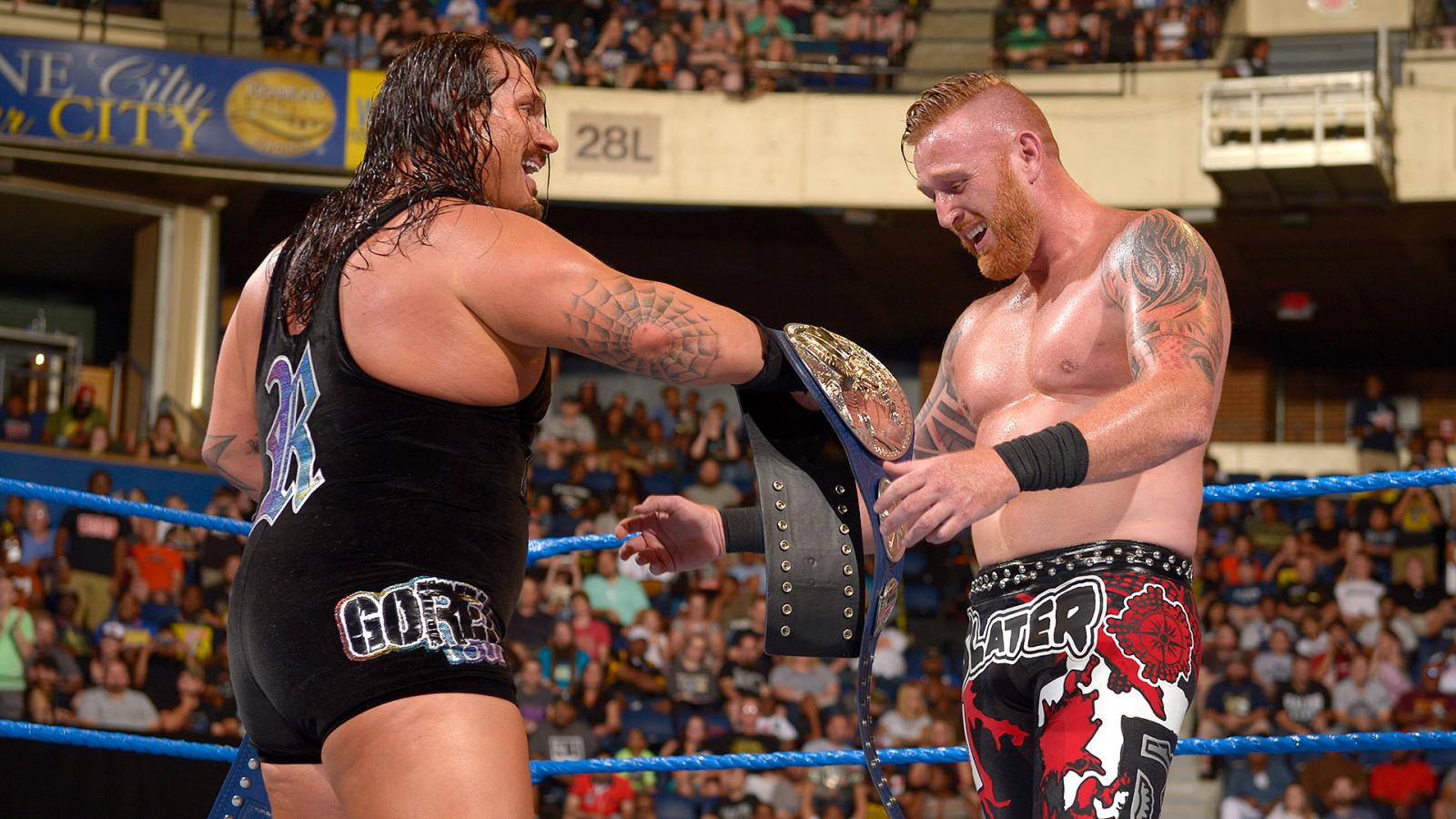 Heath Slater finally did the unthinkable by winning the tag team titles and getting himself a SmackDown Live contract. Where does he go from here now?
Heath Slater is perhaps the greatest result of WWE's brand split and the draft that followed it. The one-man band went from jobber, to one-half of the SmackDown Live tag team champions in a matter of weeks.
For years, Slater struggled to find a means to getting himself a push despite his charisma. He has always had a genuine connection with the fans but failed to make it as a credible wrestler.
All that became history as the unlikely duo of Slater and Rhyno captured the tag team titles on a historic night. Fans bought into the action and storyline, and eventually, it culminated in one of the best feel-good moments of the year. At the end of draft night, nobody expected this for the former member of Nexus. The loveable loser became SmackDown Live's first ever tag team champions by outlasting The Usos.
Now that the confetti has settled, it is time to face the facts. Slater has great charisma and his partnership with Rhyno is exciting. It is one of those odd pairings that just clicks instantly – like Goldust and Booker T. They are an entertaining duo that can be the center of SmackDown's tag team scene under the right conditions. But there is one problem with how this team is being booked right from the beginning.
The Problem
Slater is yet to prove that he is a fighting champion. If we look back at some of the matches from the tournament it is always the same story. Heath takes a lot of punishment before making the hot tag to Rhyno, whogoes on a tear, hits a Gore and finishes the match. Occasionally, we see Slater trying to be the hero and tag himself in only to receive more punishment. This kind of booking was fine for the first few matches where the duo had yet to find their groove.
Things have changed now that they are the top team on the SmackDown roster. Slater can't depend on Rhyno to win every match nor can he be made to look weak anymore. The West Virginia native is one-half of the tag team champions and needs to be intense. He's not the greatest wrestler between the ropes, but has great charisma. Slater can stand toe to toe with any other wrestler, so WWE needs to play him up as a gutsy performer soon before fans lose their interest in him.
Even during their first title defense, the same story unveiled as Slater took quite a punishment from the Ascension. The fact is, this has to be changed soon. They are not going to hold on to the title for a long time. Most probably, The Usos are going to win it at No Mercy unless something drastic happens. There might be a rematch but after that, we can expect American Alpha to go after the titles. What would become of Slater and Rhyno then? He got his contract and got his wish. WWE cannot play up the angle of him fighting for his family anymore. Without any other reason, Slater's recent push and popularity will become a one-time occurrence.
How to Evolve Slater's Character
Fans might remember the time Slater stepped into the ring against The Beast. That was a powerful and emotional moment. Fans knew Slater was going to get the beating of a lifetime. But Heath was desperate for a contract. He showed real guts to take it like a man. That's the side of the one-man band that the WWE needs to showcase. He must not be showcased as a lovable fool anymore. He has to evolve into a gutsy partner for Rhyno.
One way to do this would be to have Rhyno get injured mid-way through the match against The Usos. This will then give a platform for Heath to showcase his guts and character. Being unable to tag in his trusted partner who often gets the job done, Heath will have to dig deep. He might have to endure tremendous punishment at the hands of The Usos. But he should never go down. He should keep fighting as long as he is breathing. If done properly, even a fluke win will not take anything away from Slater in this case. At the very best, have Rhyno recover eventually and hit a Gore to get a pin in the end.
An angle like that at No Mercy will give fans a reason to continue to support Slater. Even when they eventually lose the title, fans know they are cheering for a gutsy performer. By then, the fans will know that it wasn't just Rhyno who carried the entire team, it was a two-man effort. Slater is a loveable character and he deserves every bit of this recent push, but needs to evolve to make sure this push continues.
This article originally appeared on