Goldberg Says His Body 'Feels Horrible' After WWE Raw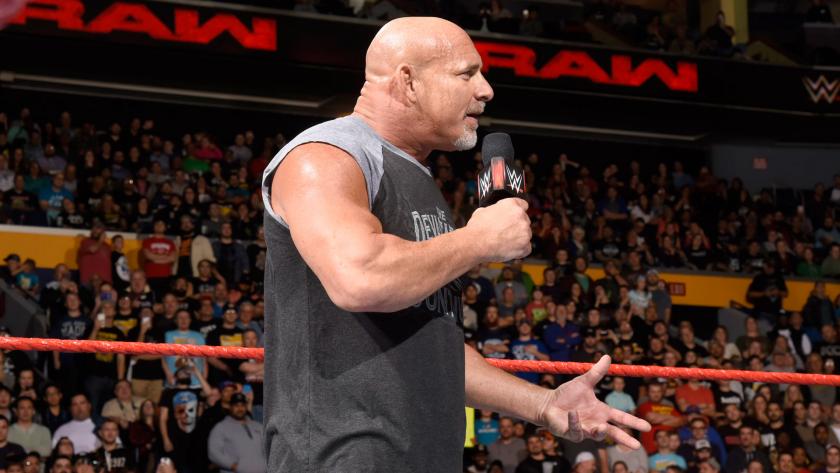 Goldberg already seems banged up, but that won't stop him from wrestling his match against Brock Lesnar.
On Monday's episode of Raw, Goldberg and Brock Lesnar had their first face-to-face encounter since competing at WrestleMania 20. Security guards would get knocked over and thrown out of the ring, but the two men never exchanged fists. That will be saved for Sunday, when Goldberg and Lesnar wrestle each other at Survivor Series.
This match will be the former WCW star's first one since that night at WrestleMania 20. He has stayed out of the wrestling business since then, but is back for one last go-around before potentially hanging up the boots for good.
Well, in the days leading up to this match, Goldberg is apparently not 100-percent. He noted in an interview with NBC Sports that he "tweaked" his shoulder during Raw, and his body feels "horrible".
"My body feels horrible. I tweaked my shoulder last night (on Raw), but that doesn't mean in five days that I'm not going to come out kicking ass and taking names like I always do."
This comes after a recent Wall Street Journal interview which included Goldberg listing everything that he's done for training. Most notably, he said he has been prepping for this for the past six weeks.
It's a slight concern that getting physical with independent wrestlers dressed as security guards would do this. However, if it's just a minor ailment, then it's not the worst thing to be worried about. There's still ring rust there, which is understandable given the former World Heavyweight Champion's time off. It's something that needs to wear off by Sunday with the Air Canada Centre and hundreds of thousands watching a show that WWE has tried to revive.
Do you think there's cause for concern before Survivor Series?
This article originally appeared on