Goldberg Fights Security to Get to Brock Lesnar on WWE Raw (Video)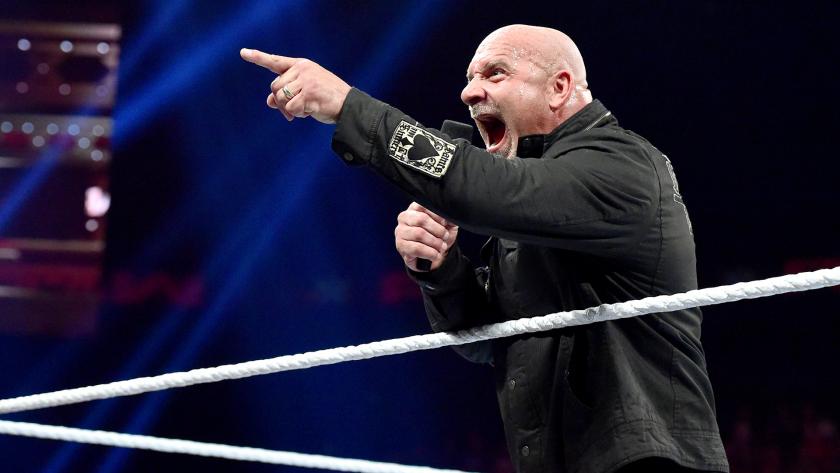 Goldberg and Brock Lesnar went face to face in a ring for the first time in 12 years.
Brock Lesnar and Goldberg will be going head to head in the main event of WWE Survivor Series. It will be a rematch from WrestleMania XX and the former WCW star's first in-ring work since that event in 2004. This has placed plenty of hype around the impending encounter, but before that, these two went face to face on Monday's episode of Raw.
At the 10:00 p.m. ET hour of Raw, Goldberg and Lesnar would come out to the ring. However, per Mick Foley's request from earlier in the evening, a group of security guards filled the ring to divide the two men.
As Paul Heyman went to speak, Goldberg interrupted him and said it's about he and Lesnar. Heyman went on, but Goldberg cut him off again and demanded the security to leave so they can brawl. The Advocate then said how the security was there to protect his client from any attack.
Heyman kept going until Goldberg interrupted and said how Lesnar never conquered him. A few comments got made about his family, which led to the 49-year-old nearly snapping. Heyman then made an offer to him, but got cut off when Goldberg ripped his shirt off. Heyman then made comments about his family, leading to the security guards being attacked. Then the real brawl began.
We didn't get the brawl that the crowd called for, but this was a good tease. Lesnar thought about it and nearly went into the ring, but backed off, saving the fists being thrown for Sunday's match. This may be the better move to build up some hype for their main event bout.
In six days, Lesnar and Goldberg will collide at Survivor Series. Who will walk out a winner?
This article originally appeared on