Finn Balor says Seth Rollins isn't a 'dangerous' performer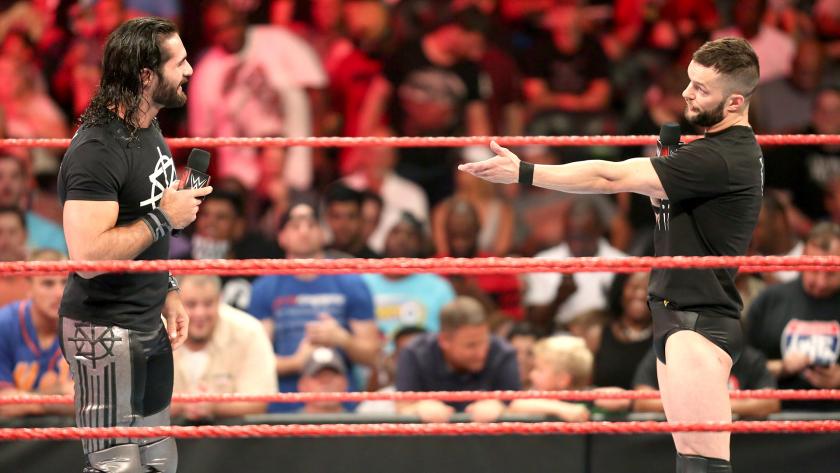 WWE star Finn Balor recently commented on fans saying his SummerSlam opponent Seth Rollins caused injury to him and others because he's a "dangerous" performer.
At WWE SummerSlam 2016, Finn Balor and Seth Rollins put on one of the better matches of the card. The two battled back and forth over the brand new WWE Universal Championship. Ultimately, Balor captured the title but it came with an injury.
The injury occurred when Rollins did a move to throw Balor against the crowd barricade. It resulted in a torn labrum for Balor and caused him to have to relinquish the new title after just a day-long reign. He's now out of action for several months after having recent surgery and some fans are upset and blaming Rollins for the incident.
However, Balor himself doesn't feel Rollins should be blamed. According to WrestleZone, Balor told Jim Ross on his "Ross Report" podcast that he has suffered a lot of injuries during his pro wrestling career. He added that this one was his first to happen when working with Seth Rollins, as they've actually worked together before. Balor told Ross:
Obviously, if you work a lot, you are going to get hurt. Occasionally, this just happened coincidently, and I just so happened to be working with Seth, so as far as I'm concerned Seth is one of, if not the best performer we have in this business. I feel that all the flack he gets is totally unwarranted. Any kind of slack he gets for being unsafe is really ridiculous.
Rollins has been involved in at least two other matches where his opponents got injured. One was his match with Sting at the Night of Champions 2015 event. The match involved Rollins throwing Sting into the ring corner for his Buckle Bomb move, similar to what he did with Balor outside the ring at SummerSlam. Sting ended up suffering an injury serious enough to force him to retire from wrestling.
The other injury was a broken nose given out to everyone's favorite guy, John Cena. Rollins connected with a knee to Cena's mug leaving his nose looking well out of place. With Balor's injury, many fans are pointing out in the video of the incident that Balor tried to brace himself by using his arm. That got him caught awkwardly as he fell against the crowd barrier.
So it seems that many fans are of the belief that Rollins was not the problem in the match. Balor has said he doesn't feel Rollies is dangerous either.. Injuries happen in and around the pro wrestling ring showing just how dangerous it can be.
There have also been plenty of examples of botched moves in matches. However, many fans would agree that Rollins is one of the top performers in the ring today that knows what he's doing.
This article originally appeared on