Brock Lesnar: Who Should Be the One to Dethrone Him?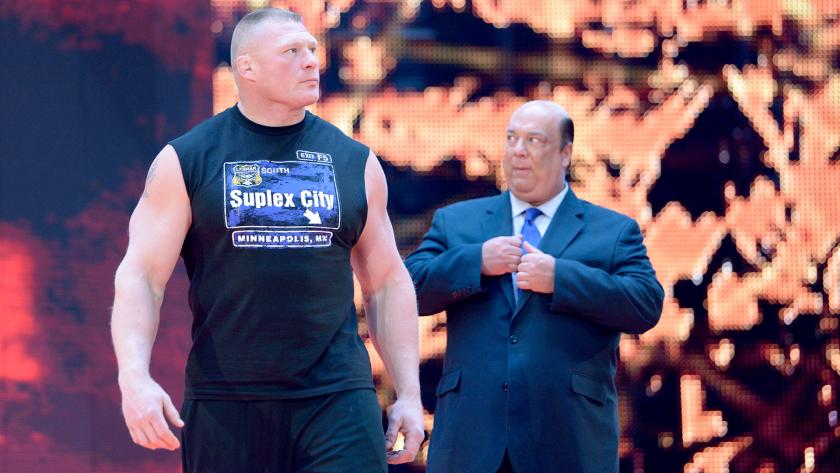 Who should be the one to defeat Brock Lesnar?
Since his return back in 2012, Brock Lesnar has run roughshod over the entire WWE roster. He's delivered one-sided beat downs to established veterans like John Cena and Big Show. Lesnar has stood tall against the best of the New Era, and let's not forget his fairly recent WWE world title win. These accomplishments are impressive, but they pale in comparison to the night the Beast defeated The Undertaker's legendary 21-0 streak at WrestleMania XXX. That win propelled him to a level of dominance that is rare not only in WWE, but throughout the entire pro wrestling landscape. However as we've seen countless times in WWE, nothing manages to last forever. Eventually, someone is going to take on the responsibility of conquering the conqueror. The only question is; who is it going to be?
Looking at the current crop of WWE talent, there are very few people that seem capable of dethroning the Beast. Former 12-time World Champion Randy Orton has fallen to Lesnar in recent memory, as has Dean Ambrose, Luke Harper, and Sheamus (house show). Rising stars like Bray Wyatt and Sami Zayn lack the creative backing to be legitimate threats to Lesnar. Even top talents such as Roman Reigns and Seth Rollins have tried but were ultimately unsuccessful. Despite the depleted options, WWE still has several superstars capable of defeating the Mayor of Suplex City.
Currently recovering from a torn rotator cuff, Shelton Benjamin's injury cost him a prominent spot on SmackDown. With that being said, when Benjamin does return WWE would be wise to have him and Lesnar cross paths. Their feud would have a logical backstory given that both men bonded during their amateur and professional wrestling careers . In fact, the only tag team championship Lesnar ever won was alongside Benjamin back in OVW.
If these two were to compete, the athleticism on display would be out of this world. Let's not forget that Benjamin is a former United States and Intercontinental Champion. He's an established singles performer, and over the years he has fought (and defeated) some of the best in the business. He can also be considered one of the greatest MITB competitors in history, with his death-defying leaps showcasing a strong determination to succeed. A victory over Lesnar may seem far-fetched, but if there is anyone with the athletic background necessary to defeat the Beast, it's the "Gold Standard" himself. Lesnar's unchallenged dominance may cause some to be skeptical of Benjamin's chances, but as history indicates anything can happen in WWE.
For the past two years, Rusev has worked had to establish himself as one of WWE's most dominant superstars. Already a former two-time United States Champion, the young athlete has earned his prominent fixture on Monday nights. Exhibiting an awesome display of both speed and power, the Russian brute is a rare athlete. He also seems to have the backing of the creative team, which is something every superstar strives for. While this match has happened before, it occurred on a house show which limited the available audience.  A big win over Lesnar would do wonders for Rusev, solidifying him as the monster heel that he wants (and needs) to be.
At the end of the day, the person who dethrones Brock Lesnar will not do so easily. The resident dictator of Suplex City is an athlete you simply come across once in a lifetime. With his advocate Paul Heyman by his side, the Beast is as a big a threat to the RAW locker room as ever before. For now, he has his sight set on the returning Bill Goldberg, but that won't last for long. While the match will be a competitive contest, there is little doubt Lesnar will avenge his loss at WrestleMania XX. Where that puts him following Survivor Series remains to be seen, but it's likely he'll find himself a fresh opponent. Depending on his decision, the future may be arriving in WWE much sooner than we expect.
This article originally appeared on