Braun Strowman is Rare Case of WWE Booking a Superstar Properly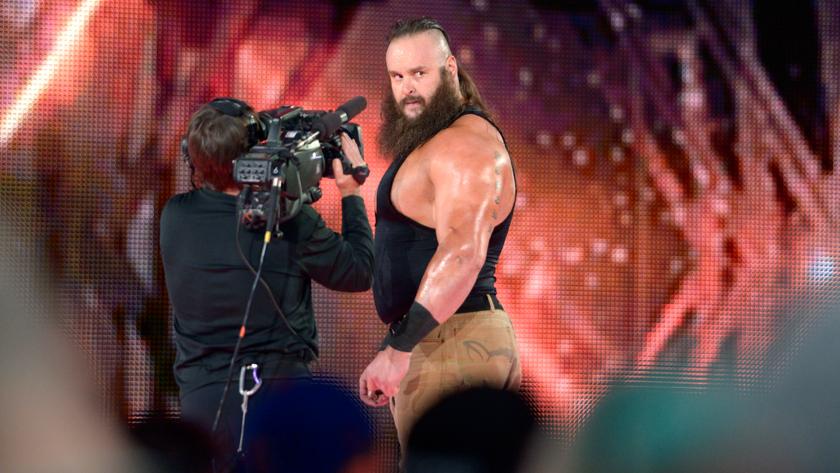 Braun Strowman is still getting his feet under him, but WWE has been doing everything right to make sure he's great.
Braun Strowman got welcomed to the WWE Universe in August 2015 in a big way. The size of this man (6-foot-8, 385 pounds) and his monstrous look seemed like everything Vince McMahon would want in his classic version of a Superstar. It's almost like he went back in time to bring back a heel from the late 1980's.
When McMahon has wanted someone to have a place atop of WWE, he makes sure of it (e.g. Hulk Hogan, John Cena, Roman Reigns). While Strowman isn't going to be the next Face That Runs the Place, The Chairman is creating the next villainous heel that will rule over the WWE roster. So far, it's working.
We're in an era of WWE where the performers have poorly built storylines and a lack of character depth. Even with the build of Reigns as the next Face of the Company, he hasn't received anything close to an extra layer being added to his persona or a great storyline. This could be due to bad writing or last-minute changes. Other Superstars haven't been allowed to have momentum created for them and instead go through disoriented finishes to get to their final goal of a title.
From the first Raw after the WWE Draft, Strowman has received just about all of this.
Never once has The Black Sheep had anything done to cost himself momentum that got built up. This started with the demolition of jobbers for about two months. We saw him destroy one after the other, sometimes two. Even Sin Cara got eaten alive.
Then, the battle royal with Sami Zayn. While it became clear that The Underdog from the Underground was a dead man the moment he stepped into the ring with Strowman, the sympathy he built for himself, which WWE had to of realized would happen, helped the big man. It made him look even more dastardly when he eliminated Zayn and ended the former NXT star's chances at getting that final Survivor Series spot. He crushed the fan favorite's dreams, one that everyone got behind even though he had a matchup nightmare.
Winning streaks can either be a godsend or a curse for WWE Superstars. Everyone from Rusev, to Asuka, Adam Rose, and even Bo Dallas has had one. That doesn't mean they're going to be dominant players on Raw and SmackDown, but in some cases, it's a recipe for success (Asuka, Shinsuke Nakamura).
Strowman is nearly four months into his lonesome singles run and 15 months since his debut, and he's never lost by pinfall or submission. It's done more good for him as he has physically decimated his opponents, unlike most of the past Superstars with winning streaks. This makes him actually look dominant given his imposing size and demeanor, which causes few to mess with him. That can't be said for Rose or Dallas when they had their runs. The only thing to watch out for is how Strowman losses his winning streak.
Remember Rusev? Well, there was a time where WWE had booked him nearly perfectly. He steamrolled anyone placed in front of him and looked like the next monster heel for a full year. Enter John Cena at WrestleMania 31, and this all changed. Now, The Bulgarian Brute can be seen taking jackhammers from 49-year-old Goldberg.
As for Strowman's character, it's a work in progress. We don't quite know who he's supposed to be, but his monster personality may be all that he needs. Unlike Rusev, WWE can't use the foreign gimmick behind him, so as long as they book the 33-year-old to be a terror to the roster, they may be okay with where he's at. It would be settling, but isn't the worst thing that could happen. His Wyatt Family past can still be tapped into, which has hardly been mentioned since the draft. That could be a way of adding to whoever Braun Strowman is supposed to be.
The first of many turning points in Strowman's booking could come at Survivor Series. The 5-on-5 match has provided opportunities for Superstars to gain a heatwave of momentum (e.g. Dolph Ziggler in 2014). With his spot in there, this could be an opportunity for him to dominate SmackDown and eliminate multiple wrestlers. If WWE wanted to go one step further, they would have Strowman win the match for Raw and really move the needle on his progress. With how he's been booked, it's certainly possible. However, the company could go the high road on his booking and have him leave the match on his own or get eliminated via count-out. It's a stale formula that WWE has gone back to plenty of times when trying to keep a heel strong.
If Strowman walks out of Survivor Series successful, he'll probably be on his way to an important WrestleMania match next April. Probably not for a title, but against a big-name star is a possibility. If WWE wants someone realistic to end the career of The Undertaker, this could be the guy. It wouldn't just be for the realism aspect, but it could put over Strowman for good as a heel. He'll get booed just for being associated with ending The Dead Man's career, something that hasn't seemed like it had an expiration date. It's heat that turned Brock Lesnar into one of the most momentum-filled stars seen over the past few years, which Strowman could benefit off.
Oh, and did we mention Strowman can do things like this?
That's some freakish athleticism from a near 400-pounder.
WWE has booked Braun Strowman well, but there's still some cause for concern which is no different from any other Superstar. They have their next monster heel there if they decide to pull the trigger on the all-out push, something that the company has been reluctant on doing for years. Maybe this will be the time it happens, or we may get another Rusev.
This article originally appeared on