Bayley Gets Deafening Crowd Chant During WWE Raw Taping (Video)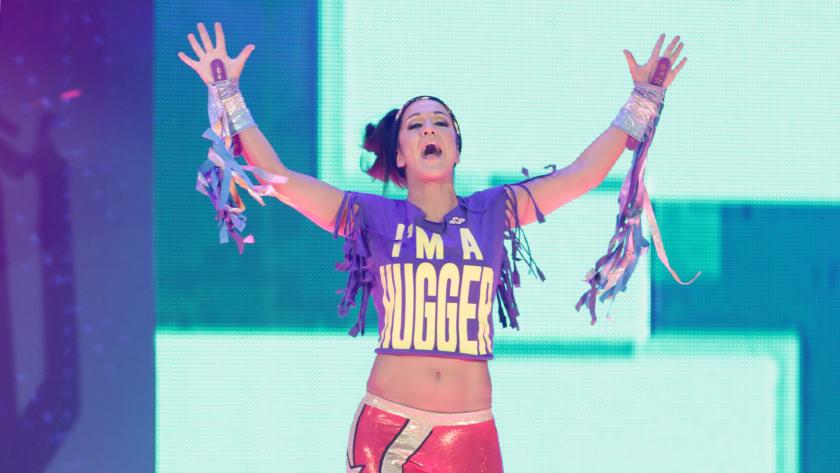 Bayley received quite the reaction at Monday's WWE Raw taping in Glasgow, Scotland.
Bayley has had an interesting past few months as part of the WWE main roster. She received a Raw Women's Championship opportunity at Clash of Champions, but fell short. Her next opponent would be Dana Brooke at Hell in a Cell, which resulted in a victory.
On the Halloween episode of Raw, The Hugster got announced as part of Team Raw's women's team at Survivor Series. She is teaming with Charlotte, Nia Jax and two unnamed Superstars against Team SmackDown's Alexa Bliss, Becky Lynch, Nikki Bella, Naomi, and Carmella.
There would be fallout from this at Monday's Raw taping in Glasgow, Scotland, which is airing at 8:00 p.m. ET. A segment on the Team Raw women's Survivor Series team would take place with Bayley, Charlotte, Dana Brooke, Nia Jax, and Alicia Fox. The United Kingdom fans have always adored Bayley since her NXT days, so they went wild for her.
However, the reactions were so overwhelming that they took over the segment.
The @itsBayleyWWE love has officially hijacked #RAWGlasgow. So much fun in here right now. #RAW #WWEUKTour pic.twitter.com/PZsdJEQ27h

— Gorilla Position (@WWEGP) November 7, 2016
I LOVE THIS CROWD!!! #RAWGLASGOW pic.twitter.com/FBqrtLPLdA

— addy. (@HHHOwnsMyHeart) November 7, 2016
WWE usually edits the crowd noise from the UK tapings, so expect these chants to not last so long on TV or be canceled out. This is proof, though, that this crowd went absolutely ballistic for the former NXT Women's Champion, who may not be from Scotland, but the fans love her.
We'll see how far WWE goes in letting these chants air on Raw in a few hours. They have edited negative reactions for people like Roman Reigns before, so it's possible they tone down the overwhelmingly positive ones for Bayley as they took over a segment.
This article originally appeared on