Analyzing Dean Ambrose's Role for WWE No Mercy Main Event Feud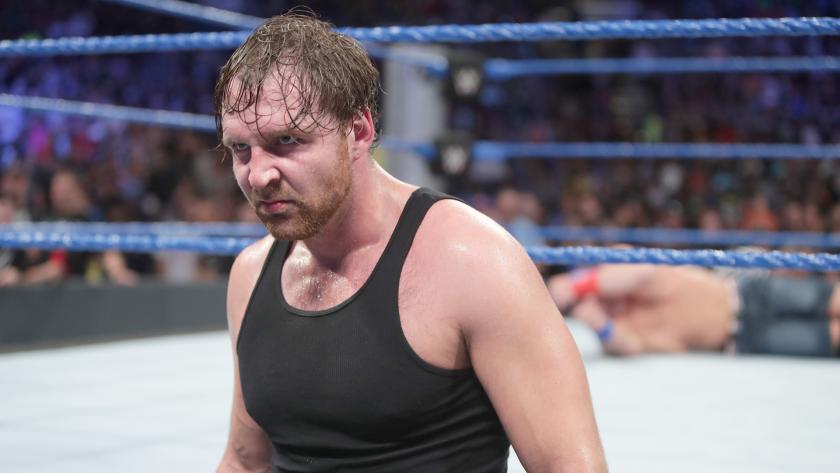 Dean Ambrose's role in the WWE No Mercy main event feud may be a difficult one to figure out.
After a nearly three-month WWE World Championship reign, Dean Ambrose lost the belt to AJ Styles at Backlash. Given the latter's momentum heading into the show (he defeated John Cena in two singles matches), it seemed somewhat inevitable that he would get a title run. It would come at Ambrose's expense, which had seen him receive one of the top moments of the year, when he cashed in Money in the Bank hours after winning the briefcase.
One night later, Ambrose received a second chance, being put into the No Mercy main event match. He'll compete against Styles and Cena for the world title.
To close that episode of SmackDown, we saw The Lunatic Fringe hit Dirty Deeds on The Face That Runs the Place. It received some boos from the fans, as he didn't get provoked in the moments prior. This left some doubt on Ambrose's character, whose role for No Mercy may be up for debate.
Ambrose is with two polarizing figures, Styles and Cena, in this WWE World Championship match. One is popular, but also arguably the top heel in the company. The other has been WWE's top babyface for over a decade, and won't have his role change. This leaves the 30-year-old kind of stuck in the middle, because as we saw by his crowd reactions, some boo him, while others will pop. It makes him the middle man of this feud.
Ambrose is going to play both sides of this feud. He's going to brawl with the bad guy in The Phenomenal One, and bring his solo ego head to head with someone who may always be beloved. So, he'll look like a face with Styles, but a feel working against Cena. It makes Dean the double-edged sword, something that WWE must handle delicately.
As we saw on the Blue Brand's most recent show, if Ambrose goes after Cena, he will be booed. Fans know that The Leader of the Cenation isn't turning heel for a feud anytime soon, so if they see someone attacking him, they're going to be looked on as the heel. The former Intercontinental Champion can't continue to do this, if WWE wants him to be cheered.
Working this role has similarities to the feud with Dolph Ziggler from SummerSlam. Ambrose played the middle man, while The Showoff became the underdog babyface, looking for his last chance at the top gold. Bray Wyatt, while not in their match at the pay-per-view, feuded with these two as a heel, putting a wrench into this program. He did this, while Ziggler got taunted by the then champion for not being good enough anymore. Showing these heel tendencies, along with having a disappointing title match, hurt Ambrose's momentum, and may have led to the increased negative reaction directed his way.
If WWE is going to go down this road of Dean Ambrose as the inbetweener for No Mercy, it will only hurt his character. The plan seems for him to be a babyface, and makes sense to continue with Cena's inevitable hiatus. WWE is toeing a thin line, though, and need to be careful through the next month.
This article originally appeared on