Alexa Bliss is WWE SmackDown Women's Division Best Kept Secret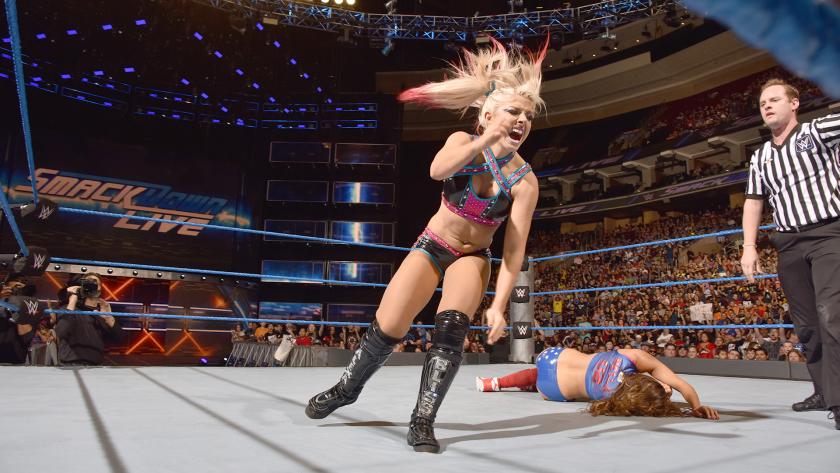 With her recent call up from NXT to the main roster on Smackdown Live, Alexa Bliss has shown quickly that she is the division's best kept secret. 
Over the last two months, the Smackdown Live women's roster has shown that they are the stronger of the two brands. With a mixture of both veterans and promising rookie's the women have been a major strength of the blue brand.
One of the best secrets in the women's roster on Smackdown has been rookie Alexa Bliss. She got drafted in the later rounds of the selection show, as part of the obligation that six talents from NXT were to be included.
Upon coming up to the main roster, Alexa has shown that she can handle herself in the ring. Despite not being in NXT for that long before being called up, Bliss showed during her time down there that she could indeed wrestle.
Even though she is not considered one of The Four Horsewomen (Bayley, Sasha Banks, Charlotte and Becky Lynch), Bliss was around during the uprising of women's wrestling down in NXT. She most notably had some interesting programs with the likes of Sasha Banks and Carmella.
Bliss tried to win the NXT Women's Championship, but was unsuccessful when she challenged Sasha for the belt. The former fitness model would then turn heel a short time later, and showed that she could also be a great manager.
With her skills as manager Alexa was able to help the tag team of Blake and Murphy hold the NXT Tag Team Championships for several months. The duo, with Bliss at the helm, were champions until they lost them to The Vaudevillains at the first Takeover: Brooklyn.
Alexa would then again try to win the NXT Women's Championship, this time again against Bayley, but was unsuccessful again. Bliss would hang around in NXT until July, when she got drafted to Smackdown Live in one of the final rounds.
Just like in NXT, Bliss has shown quickly on Smackdown Live that she can be an effective wrestler in the ring. Upon debuting, the 25-year-old won multiple matches against the Blue Brand's first women's draft pick, Becky Lynch.
Bliss then got awarded a spot in the six-pack challenge at Backlash to determine the inaugural SmackDown Women's Champion. Despite being the first one eliminated, Bliss showed off some great high spots during the match. She also displayed a new look with her hair and outfit looking like Harley Quinn from the Batman Universe.
Bliss has also shown that she can play both a great face and heel. During her early days in NXT, the No. 1 Contender had been a fan favorite. She could have even been the next Bayley with her light heart appeal and innocence.
Alexa, though, quickly showed that she could be a very hated female if she wanted to. When Bliss turned heel, she became one of the most hated women in NXT. Her actions and reactions towards the fans really get her over as a heel as well.
The endless possibility that WWE can do with her make her both a very appealing and unique card that they can play. Whatever they decide with her next, WWE should be happy and lucky to know they have such a versatile female on their roster in Alexa Bliss.
This article originally appeared on