5 WWE Stars Who Were Disappointments in 2016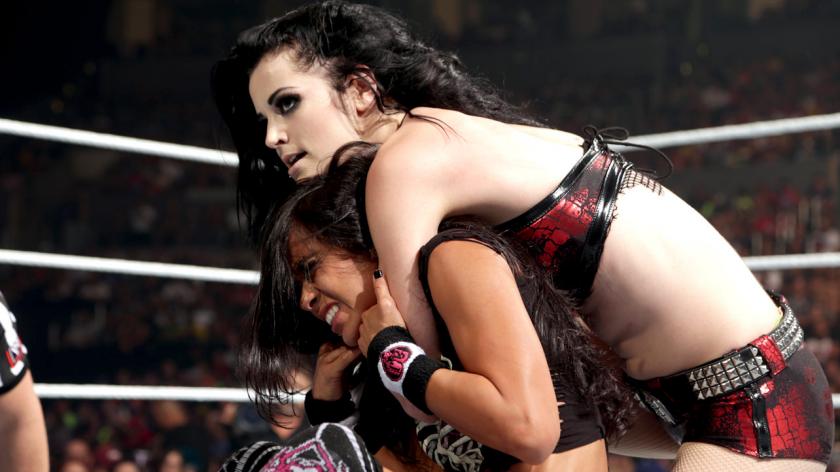 2016 has been transitional for WWE Superstars as a whole.  However, not everyone benefited from the shake-up.
2016 was the year of elevation for the WWE Superstars.  Much of the talent saw new life breathed into their characters and new opportunities arise thanks to the new Brand Extension.  It is clear that there is indeed a new era (when will they come up with an official name here?) shifting in.  While 2016 has been overall a great year for WWE, it was not without some mishaps.
For an influx of Superstars who succeeded in 2016, there were some Superstars that the year wasn't kind to.  Injuries plagued them, or perhaps other scenarios caught them this year.  Some talent left while others got lost in the shuffle.  Whether it was bad decision making on either side or politics it was sad to see considering the opportunities that opened up with big name injuries the likes of John Cena and Randy Orton.  Their injuries left a huge void to fill during WrestleMania season this year, which proved to be a challenge for the roster as a whole.
With all this talent on the main roster, it was absolutely necessary to reintroduce the Brand Extension.  The Brand Extension serves as a way for each show to focus on their group of Superstars.  There have been numerous success stories coming out of this year.  It is safe to say that it has been a good start for the new Brand Extension and 2017 shows promise that it will get better.  2017 will come in a matter of weeks, and perhaps it will bring new opportunities.
WWE is always changing up resulting is some talent coming and some going.  While this year has had its share of shockers and disappointments, fans can bet 2017 will stay on that fast track.  The new year is approaching and maybe 2017 will be a little kinder to some of these Superstars.  Whatever the future holds one can hope that it will be a little bit brighter for these five WWE Superstars.
5. Paige
Perhaps the former Anti-Diva was the biggest disappointment of the year by far.  Paige had been dealing with a neck injury for much of the year, putting her on the sidelines post-WrestleMania.  To make matters worse, her personal life attracted more attention than her road to recovery.  When she went public with boyfriend Alberto Del Rio, it threw fans into a tailspin.  Their personal life would do the same.
As if it couldn't get any more worse, both Paige and Del Rio were hit with Wellness Policy violations the same day during the summer.  Paige would then get a second Wellness Policy violation shortly after.  Her lashing out on Twitter piqued fans' curiosity as it came from frustration with the company.  Paige's future with the company certainly doesn't' look bright considering the tumultuous year she has had.
The Women's Division has had its best year yet and considering that Paige has played an integral role in the build up to the glory days it is just a shame that she wasn't able to reap the benefits of the hard work she had put in since her NXT days.  It is clearly evident that Paige has hit a rough patch professionally.  Whether she can recover or not remains to be seen.  In the meantime, she's still featured on Total Divas so she hasn't completely disappeared from the scene just yet.
4. Apollo Crews
This is a perfect example of what happens when a Superstar is called up from NXT too soon.  Crews was a surprise addition to the main roster after WrestleMania and while he is indeed talented, he is one of the many Superstars who finds himself lost in the shuffle.  He had a short feud with Sheamus during the summer but anything after that hasn't amounted to much.
Crews had a dominant run in NXT, and he could've used the time spent on the main roster in NXT developing more of an establishment.  For a casual fan, Crews looks to be a showman and nothing past that.  I am not suggesting that he isn't worthy of a main roster spot, because he certainly has the talent to be there.  It's a matter of establishing who he is and needs a good storyline to define his character.
2017 can – and should be – promising for the Georgia native.  Perhaps a run in the Intercontinental Championship picture could help his case.  The Miz is definitely one of the MVP's of Smackdown right now, and as long as he has the Championship, Superstars such as Crews could vie for a chance at it.  The Miz and Dolph Ziggler don't need to feud forever.
3. Hideo Itami
Itami has been a victim of bad luck since he came onto NXT two years ago.  For him, his case is a matter of staying healthy.  Itami suffered a shoulder injury in 2015 that put him out of action for well over a year.  When he made his return to NXT this summer, it wasn't long before he was put on the injured reserve list again due to a neck injury.
He was set to tag with Kota Ibushi in the Dusty Rhodes Tag Team Classic which was a dream team of sorts.  However, this never happened due to his injury.
Many fans are looking forward to what kind of run Itami can have in NXT if he can get rid of the injury bug.  However, right now Itami is more of a liability, which isn't good for either him or NXT.  NXT certainly needs him right now considering the developmental brand is experiencing a shift, too.  Itami has an extensive pro wrestling background, and his injuries are robbing fans the chance to see what he can do in the squared circle.
2. Neville
Neville has found himself lost in the shuffle since coming onto the main roster just a year ago.  He was one of NXT's biggest stars until debuting on Raw, which hasn't been kind to the man that gravity forgot.  He had a high profile match at SummerSlam with Arrow star Stephen Amell, but past that it has been downhill since then.  He suffered an ankle injury just before WrestleMania.  Even when he returned to action, Neville is still lost on the Raw roster.
The head scratcher in this is that Neville is small enough to participate in the Cruiserweight Division, but it looks as if the company hasn't been on board with that idea.  Neville certainly has the talent that fits the Cruiserweights and would do extremely well there.  His recent tweet indicates that he is unhappy with his position in the company.
Perhaps Smackdown General Manager Daniel Bryan can remedy Neville's problem in the upcoming year.  It's very apparent that Bryan is hoping that Cesaro can join the blue brand, but he ought to give Neville a look too.  He has fallen into the category of NXT Superstars who failed to make an impact on the main roster.  Neville is one of the best talents the company has, it's absurd that he's not being used properly.
1. Darren Young
"Make America Great Again" may be the slogan that has gotten Donald Trump into the White House, but for Darren Young the coy "Make Darren Young Great Again" tag line has fallen flat.  Getting paired with the rather odd Bob Backlund certainly didn't help his case either.  The former Tag Team Champion's solo run hasn't been very successful thus far, resulting in fans to tune out of what he's trying to sell them on.
Other than a short stint feuding with former Primetime Player Titus O'Neil, Young hasn't been seen much since the Halloween edition of Raw.  It's a drastic change from when he debuted with The Nexus just five years ago.  Along with Heath Slater and David Otunga, they are the only three remaining original members of The Nexus to still be employed by the company.  Slater has seen newfound success on Smackdown as the inaugural Smackdown Tag Team Champions with his partner Rhyno.  Perhaps 2017 can spell out success for Young too?  While Young doesn't have the hardcore following that Slater does, maybe it's not too late for him on Raw.
This article originally appeared on