5 Ways Finn Balor Can Return to WWE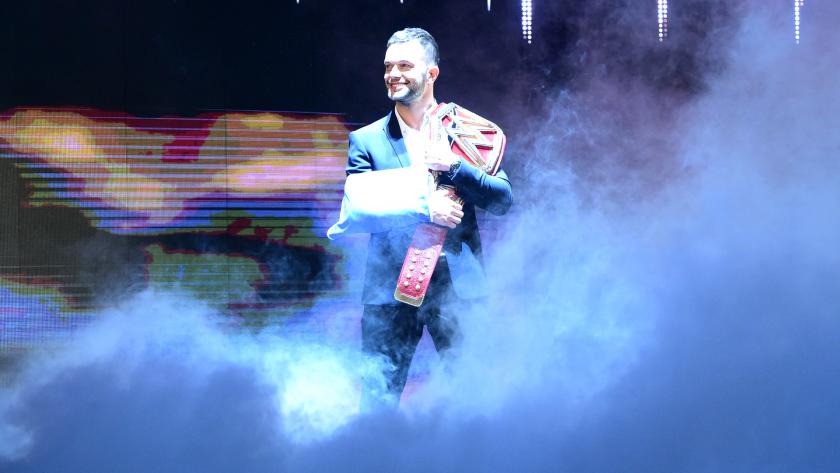 With Finn Balor saying he could be on his way back to WWE by WrestleMania 33, what could be potential scenarios for this?
At WWE SummerSlam, Finn Balor competed for and won the Universal Championship, becoming the first-ever holder of this belt. He defeated Seth Rollins in one of the last matches of the show and seemed to be in line for a long reign. It also capped off a wild first month since the Demon debuted in WWE after the July draft.
However, things spiraled downward quickly. It got reported in the hours after the match that Balor had been hurt against Rollins. This came during an attempted buckle bomb, which saw Finn land awkwardly on the barricade at ringside. The result would be a torn labrum in his right shoulder with a timetable of 4-6 months for a return.
Since appearing on Raw to relinquish the Universal Championship, Balor hasn't been seen on WWE programming. During these three-plus months, this has seen Kevin Owens win the title in a fatal four-way, Rollins challenge for the belt, and now Roman Reigns trying for it at Roadblock: End of the line.
However, it seems that Balor could be inserting himself back into the title picture, or at least on Raw, soon. He noted on a recent episode of the "Sam Roberts Wrestling Podcast" that the target return date is WrestleMania 33. The 35-year-old also said, "there's talk it could be sooner."
So, if we're getting that much closer to a Finn Balor return, what could he do on WWE programming, whenever this comeback may be? Here are five potential scenarios for this.
5. Balor Regroups with Karl Anderson and Luke Gallows
When Finn Balor, Karl Anderson and Luke Gallows were all on Raw at the same time, their history together never really got touched on. They had one brief backstage segment together, but Balor got injured a short time later. So, nothing had been able to follow up their mini interaction on WWE programming.
Back in New Japan Pro Wrestling, these three were part of the company's most popular stable, the Bullet Club. It's a group that Balor, then known as Prince Devitt, formed in 2013 as a way of the foreign-born wrestlers taking over the Japanese wrestling show. They group eventually expanded and continued to do so, even when Balor left for WWE in 2014. AJ Styles then took over the group for about two years, until he, Anderson, and Gallows left for the Leader in Sports Entertainment in 2016. These three were together for a few months, but got broken up by the WWE Draft.
In his return to WWE, the master of the 1916 finisher could regroup Anderson and Gallows and become the trio that fans thought would form months ago. The Balor Club could finally become a thing, even though WWE dropped the trademark for the name in June. They would then be able to run over Raw as the freshest stable the Flagship Show has. They would replace New Day, who have seen their act go stale since the brand split began.
Given that the trademark got dropped, though, this seems unlikely that a Balor Club would form. WWE also hasn't done much with the former IWGP Tag Team Champions for the past 4-5 months, so putting them into a relevant part of Raw doesn't seem likely.
4. Returns to Get Revenge on Seth Rollins
Seth Rollins walked into WWE SummerSlam as a heel, left without the Universal Championship, but also scarred Finn Balor and left him out of action for three-plus months. The Architect turned face just weeks later after Triple H cost him the Universal Title match and literally handed the belt to Kevin Owens.
Whenever Balor returns, why wouldn't he want to go after Rollins for injuring him? This would likely result in a heel turn given the former Shield man's recent start to his face run and the believable animosity from Balor. He would viciously beat down Rollins all throughout the ring and backstage, opening up a new side of the 35-year-old that WWE fans haven't seen before.
For WrestleMania 33 season, doing this would be unlikely since Rollins seems to be setting up a feud with Triple H for the Show of Shows. If Balor somehow can't return until after the show, though, then this would be a good way of kicking off the post-'Mania Raw. They could then feud into the spring.
3. Feuds with Kevin Owens
Heading into WWE Roadblock, Kevin Owens is the Universal Champion, but will be defending the belt against Roman Reigns. Given the status of both men of the Raw roster, there is no guarantee that KO walks out of the show with the belt.
However, if Owens does retain, then it sets him up to be champion into 2017. With Chris Jericho seemingly set to end their friendship, there's even a ready-made feud for the Royal Rumble pay-per-view between these two. If the former NXT Champion wins that, then he would be in good position to walk into WrestleMania 33 with the title.
Finn Balor could return around that post-Royal Rumble time, and would probably get a WrestleMania match out of it. Interest would be high in seeing him wrestle, so WWE could book him in a marquee match. What better way of doing this than sending him toward the Universal Championship. It's a belt that Balor never technically lost and only dropped due to injury. Like Seth Rollins' return, the Demon could be hell-bent on getting the title back and do everything he can to accomplish his goal.
There's also a ready-made feud with Owens for the title. They have history dating back to NXT with their months-long feud for that brand's title, so that could be rekindled here for a potential WrestleMania 33 match.
2. Turns Heel on WWE Universal Champion Roman Reigns
Roman Reigns seems to be the WWE star that mostly everyone wants to see turn heel. This has been the case for about two years as he's had WrestleMania main events, three title runs, and a character that has spoken nursery rhymes; not the best way to connect with the audience.
Heading into Roadblock: End of the Line, Reigns is set to face Kevin Owens for the Universal Championship. If there is a title change here, then we would probably see the Big Dog walk into WrestleMania season as the champion. It takes him out of the Rumble and sets up his first title defense at the Show of Shows.
With Owens likely out of the way by WrestleMania, this would open up the opportunity for someone to take the challenge. This could be a returning Finn Balor, who would turn on Reigns shortly upon return after the Royal Rumble.
The idea behind the heel turn and feud would be that Balor originally beat Reigns to earn a Universal Championship opportunity at SummerSlam, which he won. Then, just months later, the former Shield man would have become the titleholder, which the Demon would claim that he still should have been. He could say that Reigns doesn't deserve the belt he's holding and how if it wasn't for Seth Rollins, he'd still be the champion. This could then lead into a WrestleMania 33 match for the title.
1. Surprise Royal Rumble Entrant
Over the years, we have seen plenty of WWE stars make shocking returns at the Royal Rumble. Most recently, Chris Jericho showed up unannounced in the 2013 match as the No. 2 entrant. This led to a WWE run into WrestleMania 29. Others will remember the shocking returns of John Cena and Edge over the past eight years. Cena and Edge won the respective Royal Rumble matches they returned at, which capped off their big evenings.
Could the same be in store for Finn Balor at the 2017 Royal Rumble?
If Balor can return from his shoulder injury at the end of January, it would be just about five months of rehab time. This goes along with the original 4-6 month timetable, which we have seen vary with Superstars like Sami Zayn, Hideo Itami, Randy Orton, and Cesaro over the past year.
Balor returning at the Royal Rumble would be just the latest shocking moment and the most exciting way of bringing him back to WWE. He would send the Alamodome into an uproar as he charges the ring and starts going wild. This would include throwing Superstars out of the ring, feeding off the crowd noise, and eventually winning the Rumble. It would set him up for a Universal Championship at WrestleMania 33 against whoever is holding the belt.
This article originally appeared on