5 Potential Opponents for Undertaker's WWE Return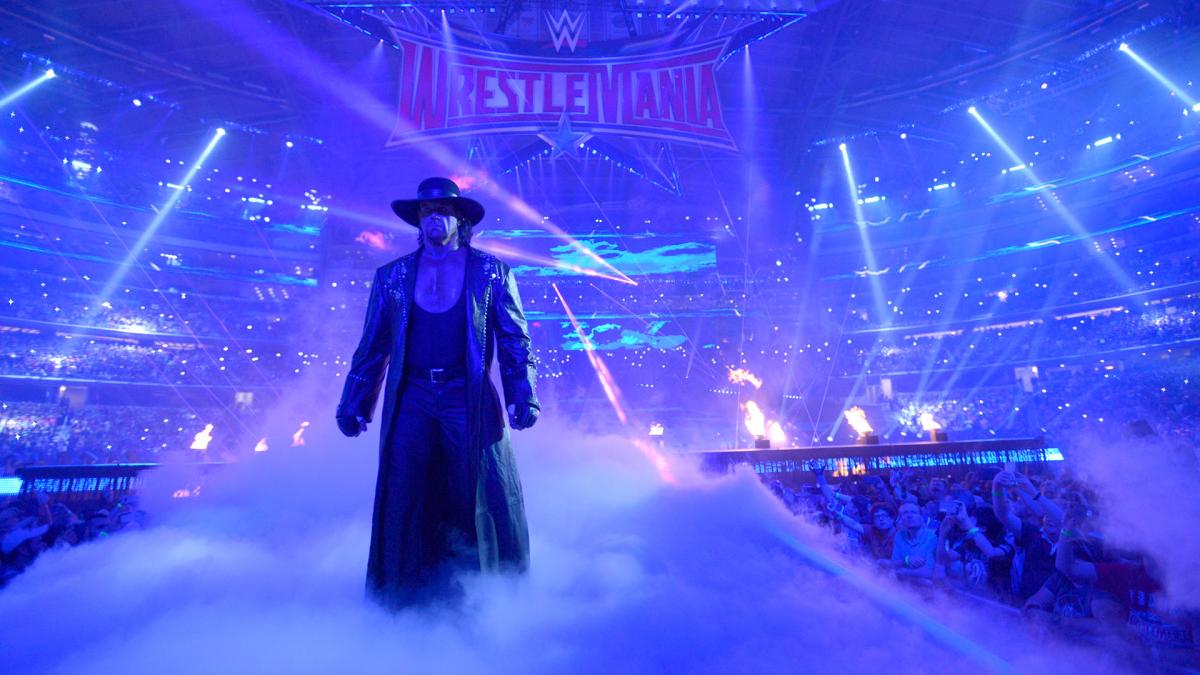 With The Undertaker returning to WWE, who should he face if he's going to be wrestling a match?
On Wednesday, The Undertaker's WWE return got announced for the November 15 episode of SmackDown. This will also be the 900th episode of the Blue Brand as they will take over the Mohegan Sun Arena in Wilkes-Barre, PA.
Taker had last been seen in WWE at WrestleMania 32 in April. He battled Shane McMahon in a Hell in a Cell match, which had plenty on the line. If McMahon won, he would get control of Raw, and Taker wouldn't be allowed to compete at The Show of Shows ever again.
Well, The Deadman would win the match, preserving his WrestleMania career. Shane went on to get control of SmackDown anyway, so the result didn't mean much.
The timing of the returning is interesting. Undertaker may just be around for a one-night-only ordeal or this could be to set up something bigger.
Five days after his appearance, Survivor Series will take place. The match card is already coming together, so there may not be a space for him there. However, could a surprise appearance be in store for the show, which could get announced on November 15?
The alternative, and potentially the more likely option, would be to start building Undertaker's WrestleMania 33 match. The Wrestling Observer had noted earlier this year that he may not be returning for another match, but things could always change.
If Taker is coming back for WrestleMania 33 or another show, he'll need an opponent. With the WWE roster having expanded since the Brand Extension, there are a handful of options. Who would be the best fit, though, to face him from Raw or SmackDown.?
5. Kevin Owens
It's not a foregone conclusion that Undertaker showing up at SmackDown means he would feud with someone for the brand. This could just be a one-night thing, so he could always battle someone from Raw.
Kevin Owens may not stand out at first, but WWE has turned him into a main event talent this year. He rose from two-time Intercontinental Champion to the second-ever Universal Champion, Raw's top title. He headlined Clash of Champions, put on a phenomenal Hell in a Cell bout, and will probably close Raw's Roadblock event in December. If that match is against Chris Jericho, KO would likely walk into 2017 as champion and a main eventer too. It's a status that would certainly help his case for facing the future hall of famer.
For Owens to wrestle Undertaker, though, he would probably need to drop the title beforehand. At the moment, there doesn't seem to be any indication of this happening, and it's even possible he goes into WrestleMania 33 as champion. If Finn Balor can return for that show, it would probably make more sense for him to go after Owens and the title to build off a natural storyline. Balor would want his title that he never got pinned for back, and he already has a history with the current champion from NXT.
4. Dean Ambrose
Dean Ambrose got his chance with a big-time WrestleMania opponent in Brock Lesnar. However, their match never really got off the ground and didn't see anything crazy happen, especially with it being a No Disqualification match. Things didn't stay flat for Ambrose for long, though, as he held the WWE World Championship for three months.
Since losing the belt, The Lunatic Fringe has remained a top star on SmackDown. He is still a main eventer, having headlined the first two exclusive pay-per-views and will do the same in December. Seeing Ambrose reclaim the WWE World Championship would be surprising, though, and he'll have to move on elsewhere. If that's the case, why not build his WrestleMania 33 match sooner than later?
The Undertaker could be a potential partner for Ambrose. It would reward the latter with a chance at wrestling a legend in WWE and helping him further cement his status. Anything to help the current roster's stock is needed, especially with creating the stars that will lead WWE past the John Cena era.
The issue here is the former Shield man hasn't been winning much lately. While there are months to go until WrestleMania 33, he would need to go on a torrid win streak to become a formidable opponent. Losing multiple world title matches and likely dropping the one at TLC won't help him. Ambrose could even be a potential winner of the 2017 Royal Rumble, which would obviously take him out of the running to face Undertaker.
3. Braun Strowman
Another Raw option is Braun Strowman. The two were heavily rumored for a match at WrestleMania 32 until it got scrapped a few months before Shane McMahon returned. Strowman had only been on the main roster for a handful of months and barely wrestled singles matches.
However, things have changed for the former Wyatt Family member. He has received a singles push that has made him a member of Raw's Survivor Series team, placing him with top stars like Chris Jericho, Kevin Owens, and Roman Reigns. The 300-plus pounder also hasn't lost a match since being repackaged, so he has plenty of momentum. This probably won't change anytime soon.
If Strowman is going to receive a main event push, it would likely place him in the range of facing Undertaker. The person who faces the 26-year WWE veteran needs to be almost perfect for a stretch of matches, which Strowman has been since debuting. His post-draft run has been more impressive, though, even if it has mostly been against jobbers. This should change once Survivor Series comes around.
By booking Strowman against Undertaker, this could develop WWE's next monster heel, the one everyone thought Bray Wyatt or Rusev would become. The company has lacked in this department over the years, but with the way they're pushing the 33-year-old, he could be the next big thing.
There would be a shot of Taker being beaten here. Given Strowman's dominance over the WWE roster, there has been little indication of him losing, and it would even be surprising that happened against the former World Heavyweight Champion. He has to put over someone at some point, so maybe this is the guy.
The only thing holding back Strowman is how green he still is. We still don't know if he can survive a match longer than five minutes, which WWE should put to the test soon. That way they can know if this guy can hang with the rest of the roster's usual 10-plus minute bouts, especially for WrestleMania.
2. AJ Styles
AJ Styles has risen through the ranks of WWE pretty quickly. It started with his Royal Rumble debut in January, carried over into his WrestleMania 32 match, and continued with a WWE World Championship win. He has held the belt ever since.
It's possible that by WrestleMania 33, Styles will no longer have the belt. This could be via someone like John Cena getting his 16th reign at Royal Rumble, or potentially in another scenario. If that's the case, this could set up Styles and Undertaker to go one on one at The Showcase of Immortals.
With The Phenomenal One already on SmackDown, seeds for the feud could be planted on November 15. Styles could cut an in-ring promo with Dean Ambrose and reference how he's the greatest world champion and mock the previous legends that have held his belt. The lights could then turn off and the gong hits. When the lights turn back on, Undertaker could be standing in the ring and go face to face with Styles. He could chokeslam him and subsequently, depart the arena.
This could set up a WrestleMania 33 feud where a full-time wrestler finally gets his shot to face Undertaker. Styles has done plenty to deserve a top match in April and should be in line for someone like The Phenom.
1. John Cena
The one "dream match" for WrestleMania that everyone has clamored for is seeing John Cena face The Undertaker. They previously wrestled each other on SmackDown, but over one decade ago. Since then, they've hardly crossed paths.
Cena and Undertaker are two of WWE's biggest icons. They each led an era of programming as the top stars, mostly as babyfaces (Taker had a heel run), and have been dominant, especially the latter at WrestleMania.
Undertaker has accomplished just about everything in WWE. He has held world titles, won 21 consecutive WrestleMania matches, and has wrestled some of the best on the biggest stage. Facing The Face That Runs the Place on a big stage is something he hasn't done, though. He hasn't even faced Cena under that nickname.
These two colliding at WrestleMania could either be just a dream match, similar to Cena facing The Rock at WrestleMania 28, or with more on the line.
Undertaker is going to be 52 by the time WrestleMania 33 is here. There's going to come a time pretty soon when he can't wrestle anymore. While Sting lasted to 56 and Ric Flair still competed in his late 50's, they're anomalies. Maybe The Deadman is too, but he can't have too much longer left in the ring. So, is WrestleMania 33 the time to have him retire?
Having Cena be the one to do so would be an interesting choice. WWE would probably have to turn him heel to make this happen, something they haven't done since he became the top guy last decade. There isn't a connection either, like Shawn Michaels and Flair had for their WrestleMania 24 retirement match. However, HBK and Taker at WrestleMania 26 didn't have a strong bond, but they doing a rematch from their all-time great WrestleMania 25 bout was enough to create a final match for the former.
A once in a lifetime match and Cena threatening to end Undertaker's career would be more than enough of a sell, especially to happen at WrestleMania 33. It would be good enough to main event and would be a spectacle.
This article originally appeared on