5 Greatest WWE Survivor Series Elimination Matches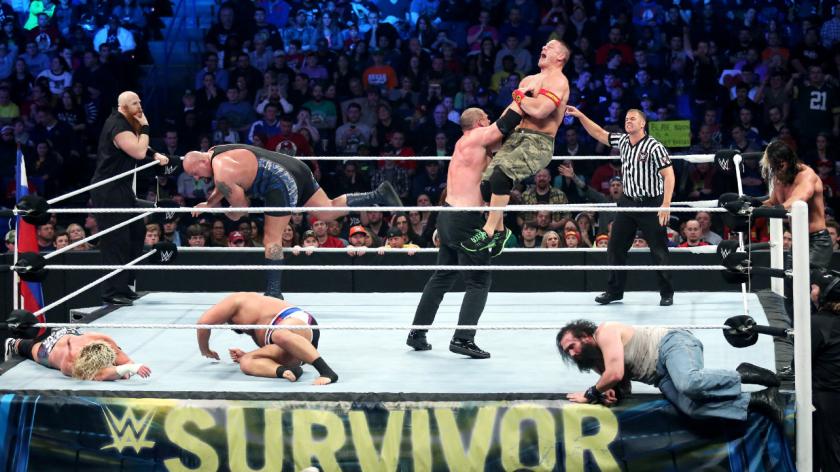 Counting down the top 5 greatest Survivor Series elimination matches in WWE history.
Survivor Series, the WWE's Thanksgiving tradition will once again take place this year on November 20th.  The event will feature a rematch 12 years in the making between legends Bill Goldberg and Brock Lesnar who will look to erase the debacle that was their first match at Wrestlemania XX.  But in three matches true to the pay per view's name, the elimination-style match will be represented this year as Team Raw and Team Smackdown will do battle in tag team, men's and women's matches.
Not all the participants have been decided yet for their respective matches, but for what has been booked so far, these matches have the potential for brilliance, on par with some of the best elimination matches of all time.  But that gets one thinking, what are the best matches in the history of the pay per view's namesake?  The tradition goes all the way back to 1987 when the then WWF looked to ride the momentum of their massively successful Wrestlemania III show and devised this type of match card for the following November.  There were 4 Survivor Series matches that night and since then there have been 71 more matches of that type, some great, some not so much.
Ahead we break down the 5 best elimination matches in Survivor Series history.
5. Team Kingston vs Team Orton – Survivor Series 2009
Kicking off the list was a very good match from the 2009 Survivor Series that seemed to propel one superstar into the main event, only for the company to completely drop the ball.  That superstar was Kofi Kingston.  After moving quickly through Deep South Wrestling, Florida Championship Wrestling, the WWE's ECW brand, and then Smackdown, the ultra-talented Kofi looked destined for big things.
Enter Randy Orton, the man who could facilitate the massive push that Kingston could have and should have gotten.  The two got to feuding shortly after Kofi's call up and it seemed like the then 28-year-old Floridian would get the chance of a lifetime, a main event run.  The feud was back and forth and Orton delivered his normal brand of viciousness with Kingston matching him on every level.
Then came their Survivor Series matchup as dueling captains.  Orton enlisted CM Punk, William Regal, and his two Legacy stablemates, Cody Rhodes and Ted DiBiasi while Kingston countered with a team of Christian, Mark Henry, MVP, and R-Truth.  This was a terrific combination of young up and comers with established stars.
The match that unfolded was  solid, clean wrestling from a bunch of established pros.  However, one thing stood out more than ever, Kofi was really, really good.  Down 2 on 1 to Orton and Punk, "The Boom Squad General" spent the match's final 7 minutes completely out-classing the 2 world champions all the while delighting the 15,000 fans in attendance at AT&T Center in San Antonio.  The end came at just under 21 minutes after Kofi pinned Punk with a roll-up and then immediately nailed "The Viper" with his patented Trouble In Paradise kick.
Unfortunately for Kingston, the WWE apparently weren't as thrilled with his performance as many others were.  He'd spend the next couple of months losing numerous matches to Orton including at the following month's TLC pay per view.  Kingston spent the following few years toiling in the mid-card before finally finding his current footing with The New Day and their near record breaking tag team championship run.
4. Team Smackdown vs Team Raw – Survivor Series 2005
When 10 wrestlers all compete in one match it's very difficult for all of them to walk out of the match looking strong.  But this match from 2005 Survivor Series proved that idea wrong.  For Smackdown, Rey Misterio, Bobby Lashley, Batista, Randy Orton, and JBL took up the blue brand's cause against Shawn Michaels, Kane, Chris Masters, Carlito, and The Big Show representing RAW.
The match was a track meet from start to finish but the big guys involved had huge moments as well.  Although being eliminated first, Bobby Lashley, who had only been on the Smackdown roster for 2 months, came out looking like a superstar after tearing through his opponents before getting caught by an illegal chokeslam by Kane.  Along with Kane, the big boys also thrived, as Big Show and JBL seemed reinvigorated by the match-up and Chris Masters and Batista went back and forth in a contest to determine the biggest monster.
And of course, like most matches, the brightest stars shined the most.  Mysterio was a human pin ball all match, Michaels was his usual legend self with the most eliminations (3), and Orton did what he seemed to always do in his career, win.  When it was all said and done, "The Viper" was the only survivor.
To cap off what was a terrific match, the WWE decided to use this opportunity to further an angle.  Just as the Smackdown team was celebrating and thought all was right in the world, that familiar gong went off.  The Undertaker, who just a month before at No Mercy had been locked into a casket and set on fire by Orton, came back for revenge.  This led to a vicious Hell In A Cell match the following month at Vengeance that welcomed Taker back for another incredible run by The Deadman.  A great match that furthered the careers of 10 guys and an angle that led to one of the most intense feuds in the company, No. 4 is an example of booking done right.
3. Team Bischoff vs Team Austin – Survivor Series 2003
2 years prior to Randy Orton's brilliant performance at the 2005 Survivor Series, a then 23-year old Viper took center stage at the 2003 version.  On a night when Orton should've clearly been in over his head against some of the best and brightest the WWE had to offer, he flourished like never before and if it wasn't  clear before that this kid was future world champion, it was after this match.
Orton's own team was stacked with talent as he grouped with Christian, Chris Jericho, Scott Steiner, and Mark Henry.  His opponents were just as good, if not better with Shawn Michaels, The Dudley Boyz, Rob Van Dam, and Booker T.  So to say that he was a boy amongst men would be an understatement and he was going into the contest without the security blanket that was his vicious stable, Evolution.
All 10 members of this match were members of the RAW brand and were doing battle on behalf of either Eric Bischoff or Stone Cold Steve Austin, the two co-General Managers of RAW who were both vying for controlling power.  On paper, it seemed like Austin got the better of the talent when he put his team together especially when Michaels became his fifth guy.  But Bischoff's flyer on Orton as his final pick proved to be the key move in his war with The Rattlesnake.
The match was a back and forth war and everybody got their moments to shine.  Michaels got the worst of the damage, fashioning the crimson mask after eating the metal post outside the ring.  But he still managed to battle back, eliminating Christian and Jericho before finding himself alone with Orton.  But as many other people had found out in the past, you mess with one member of Evolution, you mess with them all.  Michaels got that message loud and clear as Batista interfered to help get Orton the pin.
That was one of the first nights that Orton looked like a legitimate superstar and that momentum has yet to be completely stopped to this day.
2. Team Authority vs Team Cena – Survivor Series 2014
The main event of the 2014 Survivor Series will be remembered for two things: the performance of Dolph Ziggler and the WWE debut of Sting.  However, what should also be remembered is the brilliance that played out over the course of this 41-minute elimination match.
There were several story lines in play for this match but the main plot was that of Triple H and his authority.  The Game and his cohorts consisting of Jamie Noble, Joey Mercury, Kane, and his own wife, Stephanie McMahon had been running wild through the WWE for the previous 18 months and at Survivor Series their power, via an order by Vince McMahon, was put on the line.  A loss for Team Authority would mean the end of their torturous reign and John Cena and his team were hell bent on being the men to make that happen.
Cena brought  with him the aforementioned Ziggler along with The Big Show, Luke Harper, and Ryback.  Hunter countered with Seth Rollins, Kane, Mark Henry, Erick Rowan, and Rusev.  With Triple H and his gang at ringside, the deck was stacked against Team Cena, but they unknowingly had an ace up their sleeve.  Just when the team looked down and out, an entrance 20 years in the making took shape as Sting appeared and took out Triple H, giving the win to the baby faces.  The Stinger was long rumored to be coming to the WWE as Vince McMahon had tried desperately over the years to reel him in, so it was intensely special sight to see him arrive in a WWE arena.
But what can't be overlooked on this night was the performance of Ziggler.  Down 3 on 1 against Rollins, Kane, and Harper, Dolph would not be denied, kicking out of sure pins on numerous occasions and taking out 2 men double his size.  This was one of the biggest nights in Ziggler's career, and he deserved every bit of it.  One of the most consistent, yet underappreciated superstars in the company, Ziggler made his mark on on a massive stage.  This, unfortunately, did not escalate Dolph to the main event like it should have, but proved once again just how good The Show-Off is.
1. Team WWF vs Team Alliance – Survivor Series 2001
If this was not the most star-studded match in the company's history, but there was none better than this  Of the 10 combatants in the main event of the 2001 Survivor Series, there were 52 world championship reigns (counting WCW) among them.  We're talking about 10 bonafide WWE Hall Of Famers all together in the ring in front of 10,000 rabid fans in Greensboro, North Carolina.  It's no shock that this made it to number one on this list.
Quick back story.  When WCW closed its doors in March of 2001 and were bought by Vince McMahon, they left a number of superstars without jobs.  The superstars of WCW along with some from ECW, another promotion that went under just a couple months before that, invaded the then WWF, attacking numerous current stars.  The attacks went back and forth for a number of months and it all culminated with this match with Vince McMahon's Team WWF against Stephanie and Shane McMahon's Team Alliance with the winning team gaining control of the company.
Leading up to the match, several WWF stars switched sides, taking up Shane and Stephanie's cause, including Austin and Angle.  Vince countered the mind games by continuously insinuating that The Alliance had a mole in their faction, with most people assuming that it would be Austin based on him and Vince's ruse earlier in the year at Wrestlemania 17.  Not shockingly, this story line led to must-see television week in and week out for the WWF and the buzz for this match was palpable.
Team WWF consisting of The Rock, Chris Jericho, The Big Show, Kane, and The Undertaker and Team Alliance with Angle, Austin, Rob Van Dam, Booker T, and Shane McMahon tore the house down that night.  And like any great Survivor Series match, the angles in play led to future important story lines for the company.  Chris Jericho and The Rock, although teammates could not hide their disdain for each other and their thirst for WCW belt.  And in the shocking twist of the night, it turned out that Angle was the mole as he turned on Austin enabling The Rock to make the decisive pin on The Rattlesnake.  That touched off another vicious feud between Angle and Austin.
The Invasion angle died out shortly after this event and it's a shame.  It was a terrific story line that had a huge future but it failed before it really got started.  But unquestionably the best part of this feud was the magic that 10 legends produced that night in Greensboro.
This article originally appeared on