3 Better Opponents to End Brock Lesnar's WWE Dominance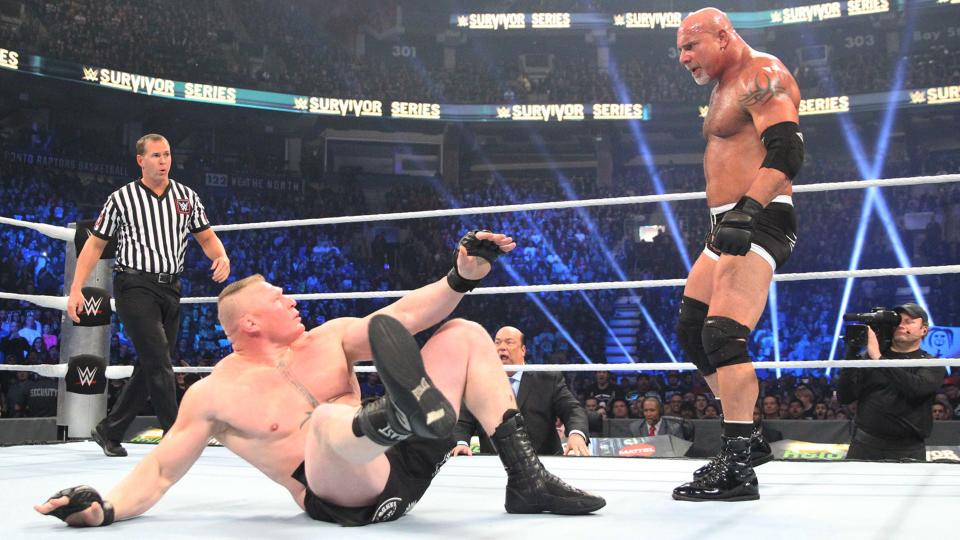 Take a look with us as we look at who would have been better to break Brock Lesnar's dominance in WWE.
This past Sunday night saw something very out of the ordinary in WWE, Brock Lesnar looked like a mere mortal. Yes, you read that right, Brock Lesnar was made to look very ordinary, by one Mr. Bill Goldberg.
The place was Canada. The event was Survivor Series. The match was as big as they come in the world of WWE. Brock Lesnar, the man who has spent the last three and a half years decimating everything put in front of him by WWE. Bill Goldberg, the former WCW Champion making his return to WWE after a twelve-year absence. Brock Lesnar, the man who was gifted the role of being the man to break the WrestleMania Streak of The Undertaker a few years ago. Bill Goldberg, the man who hasn't had a WWE match since WrestleMania 20, ironically against Brock Lesnar.
All of the buildup had seen Lesnar's Advocate, Paul Heyman, talking about how Goldberg wasn't in Brock Lesnar's league. Talking about how Lesnar was going to embarrass the veteran in front of his family at ringside. Goldberg had looked like a caged animal when the two men had come face to face on the pre-Survivor Series Raw. Lesnar on the other hand, stood and more or less laughed off the challenge he was about to face.
We got to Toronto for Survivor Series and the crowd was hyped for the match. Everyone assumed that Brock Lesnar would run through Goldberg, like he had with everyone else that has stood in his way. The two of them stood across the ring from each other, the bell rang and less than 90 seconds later it was all over. A stunned Lesnar had tasted two spears, a Jackhammer and a three count for the first time in what seemed like forever.
In less time than it took them both to get to the ring, the match was over. All the work that had been done to build Brock Lesnar since his return to WWE, was gone in a ridiculously short space of time. Whilst it was inevitable that Lesnar would, sooner or later, taste defeat, it was a pretty big shock that it happened in the way that it did.
Whilst Goldberg is a bona fide megastar, could that first Lesnar defeat have helped someone else more than it will have Goldberg? Follow along with us as we show you three men who would have been better off getting that W against The Beast Incarnate.
3. Kevin Owens
Kevin Owens is the current WWE Universal Champion. He's currently embroiled in a feud with Seth Rollins, with his best friend Chris Jericho by his side. It feels like Owens vs Rollins has happened so many times already, it should have been time to move Owens onto the biggest of Big Dogs in WWE.
It's no secret that Owens had lobbied to get a match with Brock Lesnar, potentially at the WrestleMania just passed. That idea was vetoed and instead Owens found himself defending the Intercontinental Championships, a title he lost to Zack Ryder in a multi-man ladder match that night.
Despite the fact that Owens holds the top title on Monday Night Raw, just think how important being the man to beat Brock Lesnar could have been for Kevin Owens? Owens could have verbally jousted with Paul Heyman, then gone toe to toe with Lesnar in the ring. Following the win for Owens, it could have allowed him to be the cocky, know it all heel, the roll that he is so damn good at performing.
Out of everyone on the WWE roster, perhaps Owens could have been the one who would have benefitted the most from the win over Brock Lesnar. Now we'll never get to find out.
2. Braun Strowman
Since Braun Strowman was split form the Wyatt Family during the WWE Draft earlier this year, he has been on a mission to destroy everything in his path. Whether it's been battering the "local competitors" that were put in front of him on Raw every week, or the way he has demanded better competition from Raw GM Mick Foley, Strowman has been on a ridiculous run through WWE in the past six months.
After seeing Strowman destroy all the jobbers, then demanding a better opponent, why could that not have lead to a match with Brock Lesnar? The perfect way to build Strowman as a true monster would have been to have Strowman be the man to beat the man who broke The Streak. The two behemoths may not have had the best technical wrestling match you'd have ever seen, but it would have made for an interesting showdown of two massive men.
All you had to do was have Lesnar come out and say he wanted that match with Strowman, to shut the former Wyatt Family member up. Have Strowman show no fear in the run-up to the match, then have your new monster get the win and an amazing feather in his cap to take forward as a contender at the top of the card.
1. Rusev
A man who has been sold as a brutal opponent on WWE tv, but has not really had that big win that would put an exclamation point on his career so far. A win over Brock Lesnar would have been a massive statement from the Bulgarian native, and could have pushed him right into the driving seat at the pinnacle of Raw.
Lesnar vs Rusev could have been the perfect chance to have someone booked as an equal to Lesnar, and allow Rusev to throw Lesnar around a little before making him pass out in the Accolade. The best part of that would have been the fact that you wouldn't even have to have Lesnar be pinned, he may have lost a match but he didn't have to be on the wrong end of a three count to taste defeat.
Rusev has been floundering of late, but he can be a vitally important piece of the WWE jigsaw. If only the company would allow him to be the destructive foreign heel that he has been in the past, and not shackle him in mid-card anonymity. Apart from a feud with Roman Reigns over the United States title, which Rusev ultimately lost, the Bulgarian has been badly underutilized in the last couple of years.
A feud with, and a defeat of, Brock Lesnar could have put Rusev at the forefront of things on the bad guy side of the Raw roster. Alas, it seems that Rusev is destined to toil in the mid card for the foreseeable future. Well done WWE, there's another great wrestler wasted.
This article originally appeared on