Ex-Vols coach Phil Fulmer: Pat Summitt was a 'loyal friend'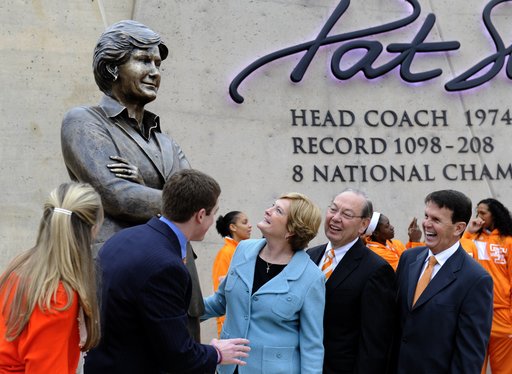 Former Tennessee football coach Phillip Fulmer calls Pat Summitt "a great person, loving mother, passionate coach and loyal friend."
Fulmer coached from 1992-2008 during Summitt's tenure and says they had "wonderful personal times talking about life, our respective teams, or helping each other recruit."
Fulmer says Summitt's greatest legacy "may well be through the Pat Summitt Foundation and her role in leading the battle against Alzheimer's."
Current Tennessee football coach Butch Jones says he "stands in awe of Pat and what she accomplished on and off the court."
He says Summitt "wanted every player that left the program to be prepared for the next stage of their life."
—-
9:10 a.m.
A public memorial service is being planned for legendary coach Pat Summitt at Thompson-Boling Arena on the campus of the University of Tennessee.
That's where Summitt won many of the games that made her the winningest coach in Division I college basketball history. The court is named "The Summitt."
Her son Tyler Summitt says a private funeral and burial will be held in Middle Tennessee.
Knoxville mayor Madeline Rogero tweeted that the lights at Henley Bridge in downtown Knoxville will be changed to orange, white and blue Tuesday night "in remembrance of Coach Summitt's deep devotion to Knoxville."
—-
8:20 a.m.
Joan Cronan served as the Tennessee women's athletic director from 1983-2012 and helped Pat Summitt put women's basketball on the map.
Cronan says "the legacy she leaves is immense. Her players, who all have college degrees, have been enriched by her teaching. They are coaches, professors, television personalities, businesswomen, all now making a difference in their world because of Pat Summitt."
Summitt announced in 2011 that she was battling early onset dementia. Cronan called her the "most courageous person I've ever known in fighting this disease" and she was "determined to make a difference" in bringing attention to it.
Cronan is currently the women's AD emeritus at Tennessee. She says there "will never be another Pat Summitt. She belongs to the ages now and we are sad but so fortunate to have called her a colleague and friend."
—-
7:30 a.m.
Peyton Manning is remembering his friend Pat Summitt.
He says she "was always very supportive of my career and I enjoyed seeing her back at a Tennessee football game or when she would come to Indianapolis to see Tamika Catchings play."
Summitt, the winningest coach in Division I college basketball history who helped boost the women's game to the big time in a 38-year career at Tennessee, has died. She was 64.
Manning played football at Tennessee, leading the Volunteers to the 1997 SEC championship his senior year.
"She was one of the people I consulted with following my junior year when I was deciding whether to turn pro early or stay in college. She gave me some very valuable advice during that time. My teammates and I went to a lot of Lady Vols games when we were in school, and I really enjoyed watching her teams play."
The recently retired Denver Broncos quarterback says he will "miss her dearly, and I am honored to call her my friend. My thoughts and prayers are with Tyler and their entire family."
—-
6:30 a.m.
Pat Summitt, the winningest coach in Division I college basketball history who helped boost the women's game to the big time in a 38-year career at Tennessee, has died at 64.
With an icy glare on the sidelines, Summitt led the Lady Vols to eight national championships and prominence on a campus steeped in the traditions of the football-rich south until she retired in 2012.
Her son, Tyler Summitt, issued a statement Tuesday morning saying his mother died peacefully at Sherrill Hill Senior Living in Knoxville surrounded by those who loved her most.
Tyler's statement said "since 2011, my mother has battled her toughest opponent, early onset dementia, 'Alzheimer's Type' … and we can all find peace in knowing she no longer carries the heavy burden of this disease. "