The off-beat preview: Wisconsin at Illinois
If you are looking for hard-hitting analysis, yeah, this ain't it. But if you want a fun, entertaining read, you've found the right place. For more of Brandon Rifkin, please head to his blog or follow him on Twitter.
Wisconsin-Purdue summed up succinctly: the official BTN play of the game was a 7-yard untouched rushing touchdown.
I'm not sure what else I can say about that game. We're not that good, they're much worse, we broke Purdue football forever. End of story. Moving on to the Illini.
BIG TEN FEAR RANKINGS
1) Ohio State, 7-0 (3-0). Undefeated #1 in the nation and with a quarterback controversy . . . that makes all the sense.
2) Michigan State, 7-0 (3-0). Better lucky than good, and that's a fact of life.
PS — If you ask the kid who scored the winning touchdown if he'd rather have that play with a dislocated hip, or have MSU lose but his hip is accurately located . . . he's taking the misplaced hip and the W, right? I think it's obvious, but losing your hip sounds less than ideal.
3) Iowa, 7-0 (3-0). Okay, maybe they're kinda good.
4) Penn State, 5-2 (2-1). Hard to fault them for that loss to OSU. We wouldn't score a point against that defense this year.
5) Wisconsin, 5-2 (2-1). Stave slinging back-to-back 300 yard games when we have literally ZERO rushing game and a weak group of receivers. But all everyone can ever see is the one or two mistakes he makes. Haters.
6) Michigan, 5-2 (2-1). A Photo Essay: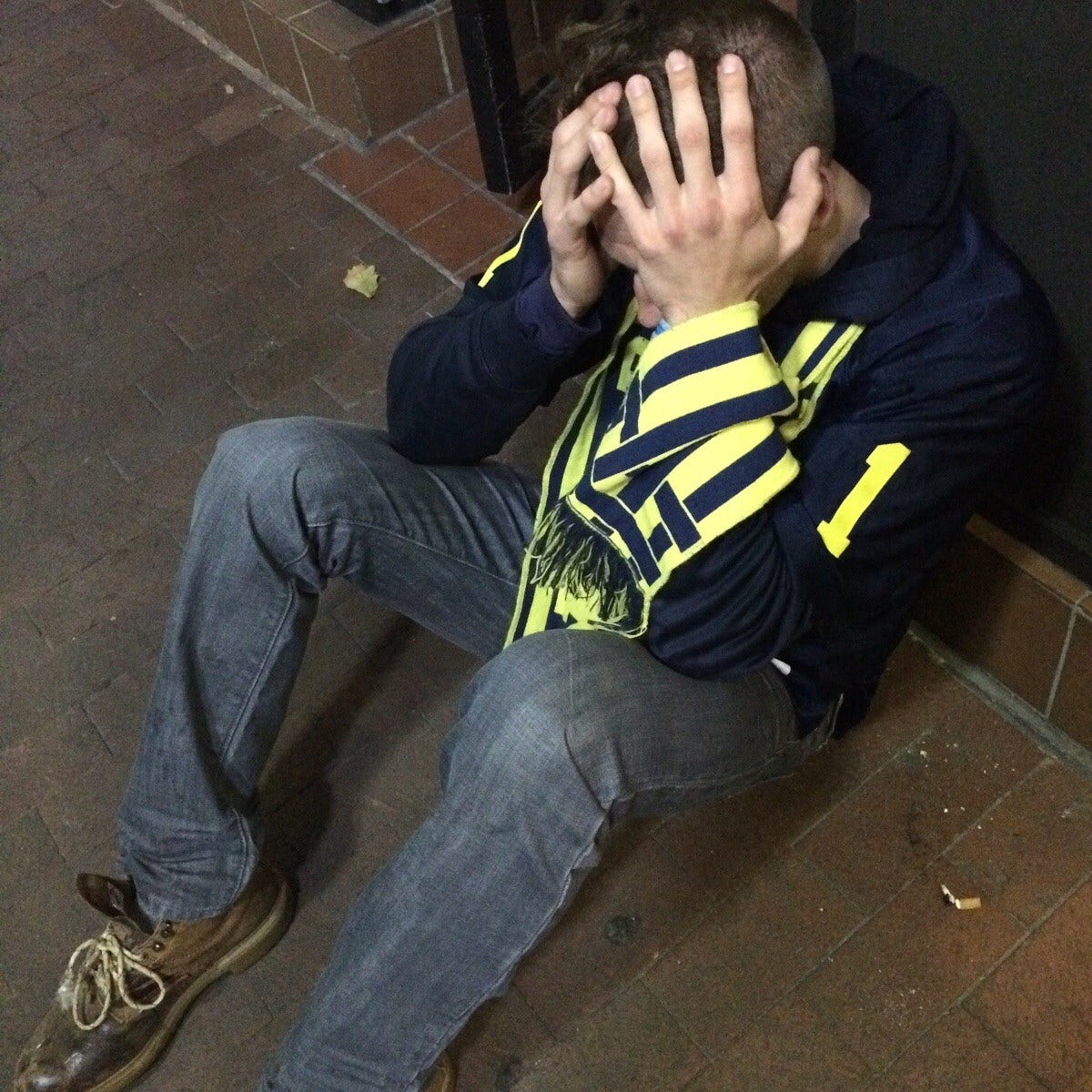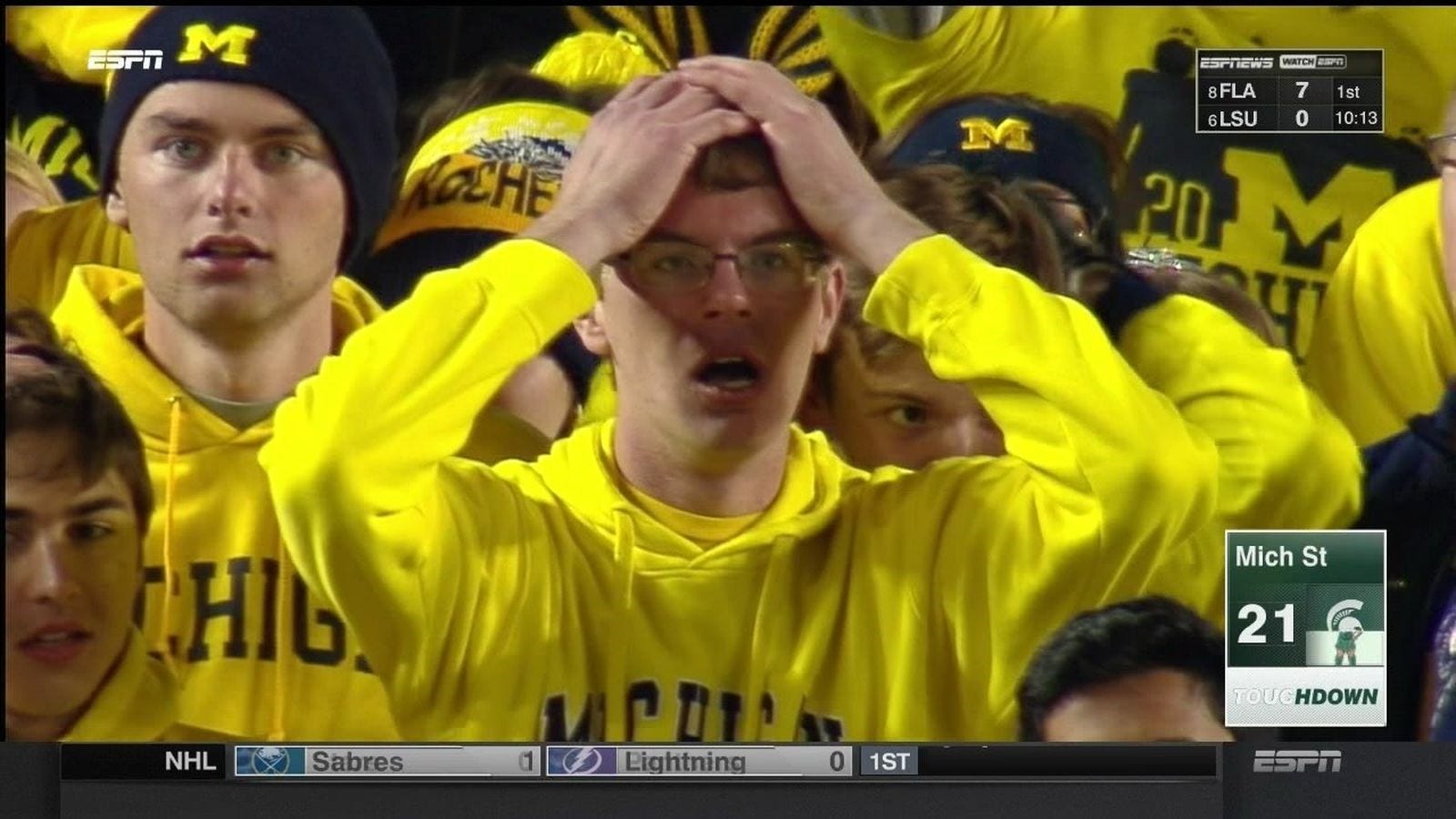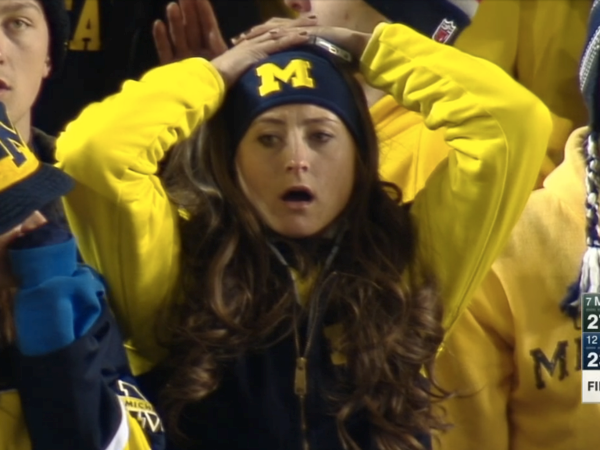 7) Northwestern, 5-2 (1-2). Sick game, nerds.
8) Illinois, 4-2 (1-1). Every game in Champaign against Illinois: chilly, unnecessarily windy, just close enough to be annoying. I'm basing this on zero facts and hoping it all holds up.
9) Indiana, 4-3 (0-3). This is probably not how you want to finish off a game when you have a 25-point lead with 3 minutes left in the third quarter: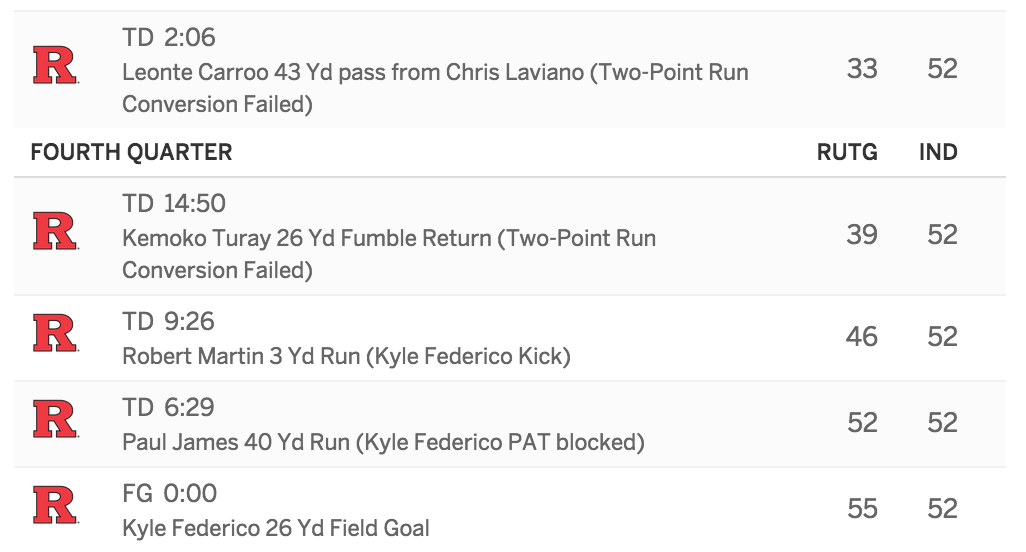 Yeah, it's two crappy teams, but I don't think a single person even realized this happened in the aftermath of the Michigan blunderoo. Don't worry, Hoosiers. I noticed. I noticed.
10) Minnesota, 4-3 (1-2). Winning the B1G, making the Playoff . . . these goals are pretty much dead. But keeping the Axe and the streak against Minnesota alive? Well let's just say it'll be nice to care about the game as much as they do this year. Hasn't been the case recently.
11) Nebraska, 3-4 (1-2). We can just all sit back and enjoy them handing Minnesota their ass on their own turf. That's embarrassing.
12) Maryland, 2-4 (0-2). Great bye week. Dominated the bye. Bye never stood a chance.
Rutgers) Rutgers, 3-3 (1-2). I didn't envision having to remove Rutgers from their comfortable spot in the basement, but damn if that comeback against IU wasn't amazing. We'll forget the s—how of a program you've become . . . for now.
14) Purdue, 1-6 (0-3). LOL purdue
THE BEER SCENE: CHAMPAIGN
Looks like we're heading to the Blind Pig Brewery, which is definitely in Champaign and not in Urbana. How do we feel about spicy drinks? I generally hate any drink with head: bloodies, all those gross shots with Tabasco, etc. But I'm mildly intrigued by Blind Pig's Samburro Chili Ale:
Our first Pro/Am brew returns! Samburro is the brainchild of local homebrewer Sam Elson. Mexican Morita peppers give this amber ale a lovely smoky aroma and just a hint of spicy heat.
Amber ales are some of my favorite beers, and this one adds some Mexican peppers? Shouldn't I love this? I think I should, but I have a feeling I'd take one sip and hate its face. Almost as much as I hate their website, which is all kinds of ugly and shoddy. But yeah, I'd try the Mexican pepper beer.
MATCHUP TO WATCH
Corey Clement's Impending Return vs. Our Complete & Utter Inability To Run The Damn Ball. Kind of flying under the radar while we're talking about Stave and the lack of skill at the . . . skill positions: we have been TERRIBLE running the damn ball. I refuse to look up stats, but it hasn't been pretty. It's almost as if an inexperienced offensive line and former walk-on defensive back-turned-running back isn't yielding results. ODD.
So let's see what happens with Clement back. Will at least help isolate what the real issue is.
THIS WEEK'S GAME IN HAIKU
This game? Meaningless
But let's beat them anyway
Cuz winning is fun
VIDEO OF THE WEEK
I can't even.
PS — This gif has never been more appropriate: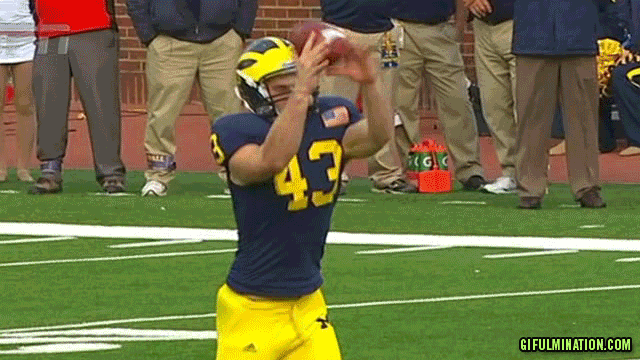 #FOODPORN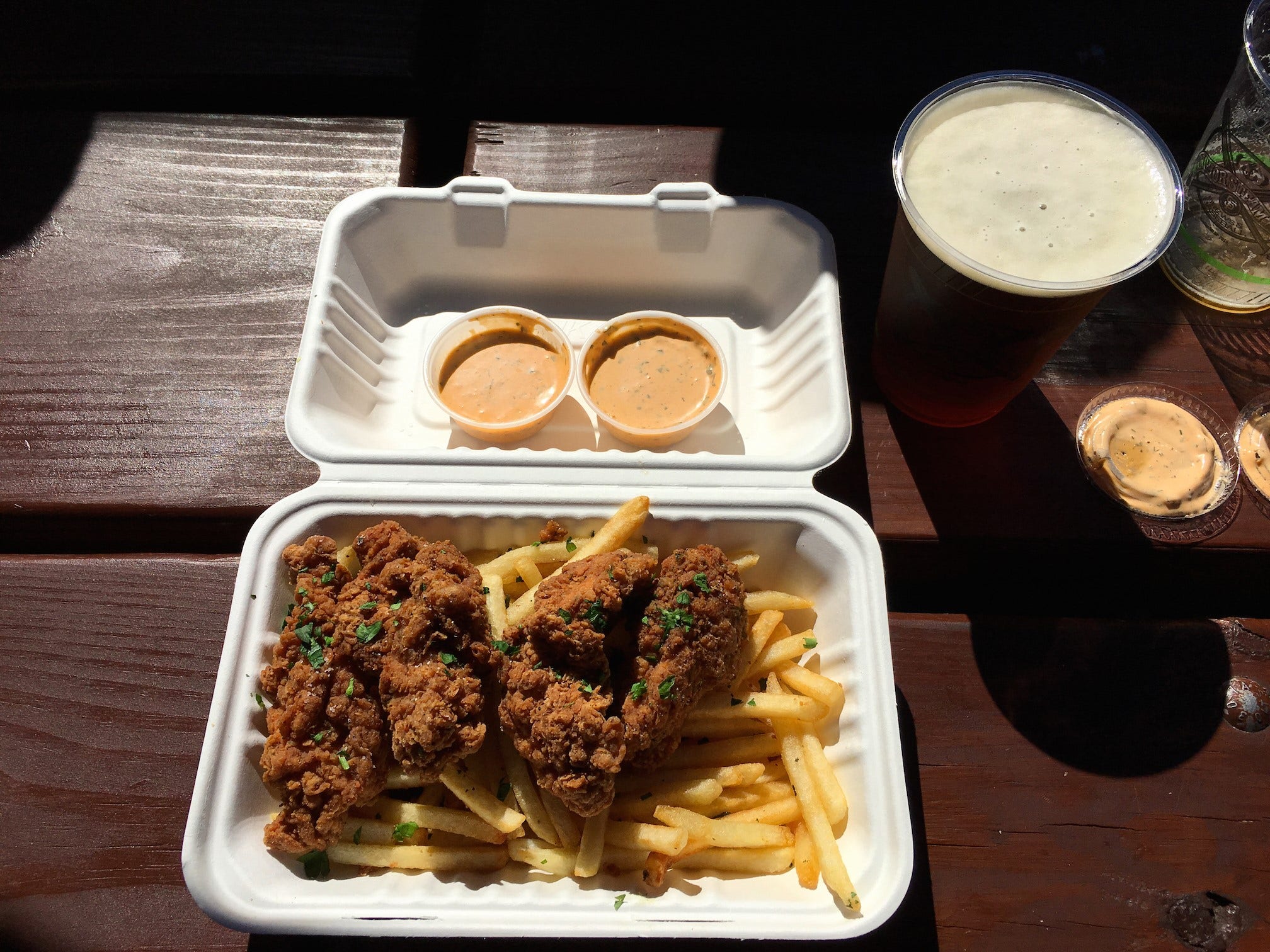 Tenders, fries, and some spicy ranch from a Proposition Chicken food truck in San Francisco. Sometimes the most simple things in life are the best things.
PREDICTION CITY
It's kinda concerning that a small piece of me is looking for a reason to let this team go gentle into that good night. Losing to Illinois would qualify. I think I'm just curiously excited about the hoops team. All those freshmen, Happ off the redshirt, and the lethal Nigel/Bronson combo? It's gonna be a fun ride regardless of where it ends. But I suppose it's still football season. For now. THE PICK:
WISCONSIN 27, Illinois 16
***