The off-beat preview: Wisconsin vs. Alabama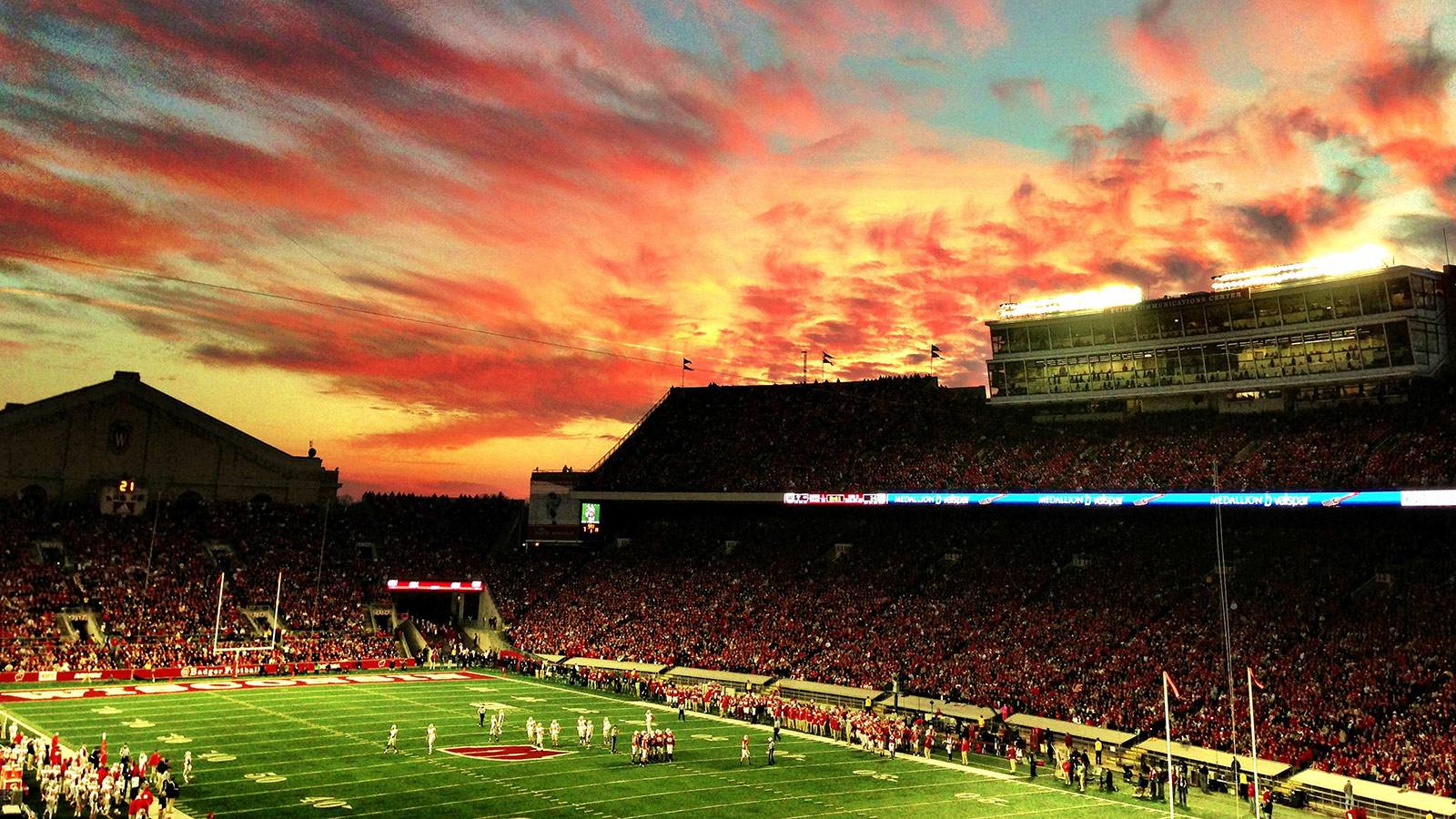 Note: Please welcome Brandon Rifkin, who is going to be doing a different kind of preview of Wisconsin games. If you are looking for hard-hitting analysis, yeah, this ain't it. But if you want a fun, entertaining read, you've found the right place. For more of Brandon, please head to his blog or follow him on Twitter.
WEEKS, RANKED:
That's it. So whatever is bringing you down this week, just remember that not only is it game week, but it's also SEASON OPENER ALABAMA NIGHT GAME WEEK. That's the kinda magic you need to bottle up and save for a miserable day later in the year, just to remember how awesome life can be. So yeah it's a thousand degrees in September for no apparent reason and the week is officially dragging but WHATEVER. Game Week. Bama. Night Game.
Yes, it's just one game. But the LSU game was just one game last year and we learned all KINDS of important things from it (like that Gary Andersen was kind of a boner!). So, what will we learn this year?
Fine. Maybe not ALL of these will be definitively answered Saturday night. But one way or another, we'll head into the rest of the season knowing if it's going to be a special one, or a don't-have-to-schedule-your-life-around-Badger-football kinda season.
Who am I kidding. I'll still schedule my life around UW football.
#BeatBama
WHAT DO WE KNOW ABOUT ALABAMA
They were a feeder school for the Confederates during the Civil War.
And then they realized what happens when you choose a side and choose poorly:
Many of the cadets who graduated from the school went on to serve as officers in the Confederate Army during the Civil War. As a consequence of that role, Union troops burned down the campus on April 4, 1865 (only 5 days before Robert E. Lee's surrender at Appomattox Court House on April 9), which was unrelated to Sherman's March to the Sea several months earlier and farther east, in Georgia.
Hey Alabama, PEOPLE DON'T FORGET.
Why are they called the Crimson Tide?
The nickname Crimson Tide originates from a 1907 football game versus Auburn University in Birmingham where, after a hard-fought game in torrential rain in which Auburn had been heavily favored to win, Alabama forced a tie. Writing about the game, one sportswriter described the offensive line as a "Crimson Tide", in reference to their jerseys, stained red from the wet dirt.
So you're telling me that every time one of these idiots yells ROLL TIDE they're just embracing a culture based on tying, not winning? This is possibly my new favorite thing in sports. "For on that glorious day when we did not lose (well we didn't win either), we became . . . the Crimson Tide… DUH DUH DUHHHH"
NOTABLE ALUMNI
. . .people get excited.
BIG TEN FEAR RANKINGS
1) Ohio State, 0-0 (0-0). Wahhhh, we have 9 Pro Bowl quarterbacks on our roster and we don't know what to do. Maybe we'll just convert one to an All-Conference receiver! That's a good idea!
I hate how good they are it isn't fair.
2) Michigan State, 0-0 (0-0). My ideal season involves UW running the table and meeting MSU — not OSU — in the B1G Championship. Rafael Gaglianone misses a 71-yard field goal as time expires BUT MSU roughs him (terrible idea). He drains the 56-yard attempt with 0:00 on the clock and gyrates on the entire state of Michigan's soul.
3) Wisconsin, 0-0 (0-0). Lost in all this talk about Stave winning the Heisman is that we're going to be positively NASTY on defense. Dave Aranda is a freaking genius and I think the pieces are there to have one of the top 10 defenses in the nation. Sure there's probably a lot of coachspeak involved, but I'm a big fan of the offseason emphasis on takeaways. It's one thing to get to the quarterback and stuff the run, it's a whole different animal to turn the ball over. Positive turnover margin = CHAMPIONSHIP
4) Penn State, 0-0 (0-0). But they didn't DESERVE to get some hip, awesome coach who is going to crush the recruiting game and make them good again.
5) Nebraska, 0-0 (0-0).
6) Iowa, 0-0 (0-0). You know what's crazy? Vodka Samm literally disappeared off the face of the Internet. It's 2015, and an Internet viral celebrity SENSATION was able to erase all traces of herself. Beyond impressed. You see what you can accomplish when you stop drinking?
7) Michigan, 0-0 (0-0). Yeah I'm sure this Harbaugh situation will not get increasingly annoying as they start winning. Nope, not one bit.
8) Minnesota, 0-0 (0-0). Annual reminder: last time we lost to Minnesota, YouTube did not exist.
9) Maryland, 0-0 (0-0). Meh.
10) Indiana, 0-0 (0-0). Oh look, it's September and IU hoops players are getting arrested. Ain't that a surprise. Let's go up to the booth where we have Coach Crean standing by. Coach Crean, any thoughts on another summer filled with your players getting arrested?
11) Northwestern, 0-0 (0-0). Pretty happy I found a reason to drop a #CreanBomb in September.
12) Purdue, 0-0 (0-0). LOL purdue
13) Illinois, 0-0 (0-0). Will they battle for their new coach or will they lay down and oh look they just laid down and died.
14) Rutgers, 0-0 (0-0). Really says something about your program when you're contemplating one-upping a school that fired their coach a week before the season. But New York media market! NEVER FORGET
THE BEER SCENE: TUSCALOOSA
"I bet breweries in Tuscaloosa name their beers after the football team." — Everyone, ever.
And it's true! Here's the Crimson Ale from the Black Warrior Brewing Company (I have no idea what the difference is between a brewery and a brewing company):
Notice how they say Saturday afternoon. That's because ESPN and BIG MEDIA are incredibly biased and give all the southern teams the afternoon kickoffs. They save the crack of dawn 11 a.m. TV slots for Rutgers/Indiana. Personally, I don't see why. Isn't this why we pursued that EVER IMPORTANT East Coast media market? If there's one thing I'll campaign for, it's death to neutral site games. If there's a SECOND thing I'll campaign for, it's abolishment of the 11 a.m. kickoff. Thank the lord I'm not a Badger fan stuck on the West Coast.
PS – This beer actually sounds delightful. Kinda wish we were playing in Tuscaloosa Saturday and I could guzzle 14 of these. Just sayin'.
MATCHUP TO WATCH
Alabama's Nasty D-Line vs. UW's Relatively Inexperienced, Banged Up, Surprisingly Questionable Offensive Line. I'm not a football scientist, but I'm relatively sure our only chance of winning this game involves our offensive line being up to the task. Games are sneakily won and lost in the trenches, and we've taken having the best offensive line in the world for granted. For at least a decade.
This year feels different, though. Not only are we breaking in multiple new starters, but damn near everyone involved has been injured during fall camp. There's been a lot of shuffling and the D has dominated some scrimmage situations as a result. Plus, let's be honest: Alabama is gonna have a monster defensive line. I know literally nothing about them but I'll guarantee they're all hotshot recruits with elite size and strength.
If we can open up some lanes for Clement and keep Stave from getting murdered via sack, then I like our chances of pulling the upset.
THIS WEEK'S GAME IN HAIKU
Beat Auburn last year
Beat Kentucky in hoops too
SUCK IT S-E-C
VIDEO OF THE WEEK
We all know I'm a sucker for proposal videos, and this one is no exception. But who in their right mind marries a magician? Are you kidding me? The very last profession on earth I'd wanna be married to is a magician. I've SEEN The Prestige. About 5,000 times. I know how this goes. You think you know him and you love him and all that jazz, and then you discover everything you've ever loved was an elaborate set up for the greatest magic trick of all-time. You were merely a part of the deception. No amount of diamond-studded slight of hand or gross SpaghettiOs will change that. Never marry a magician. They CANNOT be trusted. PS – Did somebody say SpaghettiOs?
PPS – In all seriousness, "Having you in my life is real magic . . . and I never want that magic to end." Damn that's smooth.
BREAKING: NEUTRAL SITE GAMES SUCK
Gee, what a shocker. You mean to tell me that people from Wisconsin and Alabama aren't traveling to Texas to watch a regular-season football game after traveling to the NCAA football playoff and NCAA tournament Final Four? It's almost as if an overpriced regular-season game played in a sterile NFL stadium 600 miles from Tuscaloosa and 1,000 miles from Madison isn't that huge of a draw. COLOR ME SURPRISED.
Can't say it enough: these big-time non-conference matchups will always remain kinda cool instead of freaking amazing as long as they aren't taking place on campus. Home-and-home with LSU? I'd go to both, no question. Road game in Tuscaloosa? I'm there.
Fly to Houston to watch us play LSU? Fly to Dallas to watch us play Alabama in September? No thanks.
And it appears I'm not alone.
PREDICTION CITY
They're having trouble selling tix to the #ALAvsWIS game on Saturday. Only around 40k sold as of yesterday. Very few bought by Badger fans.

— Gil Brandt (@Gil_Brandt) September 2, 2015
Can't tell you how many Alabama fans have told me they are waiting until next year (USC) to go to Dallas. https://t.co/Vi7pN1wIoN

— Cecil Hurt (@CecilHurt) September 2, 2015
Tis the season for unbridled, unjustified optimism. We showed last year that we had the horses to beat LSU. Then we went and actually DID beat Auburn. Perhaps the tables are turning and the SEC isn't completely and totally invincible like everyone would have you believe. Our defense is legit, and the offense should have enough juice to keep us close. I'm guessing this game will hinge on a big special teams play. Maybe a defensive touchdown. Who knows. But I feel like we're due to win one of these. Let's shock the world and make a move this year. THE PICK:
WISCONSIN 24, Alabama 23