What the hill? Running with Wisconsin hoopsters humiliating, humbling experience
MADISON, Wis. — On a cool, breezy and sun-splashed Monday afternoon, I arrived at Elver Park intent on conquering one of the most famous hills this city has to offer — 125 yards of steep intimidation that has made men bigger and more athletic than me weak at the knees.
The goal was to run alongside Wisconsin's men's basketball team for 12 hills as it continued a longstanding tradition of preseason conditioning at the park. What could go wrong, I thought? Point guard Traevon Jackson assured me keeping pace would be no problem. And, maintaining what I considered to be decent physical shape, I wanted to believe him. Really, really wanted to.
But I quickly learned reality has a way of obstructing even the best-laid plans. My ambitions were substantially higher than my body would allow. And so, I left humbled and embarrassed, laying on all fours while staring at the grass through sweat-stained eyes and hurling up the contents of my lunch. All this after completing four hills.
"Depending on what kind of shape you're in and what else you've been doing, obviously the hill is different," Wisconsin coach Bo Ryan told me afterward. "The quick rise in the pulse causes people a lot of discomfort. That's a nice way to put it."
Gee, thanks.
This all began as more of a curiosity than anything else. Two days earlier, I had broached the topic of running the hill with Wisconsin basketball sports information director Patrick Herb. He even offered to run with me (and kudos to him for finishing 10 of the 12 hills).
Ryan began this tradition when he took over as head coach at UW-Platteville in 1984. It was his version of preseason boot camp, a way to toughen up players, help push them into shape and bond as a group. And it is a custom he upheld during his next two coaching stints, at UW-Milwaukee and finally at Wisconsin, beginning in 2001, with players running up the incline, walking down for rest and starting all over again.
At each stop, he has found a suitably menacing hill, noting Platteville was the toughest, while Elver Park's hill — located next to a disc golf course, three tennis courts and a shelter on the west side of town — ranked second and Milwaukee third.
"I ran the one at Platteville," said Ryan, now 66. "I ran the one at Milwaukee just to make sure I didn't forget the feeling. And then I ran this one early a few times. But now I get at the top, time them, try to encourage them as much as I can. Some days are better than others. It's really neat the way the guys pick each other up, though."
On Monday, players hopped out of vans that hauled them to the park from campus and were put through a series of brief warmup drills by strength coach Erik Helland, featuring stretching and the tossing of medicine balls. Student managers helped lay out orange cones to pave a path up the hill for the team, which broke into four groups based on position: point guards, shooting guards, forwards and centers.
Student assistants hovered at the top of the hill next to Ryan to time each player and record the numbers. The fastest group typically takes roughly 25 seconds, while the slowest needs about 29 seconds. Team athletic trainer Henry Perez-Guerra stood in the middle of the hill, quizzing players on random bits of trivia to take their mind off the run. Assistant coaches Gary Close, Greg Gard and Lamont Paris remained at the bottom to provide further encouragement.
This fall, players will run once a week — down from the old tradition of doing hills twice every week. Wisconsin's road back to a second straight Final Four began a week ago with 10 laps as a new school year commenced. It will increase by two until players reach 20 on the final run, just in time for the start of October practices.
The hill has a way of instructing the mind to quit. About two-thirds of the way up, it substantially steepens and helps turn legs into Jell-o. Ryan has seen many newcomers struggle on their first days. One of Wisconsin's sophomores, I was told, made eight hills during the team's first attempt a week ago before puking. The ritual has even prompted past players, like all-conference forward Jon Leuer, to remark that running his last hill at Wisconsin was better than Christmas.
With that information in mind, here's the gist of how my day went:
Hill 1: Breeze up one of the hill's well-worn paths behind guard Zak Showalter, laughing at the ease with which I reached the top. Confidence is high.
Hill 2: Gluteal muscles throb. Perez-Guerra quizzes players on the origins of Black History Month. Walk back down the hill considerably less exuberant.
Hill 3: Sweat pores down my face. Legs feel shaky. My head begins to spin. Perez-Guerra announces Black History Month used to be called Negro History Week. I decide it is likely the last trivia answer I will hear.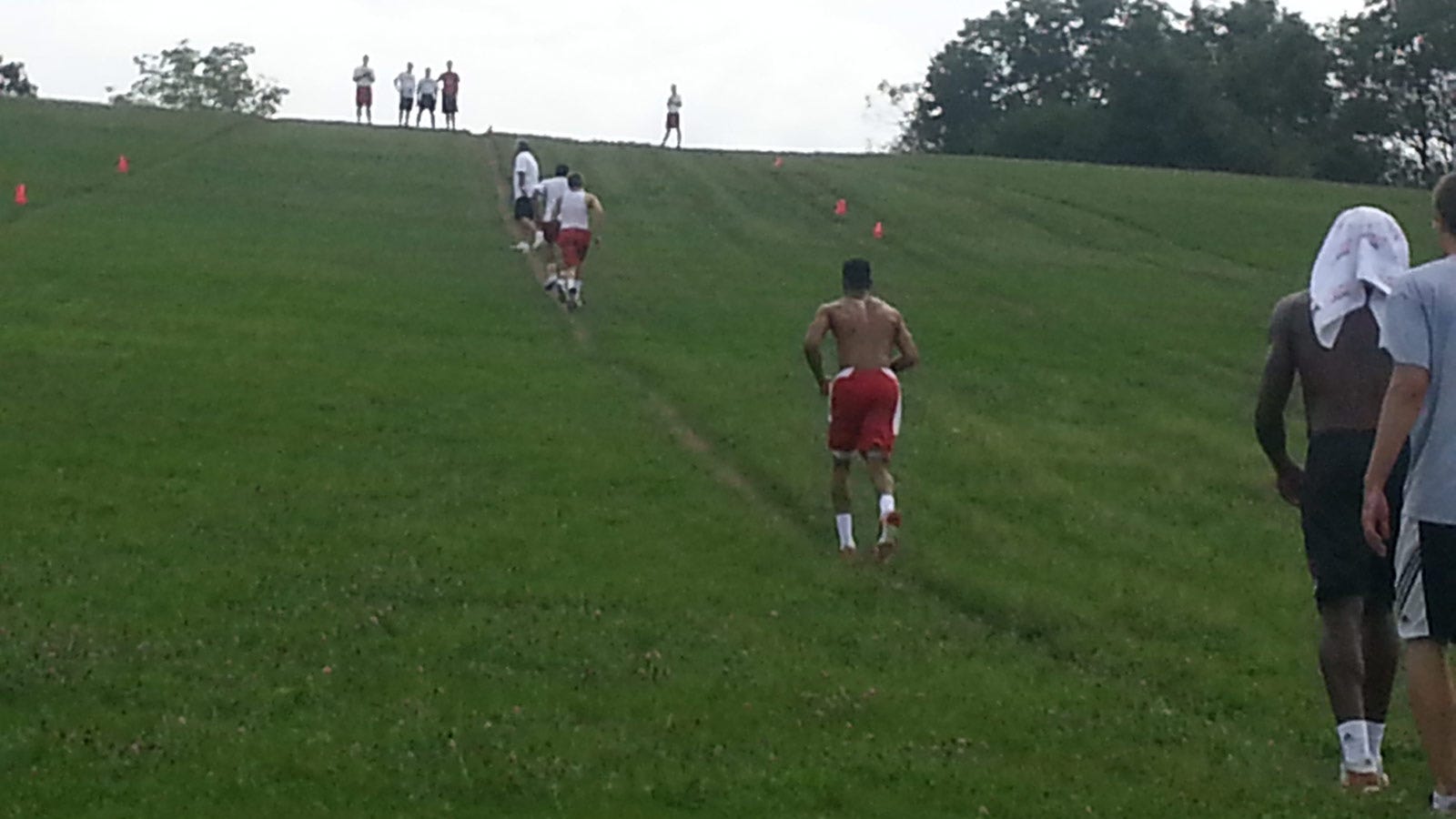 Hill 4: Legs so heavy, they feel like cement blocks. Breaths shorten. Head spins and is ready to explode. At the bottom, I tell Showalter I can't continue, proceeding to keel over into the grass, a mess of limbs, vomit and shame. And with that, my day is done.
"It's not so bad if you're in playing shape and you do this all the time," Badgers forward Sam Dekker later says, trying to console me. Unfortunately, my last real basketball game as a point guard for Division III Knox College took place 7 1/2 years ago. And my training regimen of late featured approximately zero sharp incline runs and too much Mario Kart 64. Despite having driven to the park one day earlier to mentally prepare myself for the challenge, it had all fallen flat.
In a small way, I felt as though I had let down the players, several of whom tried to offer encouragement before realizing it was useless as I curled into the fetal position. The fact that former Badgers forward Zach Bohannon showed up to watch his teammates one day after completing a 140.6-mile Ironman event didn't exactly make me feel much better.
Every Wisconsin player finished the course before hopping into vans and heading for a dip in the lake. Meanwhile, I drove home and headed for a hot shower with lower-back soreness and wounded pride.
Before leaving, I managed to sheepishly thank Bo for letting me try the hill with his guys. It had been a humbling experience, I told him, and one that had helped me develop a newfound appreciation for the fitness and stamina necessary to be a Division 1 athlete.
"Well, come back out here some time," he said, smiling. "See if you can get six."
Follow Jesse Temple on Twitter