Chicago Bears 2014 preview: New-look defense offers fresh start
With football season around the corner, FOXSports.com is providing a thorough analysis of all 32 teams heading into training camp. The offseason may have lacked some hard-hitting action, but franchise-altering moves have been made. Parity is excessive as ever. Every team looks great on paper in July. But it's the development and seasoning of a team that will matter in January and, yes … even February. Goodbye, offseason!
Today, we continue the series with the Chicago Bears.
2013: 8-8, did not make playoffs; finished second in NFC North
Head coach: Marc Trestman, second season
Key departures: DE Julius Peppers, KR Devin Hester, QB Josh McCown, DT Henry Melton
Key arrivals: DE Jared Allen, DE Lamarr Houston, DE Willie Young, first-round pick DB Kyle Fuller
THREE QUESTIONS
1. Will the Bears' defense be any better?
There were almost no positives about Chicago's defense last season. The Bears finished 30th in the NFL in points allowed, 30th in yards allowed, 28th in sacks and were by far the worst run defense in the league, allowing 5.3 yards per carry (the next-worst team, Atlanta Falcons, gave up 4.8 yards per rushing attempt). This ruined their chances at making the playoffs despite having the NFL's second-highest scoring offense. Even having a serviceable defense would have ensured Chicago a division title in a year in which the Green Bay Packers were NFC North champions with an 8-7-1 record.
The Bears made a lot of changes in the offseason, signing a trio of defensive ends with Jared Allen, Lamarr Houston and Willie Young. As a group, those three should represent an overall upgrade for Chicago, despite losing defensive ends Julius Peppers and Corey Wootton in the process. The Bears drafted defensive players with their first three picks, beginning with versatile defensive back Kyle Fuller, who will have opportunities to contribute from Day 1. But other than Fuller, Chicago did little to help its dreadful secondary. Signing former Packers safety M.D. Jennings might help Green Bay more than it helps the Bears. Drafting defensive tackles Ego Ferguson and Will Sutton with its next two picks would be more beneficial if Chicago hadn't coupled it with losing Henry Melton in free agency.
So, while there will be a lot of new faces in the Bears' defense, their season will be determined a lot by how much those offseason moves actually improve them. It certainly can't get any worse than it was in 2013, though.
2. Did Chicago make the right decision choosing Allen over Peppers?
One of the bigger NFC North storylines this season will be in comparing Allen and Peppers. Both players stayed within the division, with Allen moving from Minnesota to Chicago and Peppers going from Chicago to Green Bay.
The Bears saw enough decline from Peppers, who is now 34 years old, that they believed it to be the right time to let him walk. However, Allen isn't in the prime of his career anymore either at age 32. Allen's sack numbers last season (11.5) didn't drop into single digits like Peppers' (7.0) did, which Chicago obviously took into account. But the Bears also paid more to get Allen ($15.5 million guaranteed in a four-year, $32 million contract) than what the Packers did to sign Peppers ($7.5 million guaranteed in a three-year, $26 million deal).
Both players will be plenty motivated in their attempts to win a Super Bowl ring. Peppers hasn't played in the Super Bowl in more than a decade while Allen has never even made it that far in the playoffs. Both think they picked the right team to get them there, but it will be interesting to watch whether Chicago made the right decision to essentially dump Peppers in favor of Allen.
3. Just how good can the Bears' offense be?
Jay Cutler should look around at the talent he's working with and feel really good about the offense's chances to be great this season.
There is arguably no better wide receiver duo in the NFL than Brandon Marshall and Alshon Jeffery. While Marshall is still the more widely known of the two, another big season from Jeffery would securely place him into the category of elite receiver. Matt Forte is a top-five running back who's coming off a season in which only LeSean McCoy had more rushing yards. Martellus Bennett proved to be a playmaking tight end last year in his first season with Chicago, catching 65 passes for 759 yards. The rebuilt offensive line last year showed a lot of improvement and should be better in 2014 as the young right side of guard Kyle Long and tackle Jordan Mills continue to work together.
Ultimately, though, it will fall on Cutler. He signed a contract extension this offseason that has him set to make $126 million over the next seven years. That's a lot of money for a quarterback with only one playoff win under his belt in eight seasons. But with the group of offensive players by his side, a career-best year from Cutler could make Chicago's offense the talk of the league.
BREAKOUT PLAYER
Wide receiver Alshon Jeffery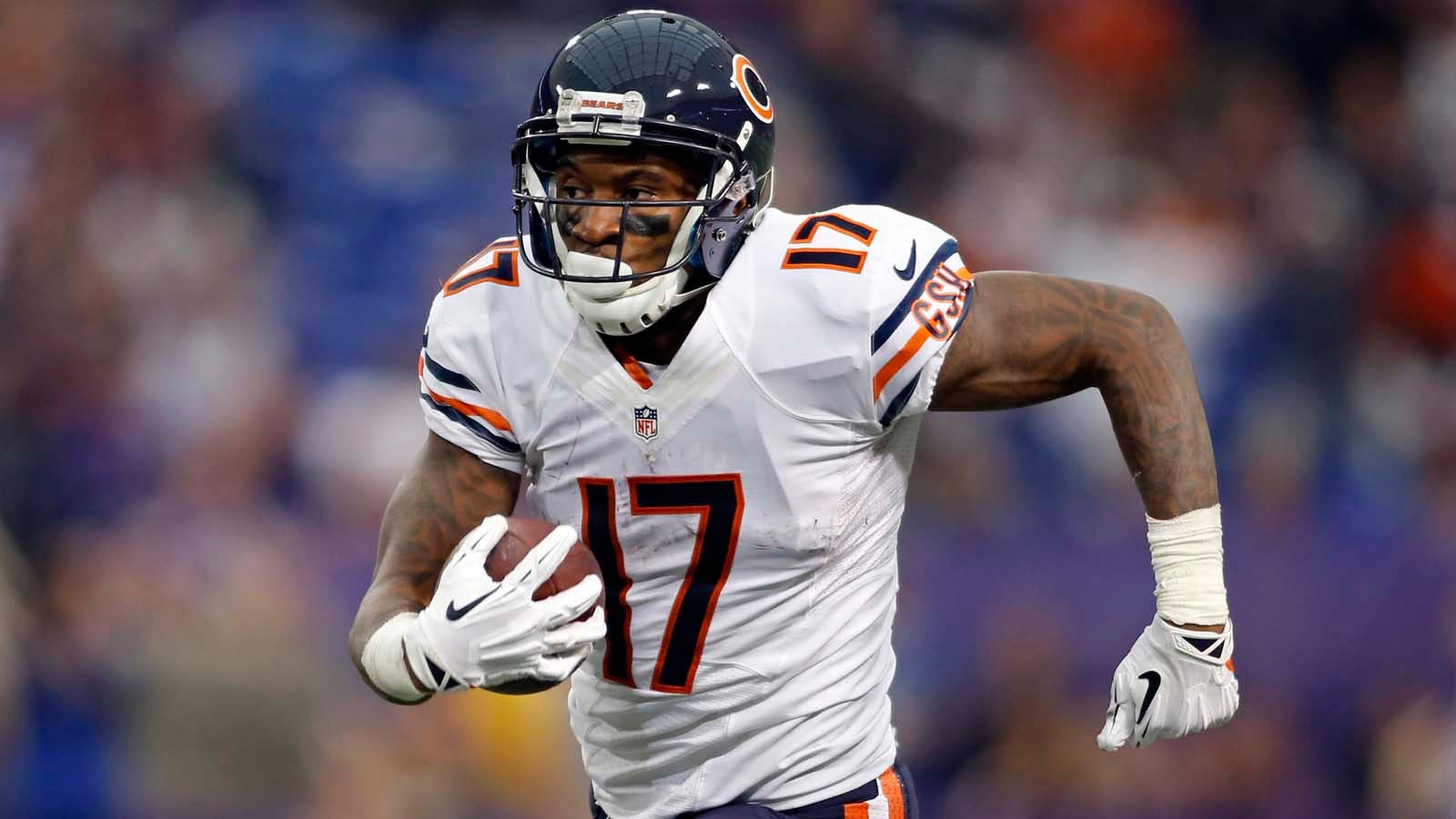 Jeffery had an initial breakout season in 2013, but that doesn't mean he can't have an encore and take his game to an even higher level. Right now, Jeffery is a very good wide receiver. Finishing in the top 10 last season in receptions (89) and receiving yards (1,421) proves that. But he did benefit from — and, to some extent, will continue to benefit from — playing alongside Marshall.
This season, Jeffery won't have the advantage of being able to surprise anyone. He only had 367 receiving yards as a rookie in 2012, so clearly the smart defensive game plan heading into a matchup with the Bears early last season would have been to focus on Marshall (who had 1,508 receiving yards in 2012). Now that Jeffery nearly quadrupled his statistical output from Year 1 to Year 2, opposing defenses will undoubtedly pay close attention to him right from Week 1.
If Jeffery draws the top cornerback matchup in the majority of games this season and still puts up huge numbers, he could be an All-Pro. For a player with his size (6-foot-3, 216 pounds) and skill set, especially considering that he's only 24 years old, Jeffery has the potential to be one of the NFL's best. It's crazy to think that just two years ago, six wide receivers were drafted ahead of Jeffery, including Justin Blackmon, Brian Quick and A.J. Jenkins.
REASON FOR OPTIMISM
General manager Phil Emery didn't sit back, do nothing and just hope that the Bears' defense would somehow get better. He was aggressive this offseason in free agency and completely revamped the defensive line. Emery also drafted interior defensive linemen with the team's second- and third-round picks.
While injuries are a factor on every NFL team, Chicago can recall what its previous defensive line group gave them last season: very little. When that's the case, it's time to move on. In this case, Emery cleaned house in his front four. The Bears didn't even bring Melton back despite the 2012 Pro Bowl selection only getting a one-year, $3.5 million contract from the Dallas Cowboys.
Optimistically, the grass will be greener on the other side for Chicago with its new collection of defensive linemen. The additions of Allen, Houston, Young, Ferguson, Sutton and Trevor Scott represent a fresh start. Often times that can produce a positive effect, even if some quality pieces were lost in the transition (such as Peppers, Melton and Wootton).
Houston has been very good in stopping the run, something that the Bears were horrible at last season. Allen has the second-most career sacks among all current NFL players, and the 11.5 sacks he had last season was 4.5 more than Chicago's leader in that category (Peppers).
If this new-look defensive line works out, perhaps the Bears' defense has a significant rebound season.
REASON FOR PANIC
Unfortunately for Chicago, while Emery was busy re-working the defensive line, he seemed to forget that the Bears' safety position needed just as much of his attention.
Chicago wisely parted ways with Major Wright, who had a very poor 2013 season. But the four veteran safeties the Bears brought in to take his place aren't much better.
At age 34, Adrian Wilson isn't the player he once was. He's coming off a season lost to injury and wasn't effective in 2012 in his final season with his longtime Arizona Cardinals team. Expecting Wilson to perform like the All-Pro that he was in 2006, 2008 and 2009 is foolish.
Picking up Jennings didn't worry Green Bay at all. It should send off alarms that the Packers, which had their own share of miserable safety play last season, didn't even give Jennings a restricted tender. Sure, Jennings has started 26 games the past two seasons, but that's more a product of the lack of choices Green Bay had at safety than what Jennings was actually doing on the field.
Ryan Mundy, a 29-year-old former Steeler and Giant, isn't going to help much. Neither is former Cowboy Danny McCray, who played only nine defensive snaps last season in Dallas after having his role reduced significantly.
The only real hope for the Bears fixing their problems at safety is if fourth-round-pick Brock Vereen is ready to start from Day 1. He's a talented prospect, so it could happen, but putting mid-round rookies into key roles on playoff-caliber teams is not often a recipe for success.
ALEX MARVEZ'S 2014 PREDICTION
Last season, the Bears posted their highest point total since winning Super Bowl XX almost three decades ago. They also allowed the most scoring in franchise history. Offense will remain the team's strength provided quarterback Jay Cutler doesn't get hurt again. The Bears enter the preseason with the NFL's shakiest backup situation. Chicago focused on fixing its porous defensive line with Jared Allen (Minnesota) and Lamarr Houston (Oakland) as the primary pickups. The Bears, though, must alleviate concerns at linebacker and safety to avoid missing the playoffs for a fourth consecutive season. Prediction: 8-8.
Follow Paul Imig on Twitter