WhatIfSports Super Bowl LI prop bet predictions: Lady Gaga's first halftime song and more
Jake Westrich

WhatIfSports.com
Passionate Falcons and Patriots fans will make up just a small percentage of Super Bowl viewers. The rest of us might have a preference for the outcome, but we'll be hoping, first and foremost, to witness an exciting game. The score doesn't have to be the only reason to cheer, though. Sprinkle in a few prop bets and the drama can begin even before kickoff. Whether you're laying down some cash in Las Vegas or playing a Super Bowl props party game, the anticipation is sure to increase when you have a rooting interest in the coin toss or Lady Gaga's first halftime song.
We consulted WhatIfSports.com's NFL simulation engine and OddsSharks's Jon Campbell to submit predictions for some of the more common prop bets of Super Bowl LI.
The Bet: Coin toss
Line: Heads -105 | Tails -105
The Super Bowl coin toss has been a streaky proposition of late. Tails is currently on a three-game run, which comes on the heels of five consecutive heads flips. In 50 Super Bowls, tails has a narrow 26-24 edge. If you're betting on the coin toss, Campbell advises, "Don't pay more than -105 juice on the coin toss, which means risking $105 to win $100. Plenty of books out there offer this price and there's no need to pay more."
Picking heads or tails can feel like a toss-up (pun intended). If you want to leave it to fate, just flip a coin and let the result be your guide. Better yet, flip a digital coin to save yourself the hassle of hunting for a quarter. But if you prefer a little logic behind your pick, consider this: the Patriots are 4-0 when losing the Super Bowl coin toss and 0-2 when winning it. Moreover, as the visitors, the Patriots will be making the call and they have picked heads every time for the past two seasons. Couple that with New England's status as a three-point favorite and the smart money is on a tails flip that improves the Patriots to 5-0 when losing the toss. The Pick: Tails.
The Bet: How long will it take Luke Bryan to sing the U.S. National Anthem?
Line: Over 2:15 -120 | Under 2:15 -120
Luke Bryan is no stranger to singing the National Anthem at big events. A review of the "game tape" reveals that Bryan is all over the map with length. A 2008 performance prior to a game between the Cleveland Browns and Tennessee Titans is unofficially clocked at one minute, 43 seconds. Before the 2012 MLB All-Star Game, Bryan completed the National Anthem in two minutes, three seconds. The most recent footage occurred in August of 2016 at U.S. Bank Stadium, home of the Minnesota Vikings, when Bryan's rendition came in at a glacial pace of two minutes, 28 seconds. See the trend? Over time, Bryan's anthems are growing progressively longer. At this rate, he may top two minutes, 50 seconds, which would obliterate the Vegas line.
However, not all National Anthems are created equal. The 2016 performance occurred at a concert, with a stadium of adoring fans singing along. Bryan's Super Bowl version will likely have more in common with his All-Star anthem, so we're betting he reins it in and keeps it near two minutes. The Pick: Under.
The Bet: Which song will Lady Gaga sing first during the halftime show?
Line: Born This Way +225 | Bad Romance +250 | Edge of Glory +600 | Poker Face +1000 | Just Dance +1000 | Any other song +110
After carefully listening to Lady Gaga's entire discography (to the dismay and protest of coworkers), the conclusion is that we should have just trusted Vegas oddsmakers. Born This Way has the lowest payout for good reason. With a slow start that crescendos in a catchy refrain, it's the perfect fit for her opening number. Add in the lyrics, "We are all born superstars" and it's a no-brainer. Born This Way is also the most recent of Lady Gaga's three songs to top the U.S. Billboard Hot 100. It was released in 2011, while Just Dance and Poker Face are hits from 2008.
If you're a conspiracy theorist, you're wondering what prevents "insider trading" for bets like this. Surely Lady Gaga's playlist is already set. Couldn't she pass that along to her friends and family for an easy score? According to Campbell, "The big protection mechanism here is the low limits on prop bets. Most books won't let you bet more than $500 on any of these kinds of props so it's not worth it really for anyone to fix a bet." That being said, if you spot Mama Gaga walking into a casino in Las Vegas between now and Sunday, it might be worth your time to tail her. The Pick: Born This Way.
The Bet: What color liquid will be poured on the winning coach?
Line: Clear/Water +300 | Lime/Green +300 | Yellow +300 | Orange +300 | Red +500 | Blue +750 | Purple +1000
If you believe the Atlanta Falcons will claim the Lombardi Trophy on Sunday night, look no further than the NFC Championship game for your Gatorade shower research. Following their 44-21 dismantling of the Green Bay Packers, the Falcons doused head coach Dan Quinn in a clear shower. It stands to reason that if the Falcons are victorious, clear liquid will have the inside track.
The intel on the Patriots isn't quite as recent. Rather than celebrate their AFC Championship win over the Steelers by soaking Bill Belichick, the Patriots acted like they'd been there before, because…well, they had. But there are four Super Bowl celebrations under Belichick to serve as evidence of what might happen in the waning moments of Super Bowl LI. In New England's first two Super Bowl wins, the team eschewed the Gatorade dump entirely. Win No. 3 was celebrated with a clear shower. The Patriots' fourth win, occurring just two years ago, prompted a blue shower for Belichick. Since WhatIfSports.com likes the Patriots to triumph, we're all-in on a repeat of a blue shower. The Pick: Blue.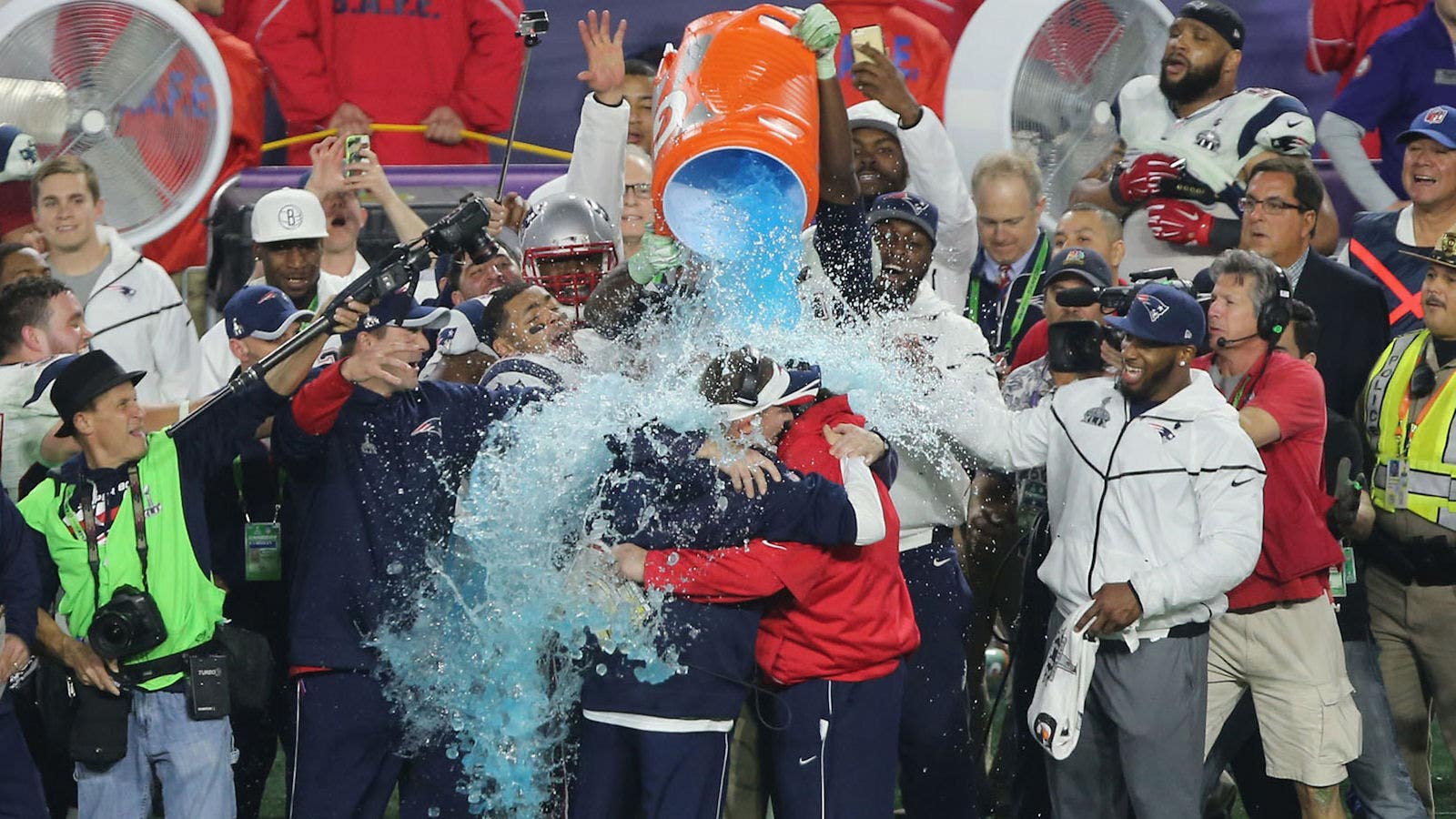 We're just scratching the surface of the literally hundreds of prop bets for Super Bowl LI. A couple stat-related props that Campbell likes this year include Tom Brady's first quarter touchdown pass total (line: ½) and Martellus Bennett's receiving yards (line: 36.5 yards). In both cases, Campbell is taking the over: "Atlanta owns the worst red zone percentage defense for touchdowns in the NFL this season at 72.1 percent. Bennett has the highest passer rating when targeted of any tight end this season at 136.8. He'll get some catches and yards against the fifth-worst passing defense in the NFL."
We used the results of WhatIfSports.com's Super Bowl prediction to generate odds for a few more prop bets:
First Player to Score a Touchdown
| | | |
| --- | --- | --- |
| Player | Vegas Odds | WIS Prediction |
| Devonta Freeman |  +850 | 11.4% |
| LeGarrette Blount |  +700 | 10.8% |
| Julio Jones |  +600 | 10.3% |
| Tevin Coleman |  +1400 | 9.4% |
| Julian Edelman |  +900 | 9.2% |
| Dion Lewis |  +1400 | 8.1% |
| Chris Hogan |  +900 | 6.3% |
| Martellus Bennett |  +1200 | 5.7% |
| James White |  +2000 | 5.1% |
| Malcolm Mitchell |  +2000 | 4.8% |
Super Bowl MVP
| | | |
| --- | --- | --- |
| Player | Vegas Odds | WIS Prediction |
| Tom Brady |  +125 | 44.7% |
| Matt Ryan |  +190 | 29.0% |
| Julio Jones |  +800 | 11.8% |
| Devonta Freeman |  +1600 | 4.1% |
| Tevin Coleman |  +5000 | 3.5% |
| Dion Lewis |  +3300 | 2.6% |
| LeGarrette Blount |  +1600 | 2.1% |
| Julian Edelman | +2500 | 1.2% |
| James White |  +10000 | 0.6% |
| Chris Hogan |  +2500 | 0.2% |
Average Score By Quarter
| | | | | |
| --- | --- | --- | --- | --- |
| Team | 1st Qtr | 2nd Qtr | 3rd Qtr | 4th Qtr |
| Patriots | 4.9 | 8.3 | 4.5 | 7.5 |
| Falcons | 4.5 | 7.3 | 4.4 | 7.3 |
Chance to Score at End of Half/Game
| | | |
| --- | --- | --- |
| Team | Last 2 Minutes of Half | Last 2 Minutes of Game |
| Patriots | 55.9% | 38.5% |
| Falcons | 52.2% | 33.4% |
More Super Bowl content: Print OddsShark's Super Bowl party props game | Super Bowl LI prediction | Simulation of 2016 Falcons vs. 1998 Falcons