WhatIfSports National Championship prediction: the computer's pick for Alabama vs. Clemson
Jake Westrich

WhatIfSports.com
One year later, Clemson and Alabama have navigated back to the College Football Playoff National Championship game for a rematch of last year's title tilt. Alabama could complete a perfect 15-0 season and capture its fifth national championship in eight years. Clemson is no pushover, though. The revenge-minded Tigers are 13-1 and fresh off a 31-0 victory over Ohio State in the CFP Semifinal.
Vegas oddsmakers have installed the Crimson Tide as six- to seven-point favorites, depending on the sportsbook. Alabama began the season atop the AP poll and hasn't once budged from that position. As in past championship years, Nick Saban's defense has been the driver for the team's success. The Crimson Tide hold opponents to 11.4 points per game, the lowest total by any team in the nation since 2012, when Alabama allowed 10.9 points on the way to a BCS title. The Tide offense isn't too shabby, either. Their 39.4 points per game are the most by an Alabama team in the Saban era and rank 14th nationally.
At 39.5 points per game, the Clemson offense has the narrowest of edges over Bama in that department. Clemson's scoring is up from last year, when the team averaged 38.5 points per contest. Defensively, the Tigers made an even bigger jump. Clemson holds the opposition to 17.1 points per game, which ranks seventh nationally and represents an improvement of 4.6 points per game compared to a year ago.
So which team will come out on top Monday night? Using WhaIfSports.com's college football simulation engine, we played Alabama and Clemson head-to-head 501 times, with the Crimson Tide winning 58.1 percent of simulations. Check out the box score and recap below.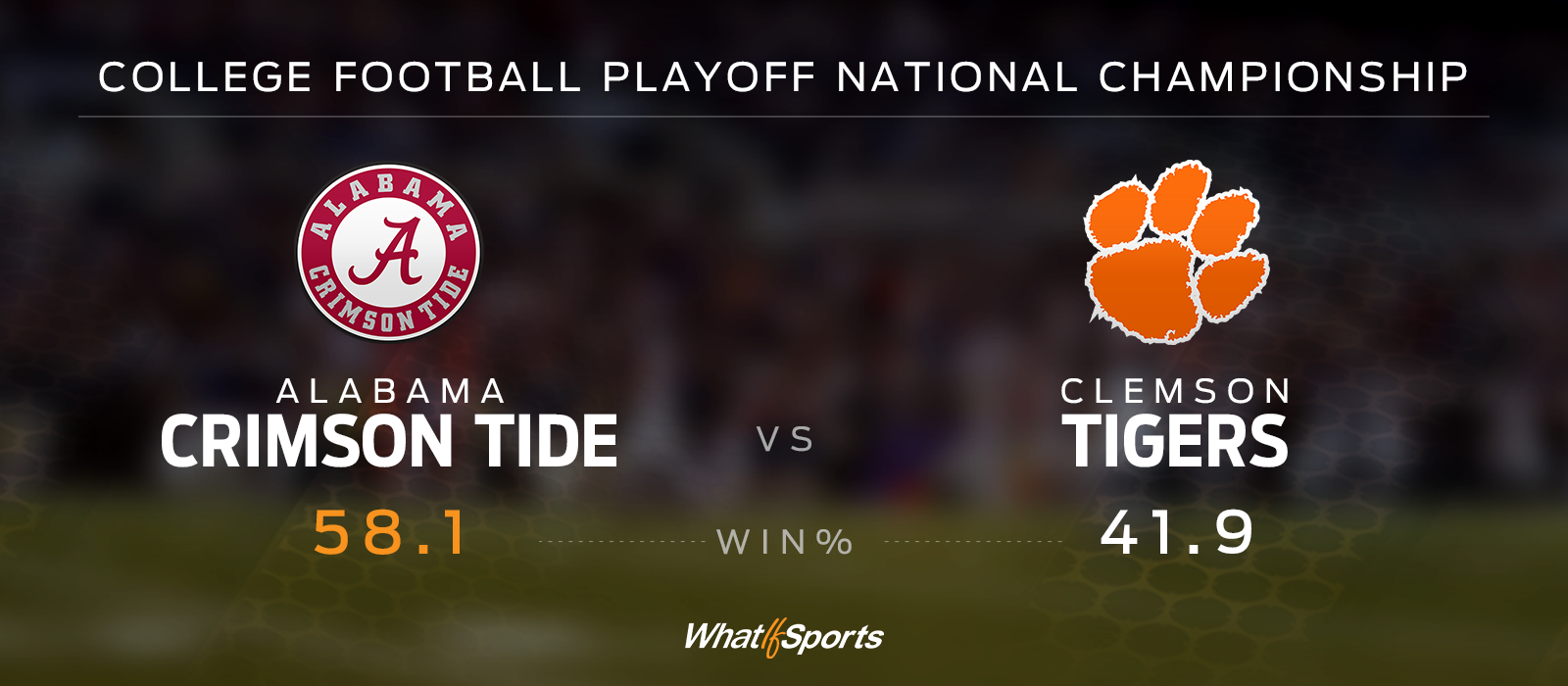 Prediction: Alabama 34 – Clemson 27 | Simulate the Matchup
Box Score Recap: Alabama won 45-40 in last year's National Championship game as the Crimson Tide and Tigers combined for 40 fourth-quarter points. This year's game followed a similar blueprint, with Alabama clinging to a 17-13 lead heading into the fourth quarter before the teams put up a collective 31 points in the final stanza. It began with a Ray-Ray McCloud touchdown reception from Deshawn Watson that gave Clemson a 20-17 advantage and the Tigers' first lead of the game. Alabama went ahead 27-20 with a 47-yard field goal and an 18-yard Bo Scarbrough touchdown run, but Clemson tied it up on the next possession when Wayne Gallman caught a pass in the end zone with 1:49 to play. Less than 30 seconds later, Alabama's Damien Harris broke free on a screen pass and ran 80 yards for the game-winning score.