2016 NCAA Tournament East Region: previews and predictions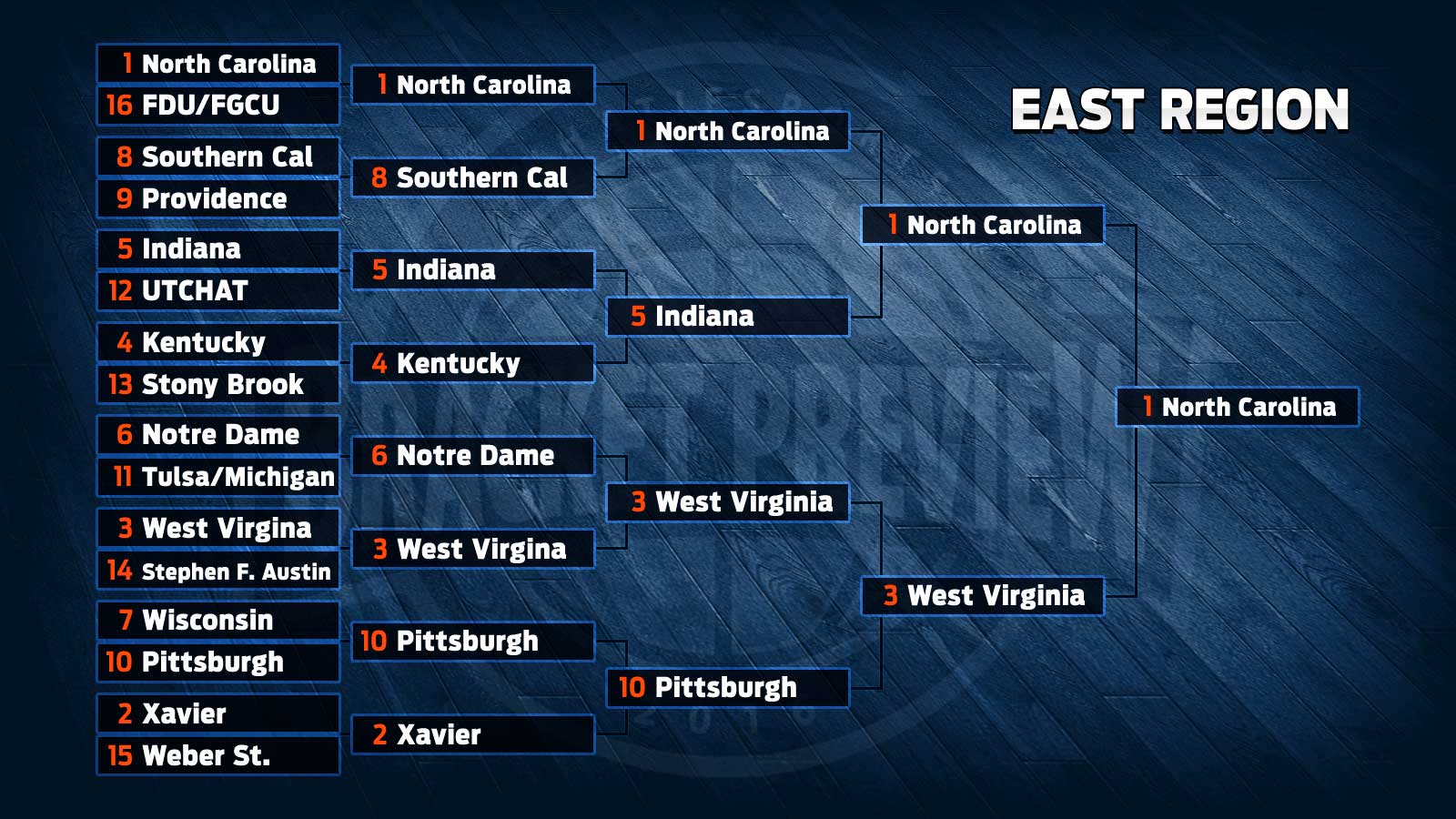 WhatIfSports.com used its college basketball simulation engine to play the entire 2016 NCAA Tournament 1,001 times. View the full bracket predictions or check out our region-by-region previews. After you've done your homework, create an entry in the FOX Bracket Challenge.
More previews and predictions: SOUTH | WEST | MIDWEST
North Carolina will feel right at home as the No. 1 seed in the East region. The Tar Heels play their first- and second-round games in nearby Raleigh. It's a 22-mile drive from the Dean E. Smith Center in Chapel Hill to the PNC Arena in Raleigh, meaning the stands should be packed with Carolina blue. The Tar Heels' last three losses — at Notre Dame, vs. Duke and at Virginia — have all been avenged, including a 61-57 victory over the Cavaliers in the ACC title game that was retaliation for a five-point defeat from two weeks prior. North Carolina is led by senior big man Brice Johnson (16.6 points, 10.6 rebound per game).
While North Carolina has familiarity with its seed (the Tar Heels are a No. 1 for the 15th time), Xavier does not. A No. 2 seed is the best in program history, replacing the previous high of No. 3 in 2003, David West's senior year. After beginning the year unranked, Xavier rode a 12-0 start to lofty rankings in the polls and has spent much of the year among the AP Top 10. The Musketeers will look to build upon their postseason success from a year ago, when the team reached the Sweet 16 for the third time in coach Chris Mack's seven-year tenure. A Final Four berth would be the first in school history.
The No. 3 seed in the East, West Virginia, is as battle-tested as any team in the country. In mid-January, Bob Huggins' squad played No. 1 Kansas and No. 2 Oklahoma in the same week. During another stretch, West Virginia played six ranked opponents in seven games. To emerge with the second-best record in the nation's toughest conference is a testament to West Virginia's grit. The Mountaineers deploy a full-court press that generates 9.9 steals per game, most in Division 1. The team will get a taste of its own medicine in the First Round though, as Stephen F. Austin ranks seventh in steals with 9.1 per contest.
Rounding out the top four in the East region is Kentucky. If the team was lacking in motivation heading into the NCAA Tournament, the selection committee provided some by slighting the Wildcats. Despite defeating Texas A&M in the SEC championship and owning an identical 26-8 record, the Aggies were awarded a 3-seed in the West region. More disconcerting for the Wildcats, they're in a loaded region with potential games against Indiana and North Carolina on the horizon. However, guard play is of increased importance in March and Kentucky has two gems in Tyler Ulis (17.2 points, 7.2 assists per game) and Jamal Murray (20.1 points per game, 42.1 percent three-point shooting).
Other notables: No. 5 Indiana, No. 7 Wisconsin, No. 14 Stephen F. Austin
Round 1 Predictions: East Region

Matchup
Adv %
Avg. Score
1 North Carolina
95.7
89.4
16 FGCU
4.3
70.6
Simulate Game
8 USC
61.3
84.3
9 Providence
38.7
77.4
Simulate Game
5 Indiana
79.1
85.4
12 Chattanooga
20.9
75.9
Simulate Game
4 Kentucky
76.2
79.8
13 Stony Brook
23.8
72.8
Simulate Game
6 Notre Dame
67.7
81.2
11 Michigan
32.3
77.9
Simulate Game
3 West Virginia
69.4
88.0
14 Stephen F. Austin
30.6
79.8
Simulate Game
7 Wisconsin
31.1
73.9
10 Pittsburgh
68.9
79.9
Simulate Game
2 Xavier
75.3
86.0
15 Weber State
24.7
80.7
Simulate Game
More previews and predictions: SOUTH | WEST | MIDWEST
For more NCAA Tournament content, view WhatIfSports.com's round-by-round pick confidence, tips for filling out your bracket or First Four predictions and sleeper picks.