Sights and sounds from the 2016 MLB All-Star Game festivities in San Diego: Day 2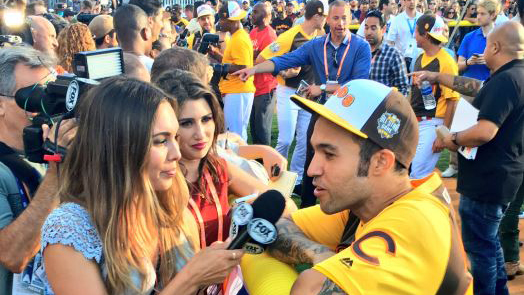 Another beautiful day in San Diego for some All-Star fun.
After Day 1 at the MLB All-Star festivities, we kicked it up a knotch today. We got another early morning workout in, this time it was Brie running in the 5k Color Run around the streets of downtown SD.
From there, we headed to one of the best viewpoints in the city to honor broadcasting legend Dick Enberg. The voice of so many great sporting events for so many years like Wimbledon, the Super Bowl and the US Open, Dick also called games for the Angels from 1965-1978 and again in 1985. An inductee of three major professional sports Halls of Fame including baseball, football and basketball, FOX Sports San Diego hosted a brunch to commemorate the legend.
An All-Star bobblehead for a Hall of Famer. ⭐️ #OhMy #ASG pic.twitter.com/1HrrFSGesj

— FOX Sports San Diego (@FOXSportsSD) July 10, 2016
What a view this morning celebrating the legendary Dick Enberg. Thank you from the @FOXSports Family pic.twitter.com/D1rWmeCKeB

— FOX Sports West (@FoxSportsWest) July 10, 2016
To finish off a great second day, we hung with Angels fans at the MLB Futures Game, where Angels minor leaguer Nate Smith represented Team USA. And finally, watched as celebrities like Landon Donovan, Terry Crews, Jamie Foxx and JK Simmons took batting practice before the Celebrity Softball Game.
We got @Angels fans here to see Nate Smith at the #FuturesGame and cheer @MikeTrout to his 3rd #ASG MVP!https://t.co/K6nKEb1RUE

— FOX Sports West (@FoxSportsWest) July 10, 2016
.@iamjamiefoxx in BEAST MODE prepping for #ASG #CelebSoftball 💪🏻💥 pic.twitter.com/YuW1yP09bV

— FOX Sports West (@FoxSportsWest) July 11, 2016
Hey @drewbrees , are you trading in the 🏈 for ⚾️? #ASG #CelebSoftball pic.twitter.com/yZjvxpxrbM

— FOX Sports West (@FoxSportsWest) July 11, 2016