Ryan Hollins Blog: March Madness edition
March Madness!
Both the conference championships and now the Big Dance have been crazy, living up to the name.
There have been a lot of wild games and upsets already. Warren Buffet will gets to keep his billion dollars, and even though I have suffered a couple key losses, my bracket isn't looking too bad. I created pool for my friends and fans and will give away some Clippers gear to the player with the most points.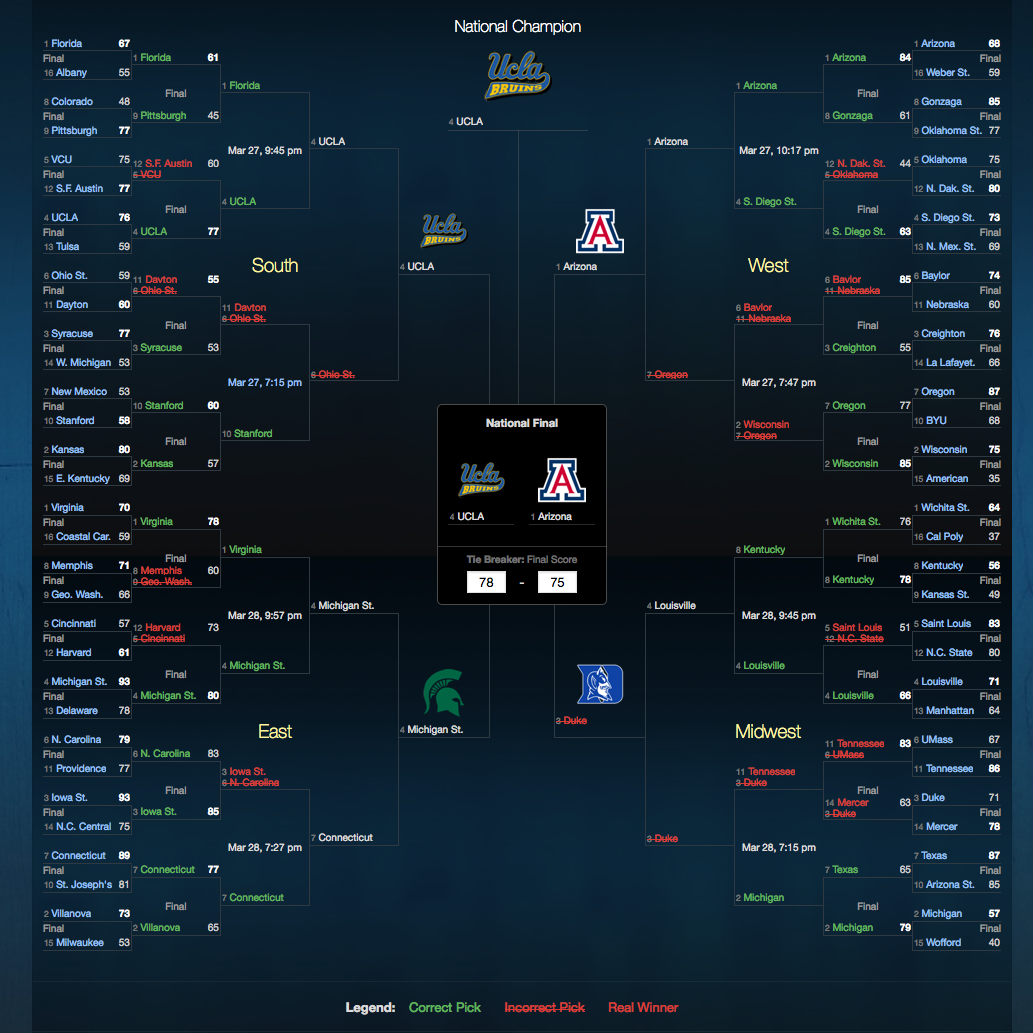 Right now, I am in 4th place headed into the Sweet 16 with 34 correct picks out of 48.
My Final Four selections shouldn't be too surprising, UCLA, Arizona, Michigan State and Duke.
UCLA because we are the best team/college ever! Biased yes, but that's what you do when you are a fan, some choose not to pick winners from the heart, but sometimes that's what you have to do.
Arizona is easily the most talented team in college basketball right now they have NBA athleticism, they are an exciting team to watch. I like the discipline of the Michigan state team, Coach Izzo has shown that when he has the talent he can take me to the promise land.
Duke had a great group of talent, led by Jabari Parker, who could be the NBA's possible No. 1 overall draft pick if he decides to leave. They lost a shocker to Mercer, the game everyone around the world witnessed and maybe even saw the 'Nae Nae' for the first time, but I couldn't deny picking the Blue Devils.
There are a couple trouble makers out there.
I like the Standford team and I think they were better than a 10th seed. The Cardinal has discipline along with some talented athletes.
.@UCLAMBB back in upper echelon of college hoops after reaching first #Sweet16 since 2008: http://t.co/oexKntFDJx via @AbbeyMastracco

— FOX Sports West (@FoxSportsWest) March 24, 2014
UCLA's next game is vs. Florida and it's going to be a lot of hype as we get closer to the Final Four.
Ultimately, I have UCLA winning the national championship over Arizona.
UCLA can play with anyone and we've shown that by beating Arizona in the Pac-12 Championship Game and our play throughout the season.