Olympian Pat Etem helping kids stay fit through 'Ready, Set, Gold!' program
It was raining outdoors, so former Olympian Pat Etem was running elementary school kids through exercise drills indoors at the KIPP Sol Academy earlier this week.
Neither the small classroom nor her lofty status kept Etem, now 58 and mother of the Anaheim Ducks' Emerson Etem, from getting on the floor with the kids to do exercises.
It was a great way to prove to fifth-graders that they can still work out and stay fit, even if they live in a small apartment or there's inclement weather.
Etem, who was on the Olympic rowing team in 1980 (U.S. boycotted) and 1984 in Los Angeles, lives in Long Beach. She still fits in her Olympic red, white and blue-striped cotton shirt she wore 30 years ago in the parade at the opening ceremonies. And on this day she also wore blue USA pants, which were her son's old development team pants.
"I would say the lifestyle, which is part of this program, is to have the kids know fitness is lifelong, daily and a part of who you are," Etem said. "A lot of Olympians carry that torch."
Etem is participating in Los Angeles' 'Ready, Set, Gold!' program in which 50 Olympians and Paralympians help promote healthy living habits, fitness and nutrition. The program was started as part of Los Angeles' failed bid to get the 2016 Olympics. Los Angeles currently is bidding to get the 2024 Olympics, so this beneficial program is a nice byproduct.
"The legacy of being an Olympian can live on in community and that really is important," Etem said. "The Olympic movement stresses the games every two and four years. In between that time athletes are working out really hard and people are giving to community in various ways. To see that legacy endure through this program is amazing.
How cool is this? Pat Etem, former Olympic rower & mom to @emersonetem still has 1984 parade uniform to w https://t.co/AStJHuXifk

— Jill Painter Lopez (@jillpainter) December 3, 2014
"I've met Olympians I've been in awe of (like) Peter Vidmar. It's just been amazing. Even though we're Olympians we give each other goosebumps."
She got goosebumps when watching a class cheer on an unassuming girl who did 90 pushups, aided by her classmates. And when she had the students read the Olympic pledge, an oath athletes take at the beginning of the Games. Etem would say a line and have students repeat it after her.
"At the end, this one girl, you could just see it in her face that I gave her this blessing, to be an Olympian for a moment," Etem recalled with a smile. "That was one of the coolest things."
Etem doesn't talk excessively about her professional hockey-playing son. In fact, she says simply, "I have a son who plays hockey."
Many of the children in East Los Angeles come from underprivileged backgrounds, so the focus is on eating right, staying fit and going to college, not becoming professional athletes. She talks about her three children: Emerson, her son Martin, who is a substitute teacher in Long Beach and a former hockey player, and daughter Elise, a swimmer.
Etem Emerson is a former first-round NHL draft pick by the Ducks who recently was sent to the minors in Norfolk, Va. to work on his consistency. When he was a junior hockey player in Long Beach, his mom says, she'd drop him off at the hockey rink and then go work out. She said she still works out for 90 minutes a day.
She and her husband practice healthy eating habits at home, too. Etem said her children had cake for their birthdays but otherwise had fruit to replace dessert.
"My kids have never been to McDonald's; not under my watch anyway," Etem said with a laugh.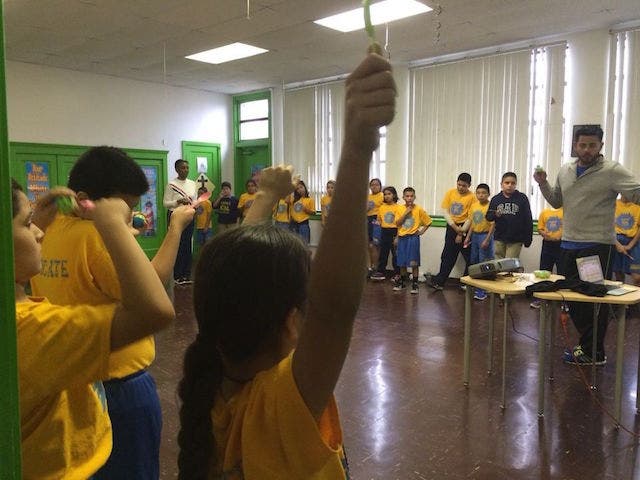 She doesn't talk with students about the s-word: soda. She focuses on helping kids stay hydrated with water and doesn't mention other beverages like sports drinks.
Even though she could inspire children with Olympic stories, Etem lets her Olympic outfit do that talking, and she focuses on messages the children can apply to their daily lives. She has just one Olympic poster in her home, which says "Commitment to excellence" with a picture of Lake Casitas, where rowing was held in 1984.
"Raising kids, you want to inspire them, but not needle them," Etem said.
Exercise isn't all about the body and cardiovascular activities. During one such drill, students used small wiffle balls and transferred them to a partner using a plastic spoon.
"You can teach yourself to relax," Etem told the students. "It's a mental and coordinate thing where you teach your hand to relax. You can do that in different ways. I told myself, 'Pat, let this hand be the relaxer.' Without even holding it, I said let this hand relax it and transfer."
That demonstrated hand-eye coordination, an instrumental part in sports, and balance.
School principal Rachelle Minix enjoys Etem's teachings.
"One of the things that has had a profoundly positive … impact here is her ability to tell her story for our kids," Minix said. "Her dream and determination she used to get there and the hard work — that's the message that resonates not just athletically but also in academics. She's real, living, breathing proof that you can achieve your dreams and that you can do that with hard work."
Etem brought a black-and-white photo from the 1983 World Championships to show the children. She's brought medals before as well. The U.S. rowing team didn't medal in the Olympics.
She talks about going to college at UC Berkeley and her Masters in public health. She's a consultant in the health field as well.
And an inspiration to children. This is her third year in the program and returning to the same school has inspired her as well, she says, and she'll keep coming back
"You see them from beginning to end," Etem said. "I've learned a lot. It's been a pleasure."