Happy birthday, 'Finnish Flash': Celebrate Teemu Selanne's best moments with the Ducks
It's hard to believe former Anaheim Ducks great Teemu Selanne turned 46 today. Despite retiring at the end of the 2014 season, the man dubbed the 'Finnish Flash' looks like he could still lace up the skates and bury a wrister or two in an NHL game.
So to celebrate the Ducks all-time leader in games played, goals, assists and points, here are the top three Selanne moments in a Ducks sweater.
Lifting the Stanley Cup in 2007
When the Ducks lifted the Cup in 2007, it was captain Scott Niedermayer getting his hands on the coveted trophy first. But as the Cup was passed from player to player, no Duck received a louder ovation than Selanne.
Tears in his eyes, Selanne had finally finished what he started when he returned to Anaheim in 2005. His five goals and 10 assists during the playoffs were pivotal to the Ducks but one goal from that Stanley Cup run stands out as perhaps the greatest Ducks goal of all-time…
Forehand, Backhand… Water Bottle
Overtime in an unfriendly building in Hockeytown, USA. The Ducks didn't win the Cup that night or even the series. But they might as well have because after that goal, the Ducks' team of destiny aspirations became reality with one flick of the wrist.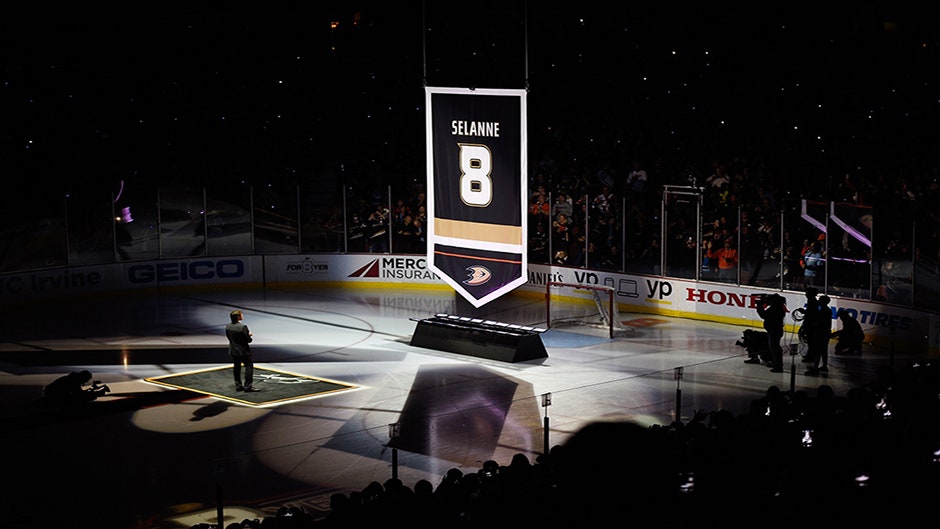 Retiring No. 8
The first Anaheim Ducks player to have his number retired, Selanne's No. 8 will forever grace the rafters.