Ducks' Andersen to don 'Reservoir Dogs'-inspired goalie mask
Frederik Andersen is at it again. No, he didn't add another victory to a 6-1-0 record. The Anaheim Ducks' netminder is adding another ridiculously-awesome mask to his rotation.
The new mask design, created by David Gunnarsson, is inspired by the Quentin Tarantino cult classic, Reservoir Dogs. Gunnarsson and Andersen worked together on the Lego Movie-themed mask the goaltender has been wearing this season. Gunnarsson also designed John Gibson's Pac-Man mask.
The left side of the Reservoir Dogs mask features a duck who looks like the character "Mr. Blonde," who is one of the movie's more memorable characters. The right side shows the old Mighty Ducks logo sporting black sunglasses. Looking at the mask from the front, you'll see a black suit-and-tie look along the neckline, which is a staple of the film.
Watch out… With this mask on Frederik Andersen will be transformed into a certain Mr Blonde… Just check out his iconic shirt and tie on the chin of the mask…
Frederik and me love to come up with new design ideas for every new mask… And a Reservoir Ducks mask feels so good… And more movie themed Andersen masks will come 🙂
And if you have seen the Reservoir movie you will see Mr Blonde is not a very nice guy… And on the side of the mask you will find Mr Blonde again, with his team, as ducks of course… And he is holding his razor…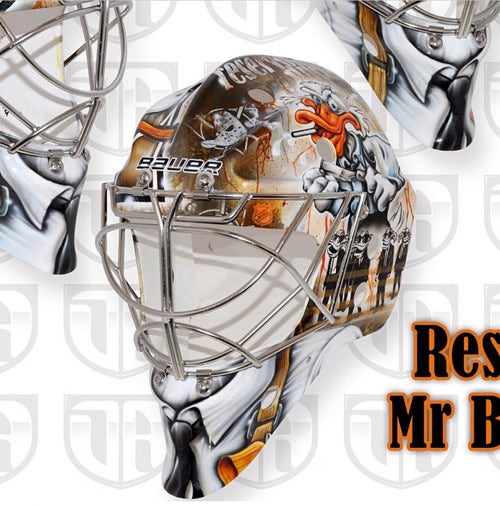 And on the other side the Ducks logo, and as a true Reservoir Duck of course he wears sunglasses…:)
Just as usual the design is loaded with effects and details to be discovered all over the mask…
If you like the designs seen here, check out Gunnarsson's Instagram feed, it's full of very unique designs for quite a few NHL goaltenders.