The History of American Top Team Part 1: Roots of Fight
In the earliest days of the UFC, most of the competitors who were fighting in the Octagon came from traditional martial arts camps and schools. It was Karate vs. Tae Kwon Do. Boxing vs. Brazilian Jiu-Jitsu.
A few knockouts and several submissions later, fighters figured out that to get better they were going to have to work with other martial artists to have a truly well-rounded skill set. Teams began forming out of necessity because the only way to get better was to work with other top fighters while training in multiple disciplines.
While super camps like American Kickboxing Academy and Blackhouse are commonplace in MMA these days, in those first few UFC shows there weren't many notable teams outside of the Gracie Family and Ken Shamrock's Lion's Den.
Two years after that first UFC event, the first bricks were laid in a foundation for a camp that would eventually become one of the most well-known and successful teams in all of MMA, but its origin actually lies in professional wrestling and not professional fighting.
"Actually I was just a big pro wrestling mark, which I still am, I fully admit," Dan Lambert, founder and owner of American Top Team in Florida, told FOX Sports recently. "I used to watch a lot of pro wrestling in Japan, and I used to tape trade with folks over there, and that's where the quasi-shoot promotions over there started in the early '90s like Pancrase and the UWF.
"I used to get tapes and I would send them tapes of shows here, and I started to follow some of the quasi-submission wrestling shows that they put on over there, and then obviously the UFC started here and I started watching that right away."
Lambert, who was a hotel executive and lawyer by trade, was just a fan until he eventually discovered a promotion called Battlecade: Extreme Fighting that put on shows from 1995 until 1997.
The first event took place in Wilmington, North Carolina, in 1995, and the man who came away victorious in their one-night tournament also happened to own a gym in Miami, which was close to where Lambert resided. Once they met, the two would become fast friends and eventually business partners, which flourished into one of the most successful MMA franchises over the past 20 years.
"John Perretti's show started, 'Extreme Fighting,' and Conan Silveira was in their first show and he had a gym in Miami, and I said, 'I'm there.' So I went down to his gym and got my ass beat by some 15-year-old kid who weighed about 100 pounds less than I did my first day, and I said, 'I'm in!' and that's how I started," Lambert explained.
Lambert started training with Silveira, and before long they formed a grappling team that would travel all over the country for competitions. They never imagined it would turn into anything more than a bunch of friends gathering together to compete and do something they loved.
It wasn't until six years later the third piece of the puzzle came along that transformed a bunch of Brazilian Jiu-Jitsu enthusiasts into one of the most elite fight teams in the history of the sport.
"Back in 1995, it was Conan and his brother Marcelo. Conan was fighting and he and his brother were teaching when we were traveling to jiu-jitsu tournaments. (Ricardo) Liborio actually came here in like 2001, I think it was, and he was training for that tournament in Kuwait (Shidokan Jitsu – Warriors 1) — Matt Hughes was in it, Pele (Jose Landi-Jons), Carlos Newton, Dave Menne won it, and Liborio was training for that tournament. Well, training down at BTT (Brazilian Top Team), he got a knee to the face and he lost some teeth and had to get some bridge work done, and he took some time off and he came to Florida to spend some time here to learn English," Lambert said.
"I met him at a show in Vegas, I think it was when Murilo Bustamante fought Chuck Liddell; I met him there and he knew Conan and Marcelo in Brazil, and he was interested in coming to the United States and spending six months here. So I was thinking, 'Hell yes, let's get him in here and work with us.'"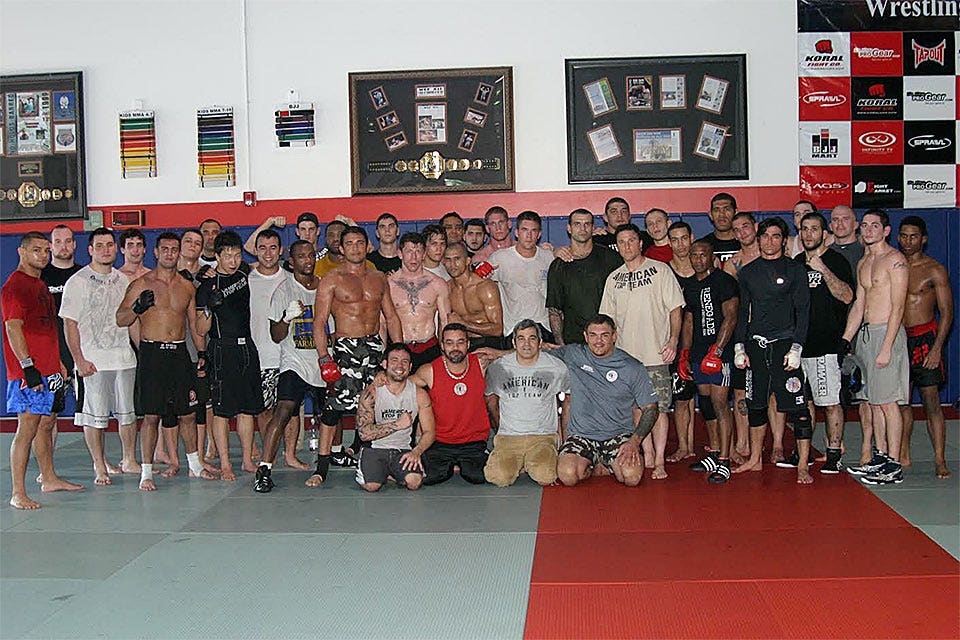 Liborio stuck around the United States and not only started to speak English, but he fell in love with the country. Back home in Brazil, he was already the co-founder of one of the biggest and best training camps in all of MMA, Brazilian Top Team.
Brazilian Top Team was home to a huge list of prominent names in the sport including Antonio Rodrigo Nogueira and his brother Rogerio, Murilo Bustamante, Allen Goes, Vitor Belfort and Ricardo Arona. Liborio was proud of what he built in Brazil, but once he decided to stick around the United States he knew it was time to start something new.
And American Top Team was born.
"After a few months, (Liborio) was like, 'I love it here,' and he was like, 'Let's recreate BTT here.' We already had guys fighting from 1995 to when he started to 2001; guys that were doing jiu-jitsu wanted to fight, so guys like Hermes Franca and Wilson Gouveia had already fought. Din Thomas was training with us at that time, but we didn't have a huge stable of fighters," Lambert said.
"But once Liborio said he was going to stay, a bunch of his disciples decided to come up and stay, so the floodgates opened up a little bit. A lot of his guys followed, and the plan became, 'Let's see how big we can build this from an MMA side.' Liborio said, 'Hey, I'm BTT, I'm going to move here and we'll be ATT!' It was never an affiliation with them; I would say we were distant cousins. Liborio was one of the founders there, but he gave up his share of the team and came here."
Lambert, Silveira and Liborio embarked on the adventure to build a fight team together as a real passion project because at the time even in the early 2000s there wasn't a lot of money floating around the sport. Athletes were competing because they loved to fight and not because there was going to be a great financial gain, even in promotions like the UFC.
Lambert says the real transformation of the sport happened for American Top Team just like it did for so many other people in MMA, the moment "The Ultimate Fighter" kicked off in 2005. Until then it was still a constant battle to just explain to everyday people what mixed martial arts was, but the debut of the reality show brought the sport into the spotlight, and nothing was ever the same again.
"For so many years it was just about having fun. We just did it because that's what we liked to do. At the time, I wasn't sure it would ever be something that would really go over with the public. Every time one of my ears would blow up, I would be like, 'S–t, now I have to get something done to my ear!' because I'd go to work and people would be wondering what the hell happened to me. People would look at me like I was from another planet like, 'What do you mean you were part of an MMA team and got beat up?'" Lambert said with a laugh.
"I never really had a vision of it exploding to the level it exploded to. I used to put on shows just because it got too hard to travel to all these other promotions like Hook-N-Shoot and other shows because we'd spend so much money getting there that we thought we could just put on our own shows so our guys would have some place to fight. Then all of the sudden when 'The Ultimate Fighter' came out and people really started liking it, and I was like, 'This is great!'. It exploded and it's been a great thing. It's been a hell of a ride."
Now 10 years after "The Ultimate Fighter" debuted, Lambert and his gym, American Top Team, will go head-to-head with The Blackzilians in the first team-vs.-team competition on the reality show debuting on FOX Sports 1 on April 22.
Make sure to watch for part 2 of the History of American Top Team when Lambert talks about the day he purchased the Ultimate Fighting Championship.