TUF 19 Rewind Episode 2: The salad days of The Ultimate Fighter
It's always fun watching the second episode of The Ultimate Fighter every season (assuming the first episode is filled with entry fights of course) because the wide-eyed look of the competitors as they first step foot into their new digs is like a kid opening a Red Ryder, carbine action, two-hundred shot range model air rifle on Christmas morning. There's such wonder and glee as the fighters filter in and inevitably make a mad dash to the bedrooms to find out who is sleeping where and with home they will share a room.
From there, the fighters start to explore the other parts of the house including the swimming pool, pool table and a refrigerator stocked with as much food and drink as any fighter cutting weight could possibly drool over during the six weeks while filming.
Consider this the peak of happiness that you'll witness over the next 13-episodes as these fighters devolve from elated with so much hope in their eyes to crabby, cranky and irritated. What you have to understand is as much as it appears these fighters are living in the lap of luxury, there's still almost a prison like feel to these four walls once the days and weeks start to flow one into the next. There are no phone calls, no TV, no internet, no girlfriend to kiss you goodnight or kids to help eleveate the pressure after a tough day in the gym.
Let's call this latest episode the salad days if you will, where idealistic fighters all hoping to make their way towards a six-figure contract will look at that goal like a pot of gold at the end of the rainbow.
Ironically enough, a big part of the focus for this hour was on Irishman Cathal Pendred, who fought at the end of the episode against fellow housemate Hector Urbina. More on the fight later, but first let's discuss Pendred's demeanor and approach to this season.
First off all, Pendred didn't have to fight to enter the house due to a litany of injuries and fighters missing weight so he was stuck sitting on the sidelines watching everyone else compete while all he could do was twiddle his thumbs and wait for his name to finally be called. Now, some will say Pendred got a pass and that's not fair, but in reality he's going into the house on day one not having earned it. There's no way the other fighters aren't quietly snickering about this behind his back as he's unpacking suitcases while they are nursing cuts and bruises and regaling stories about that debut day of filming and what it was like to be inside that Octagon for the first time.
Luckily, Pendred doesn't need an entry fight to declare his standing in the house because he will let anyone within earshot hear that he's the man to beat. There's quiet confidence and then there's Ireland's Cathal Pendred, who explodes with declarations like saying 'I'm the best guy here' as if a volcano erupted and four-leaf clovers started pouring out.
On the other side of the first round matchup in the middleweight division is Team Edgar fighter Hector Urbina. Truth be told, Hector wasn't even supposed to be on the show so trying to get him rattled by mentioning that he was the last pick won't get under his skin. Urbina told me he was originally the second alternate for the show. So that means the guy who was picked and his understudy both had to fall out for him to get a shot. That's like Bette Midler getting bowled over by George Costanza at home plate and then her hot dog dropping understudy has to bow out as well and we're left with the third best person to sing 'Rochelle, Rochelle'.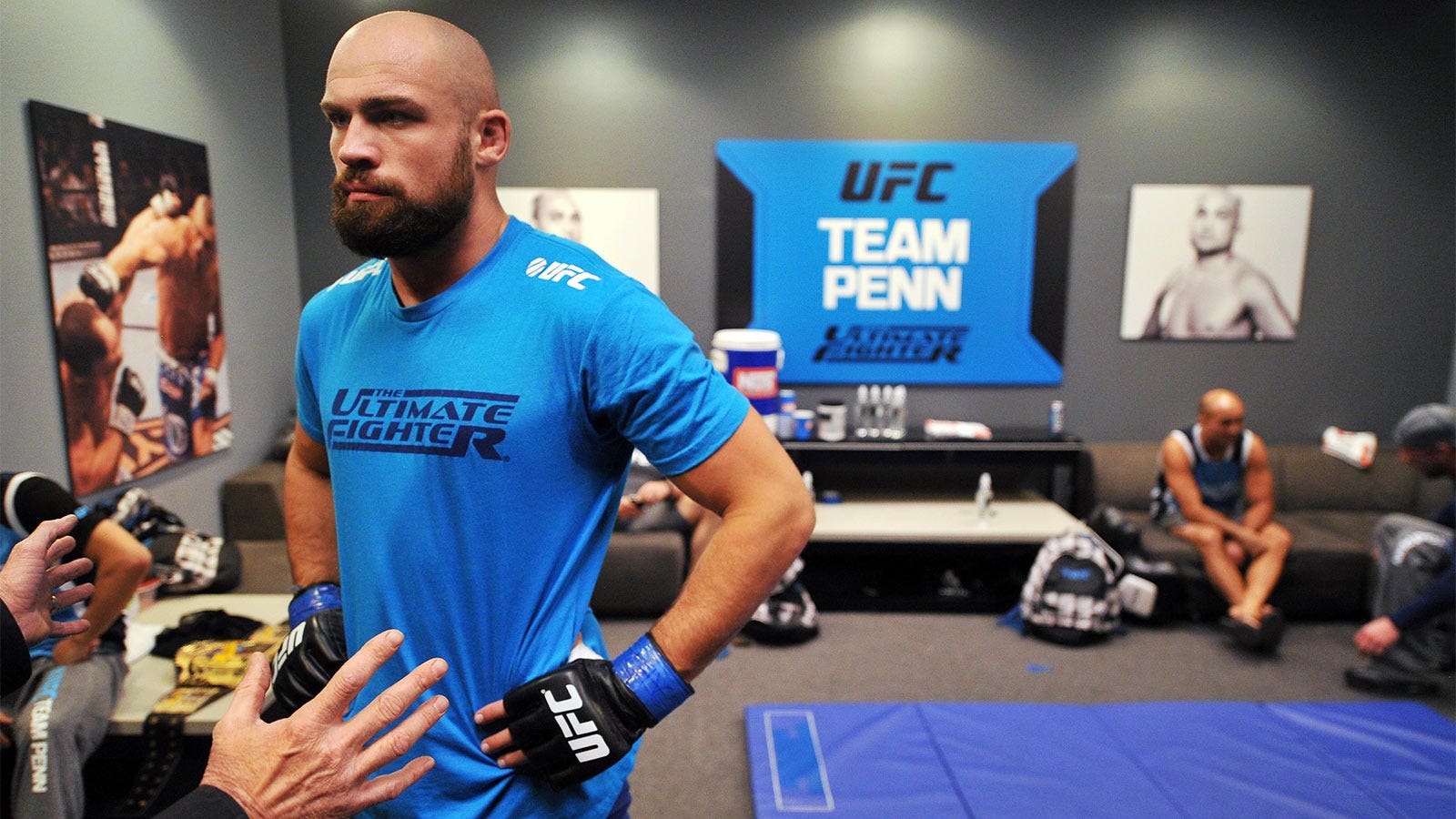 Well Urbina will take the slot and happily accept it!
Now weigh-ins at The Ultimate Fighter are a little different than your standard UFC show. As a person that's attended dozens upon dozens of weigh-ins, I can say that these moments can really identify the excitement level for a show before it ever takes place. For instance, any time Diego Sanchez is fighting you can pretty much put money down on the fact that the weigh-ins are going to be a show, he's going to have a few veins popping out of his neck and you're going to want to stand up and applaud when he stares his opponent down. On TUF, the weigh-ins are usually more formality than hype. The guys living in the house together are more often times than not amicable with each other, and this is about competition not personal grudges or trying to intimidate someone before fighting.
Apparently, Pendred and Urbina didn't get the message!
As the story goes — Pendred hung up his Irish flag the first moment he got into the house, and in virtually everything he does, it goes with him. It's like a security blanket (or Woobie if you're Mr. Mom), and Pendred carries it like a badge of honor. Well, Urbina saw this as an opening to represent his native Mexico so he asked the producers of the show to run out and get him a flag so he could drape that on his forehead and get nose to nose with Pendred at the weigh-ins. What resulted was an Ultimate Fighter stare down that even Diego Sanchez would be proud to witness.
The fight itself went three full rounds and it was an exciting affair through the majority of the 15 minutes. Urbina clipped Pendred early and stunned him, and maybe stunned himself along the way because he seemed almost surprised when the Irishman dropped to one knee. Urbina quickly followed up, but alas when he didn't get the finish, his gas tank depleted like he just got socked by Mike Tyson on Punchout.
Video: TUF 19: How to stare someone down
Pendred took over with a series of takedowns and knee strikes in the second and third rounds to get the win.
A couple of things we learned from this fight — first, Pendred isn't invincible. Before this season started, I pegged him as my favorite to make the finals and win the show. If you dig through all the trash talk and hype, Pendred is a damn good fighter and deserved to be in the UFC, Twitter campaign or not, but he got rattled in this fight. Second, Urbina should get a second shot at the end of the season. Urbina was one of the most experienced guys coming into the house, and he put on a great performance. Let's see him back for at least one more fight.
Next week, my fellow Ohioan Dan Spohn will represent Team Penn against Todd Monaghan in the first light heavyweight matchup of the season. Spohn is the fighter who sent Tyler King crashing to the mat similar to Nicholas Cage's career after The Wicker Man came out. Well, he's back and he's facing Monaghan from Team Edgar.
Tune into The Ultimate Fighter 19: Team Edgar vs. Team Penn next Wednesday night at 10p ET on FOX Sports 1!