Rowdy Recaps: Bec Rawlings breaks down Episode 7 of The Ultimate Fighter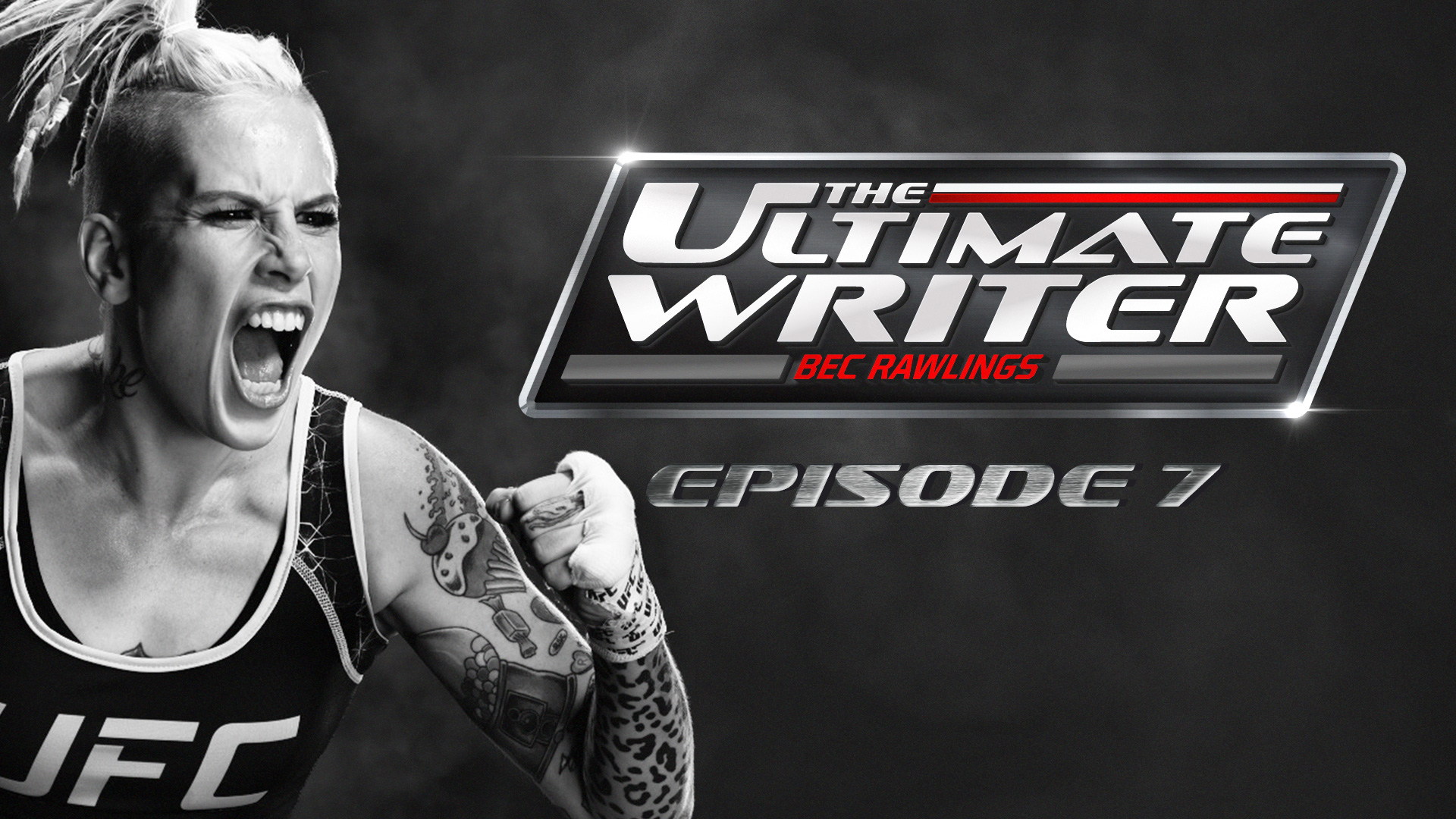 This episode is definitely my favorite one so far with Rose Namajunas vs. Alex Chambers it's hard not to love this one!!
We were pumped for this fight, Rose had been ready to punch face since the first day in the house and if you watched her face every week at the fight announcement when she didn't get called to fight you would have seen how crazy she was to get in there and get it done already.
With our teams spirits being high for this fight we still had the drama lingering with the Chumpettes, they were practically Team Pe*** now and Emily told Gil they should just put their colors on because clearly they ain't apart of Team Melendez anymore LOL. They'd just sit around during class watching us, I could just feel their slimy little ratty eyes on me while I was training and probably running back to Team Pe*** telling them our secrets. It didn't matter though, there was nothing they could do to save Alex from the wrath of Rose Namajunas!
Kron Gracie was in helping us with our Jiu-Jitsu which was amazinggggg mind you 🙂 He worked a lot with Rose and this one particular time Rose was having a bad day, the pressure of winning, girls hormones and training hard is not a good mix…I've cried a thousand times at training over the stupidest s***. I just never had a camera shoved in my face at the same time so it was hard to watch this scene, give the girl some privacy to cry sheeeeeeesh!! Kron was cool about it and tried to reassure Rose that she is a badass and to stop being so hard on herself.
Alex is definitely one of the nicest people I've ever had the chance to meet. She is awesome and understands my Aussie humor, it sucked that we weren't on the same team but we got to hang out a bit in the house between training sessions. Alex was always the happy one and just like I have my no-pants policy, Alex was never wearing a top. I don't think you'd be able to find much footage of Alex wearing a top LOL must be an Aussie thing!
Alex was always the happy one and just like I have my no-pants policy, Alex was never wearing a top. I don't think you'd be able to find much footage of Alex wearing a top LOL must be an Aussie thing!
Hateher had an MRI on her knee injury and the results came back a "full ACL tear". I should have read the report, but didn't wanna seem like a d***, we all apologized to her and I did feel a bit s***** about being so hard on her about it but then once I heard she was fighting on the TUF Finale in December with no surgery or rehab I immediately called BS on that s***.
Rose shared some really tough things about her past in this episode, she has had to go through some s*** I wouldn't wish upon anyone, but has somehow channeled that s*** into fighting which is really inspiring. At only 22 years old Rose has achieved so much, it blows my mind how crazy good her striking and submission game is. She drilled some cool flying triangles and armbars with Nate which is f****** hard considering how tall Nate is. Her style is so unpredictable, she throws weird a** kicks and wraps up subs from all different positions, she is very creative and it works.
This week the US women's soccer team came in to talk with us girls but me and Rose missed it as we were cutting weight for our fights. You wouldn't know this but we actually fought on the same day but they split the footage up for two episodes so unfortunately I missed Rose's fight vs Alex since I was backstage getting ready to punch Tecia's face off!!
It was an awesome fight so it sucks I couldn't see it live! Rose came out and threw a side kick right to Alex's dome then followed up with two more kicks. At this point Alex was still getting into her groove and Rose was just teeing off on her. Alex landed a nice right hand but Rose still came forward with pressure landing more kicks and then shooting for the takedown. Alex defended it, then they broke away and both landed some combos. Rose landed a nice knee then clinched up and got a leg trip takedown and landed in Alex's half guard. They scrambled and Rose had Alex's back standing and hit a badass takedown from there that she only learned the day before from Travis Lee. They scrambled back to their feet and Rose landed another ninja kick. This time Alex shot for the takedown but Rose defended and landed some nice knees to the body of Alex while she was turtled up. Rose then took Alex's back and softened her up with ground and pound before sinking in a RNC and FINALLY getting Team Melendez our first win 🙂 yayyyyyyyy!! After the fight Rose did her celebration and then broke down crying again. I love this about Rose, she is so emotional and not afraid to let them out for the world to see. She goes from a killa in the cage to a crying mess getting her hand raised and I love it!!
Next up is Meeeeeee vs Tecia you wont wanna miss this one 🙂