Mike King talks about developing friendships in the house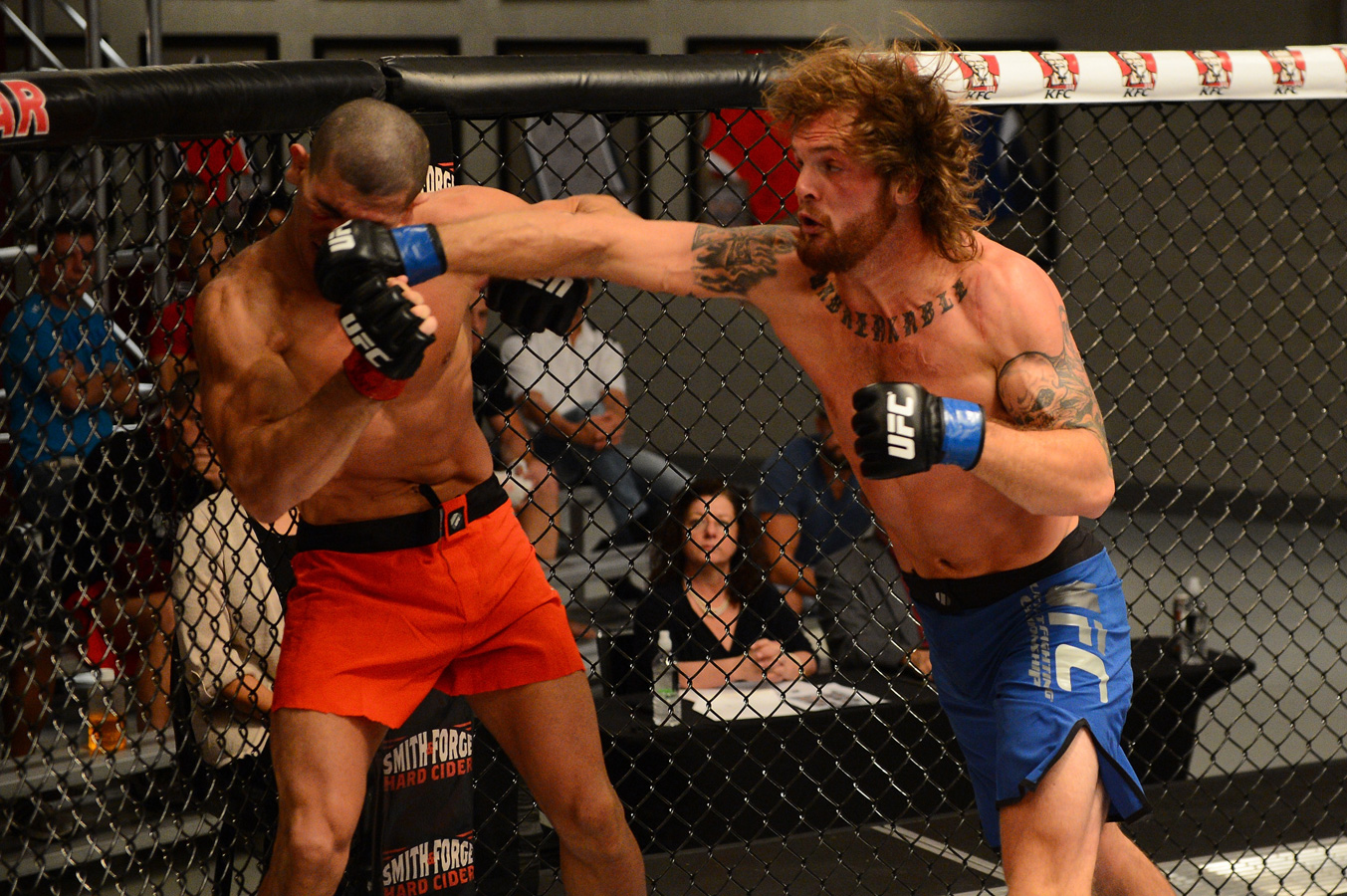 Week two starts with a barrage of media obligations. I had no idea that the fighters had to all of this during taping. We had interviews, photo shoots, and parts for commercials that needed filmed. We were shuttled from the FOX stage, to The Ultimate Fighter facility and back all day long. Even though doing this part of filming was fun it seemed to be more taxing than the actual training sessions involved with our sport.
After returning home from the media day, Cathal arranged for the producers to supply our team with mats so we could get some training in for the day. Dan Spohn offered to put us through the warm up from his system called Iron Body. I didn't expect this to be hard because it was a warm up and secondly the explanation was simple. This was anything but easy and I dare you to try it.
As Dan assumed the role of sensei I have adopted the role of chef. Its just as easy to cook meals for eight as it is to cook for myself. If this gives Team Penn an advantage and I am doing my part as a team member. Obviously no one had a problem with having their meals cooked for them but in exchange they had to clean up after me.
Let's talk about episode 2
The episode starts with a short explanation of how Cathal Pendred got into the house. I believe the fan base needs further explanation. Cathal's original opponent missed weight, which between you and me could be the dumbest thing I have ever seen. How can you get selected to participate on TUF and come in over weight? I just don't understand what this guy was thinking. Then Pendreds alternate opponent twisted his ankle in the hotel while he was in the process of getting to fight weight and had to pull out of the bout. This is the first time anything like this has happened in TUF history. I guess there's only one thing can explain this…Luck of the Irish.
At the first day of practice BJ had us simply grapple with one another to test our skills as a team. It was a fairly easy morning, but was much needed because we were all coming off fights only two days prior. During the second practice we had our first opportunity to spar with our teammates. Practice was focused around Cathal because he had an upcoming fight against Hector Urbina. Cathal is a real gritty fighter and that's what he brings to the cage. There is only one way to beat Pendred and that's to put him away.
Weigh-ins were very intense! Whenever you pit two countries against one another there are going to be deep-rooted emotions involved. Team Penn starting chanting and Team Edgar start yelling which forced the energy through the roof at weigh-ins which put the fighters on high alert. Hector starting yelling at Cathal in Spanish and the two shoved one another as the coaches pulled them apart. This promises to be a great fight in the making and that's exactly what I was anticipating.
Waking up fight day was an odd experience because even though I wasn't fighting I felt like a part of me was going to be in the cage, as Cathal and I are rooming together. I starting thinking is this going to be how I am feeling every fight? If that's the case this is going to be a very TUF journey. Getting to know someone on a personal level tends to change the dynamic of ones relationship with that individual. Living and sleeping with someone nightly in very close quarters makes you look at the person differently, almost like a brothers in arms. This situation is going to be very different than what I expected. I fully believed that I wasn't going to form relationships with teammates because we may be fighting at some point in the season but that proved to be impossible.
In the first round, Pendred came out looking supremely confident but suffered an early devastating combination of punches that sent him face first into the canvas. I thought for sure this fight was over. Pendred was able to stick with it and tried to get up but took two vicious uppercuts for his trouble that sent him to the canvas again. At this point, I thought there was no way Cathal was getting back up from that, but he proved me wrong once again. Cathal was able to regain his composure and score a take down then some decent combinations before the round was over. It helped to even out the momentum but the round was clearly Hector's.
In between rounds Hector is starting to look fatigued and maybe even starting to question himself. Cathal only looked more focused and determined. In my mind I felt like it was Cathal's time to shine and shine he did.
At the beginning of the second round Pendred came out fast and took the center of the octagon early and lands a good combination forcing Urbina backwards. As Hector tried to close the distance again, Pendred was able to land a spinning heel kick that looked like it partially landed. The kick caused a scramble that Cathal was able to win scoring himself a takedown mid way though the second round. Pendred was able to control most of the round from the front headlock position scoring knees and short punches. This isn't a way to impress the UFC, but Pendred came out on top wining the round based on cage control and over positional dominance.
Round 3 you see much of the same, Hector was visibly tired and starting fading early in the third. Cathal once again secured a front headlock position and started scoring points. Hector was able to battle out of the position with only one minute left in the round but was instantly taken down securing the final round for Cathal…Exactly as I predicted.
The episode ends with Team Penn in control of the fight pick and choosing Daniel Spohn to face Todd Monaghan. Be sure to tune in Wednesday at 10p ET to see something you would never expect.