Episode 12 Preview: Teammates Collide Again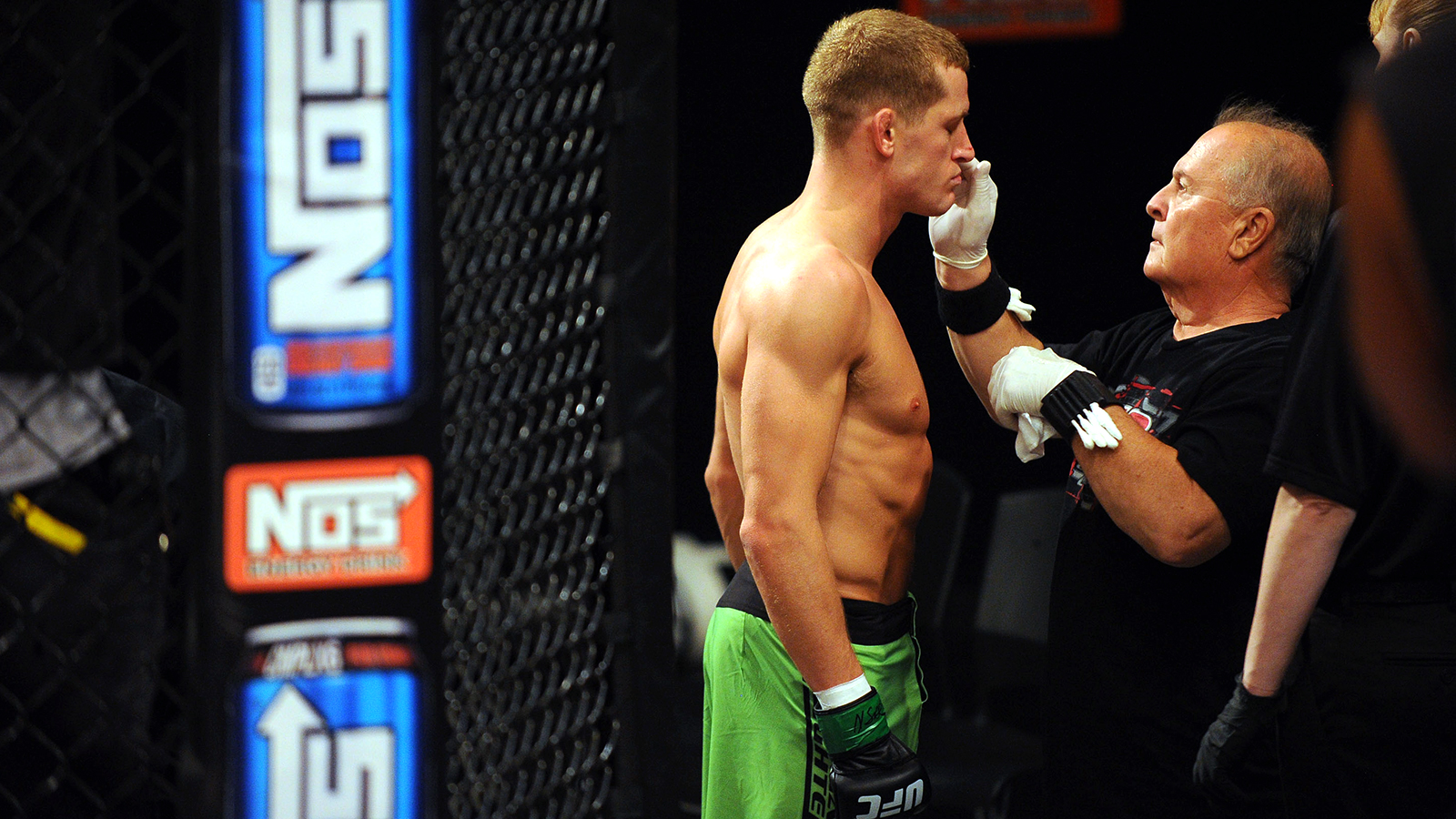 Previously on The Ultimate Fighter…
Team Rousey's Davey Grant punched his ticket to the semifinals with a second round submission win over Team Tate's Louis Fisette.
Anthony Gutierrez was awarded a free pass to the semifinals when Cody Bollinger missed weight, but Anthony's eating habits worried his coach, Ronda Rousey.
In the first women's semifinal of the season, Julianna Pena earned a measure of revenge and a trip to the finals by defeating fellow Team Tate fighter Sarah Moras, forcing the Canadian to tap out to a guillotine choke late in the second round of what was a one-sided battle.
The second men's semifinal is on deck, as Team Rousey fighters Davey and Anthony face-off for the opportunity to face Team Tate's Chris Holdsworth in the finals on November 30 in Las Vegas.
Here's what to expect from the next episode of The Ultimate Fighter: Team Rousey vs. Team Tate.
Teammates Collide Again
Last week it was Miesha Tate's turn to try and figure out the best way to handle having two members of her team facing off against one another, and this week, Ronda Rousey has to do the same, as Anthony and Davey prepare to square off in the second men's semifinal.
In the end, Miesha removed herself from the situation and split her coaches into pairs focused on helping one fighter each. Sarah was happy with that resolution, and while Julianna bristled at the idea initially, that had more to do with her desire to have everyone helping her at all times, which admittedly isn't a bad thing.
This time around, however, it's Ronda who has to decide what the best course of action will be.
For whatever criticisms there have been of the UFC women's bantamweight champion and her attitude this season, one thing has been abundantly clear from the outset: Ronda is emotionally invested in the success of the members of her team and wants them all to do well, so it will be interesting to see how she chooses to handle things now that she's the one with two fighters from her team facing off against each other.
The Coaches Challenge
As entertaining as the fights have been thus far €" and the remaining bouts should be going forward the Coaches Challenge is definitely something people have been waiting for all season.
In previous seasons, we've seen a football skills competition, baseball, and air hockey to name a few€" and most of the time, the two coaches approach the challenge with a sense of humor about the whole thing. Sure they want to win and put some extra money in their pockets and the pockets of the fighters on their team, but it's a playful thing.
Don't expect that this time.
Honestly, it wouldn't be surprising to find out that Ronda was counting down the days to the Coaches Challenge and getting all amped up about taking on Miesha during the filming of the season. She's ultra-competitive naturally, and getting the chance to potentially beat her nemesis in a head-to-head battle, €"regardless of what it is, €"seems like something that would get Ronda fired up.
Faced with a gigantic climbing wall and a stack of cash to be spread around amongst the winning team, it's time for Ronda and Miesha to face off outside of the cage.
What the Hell Happens?
At the end of last week, the "€œOn the next episode of The Ultimate Fighter"€ preview set up this week's episode much the same way this column has through the season, but this one ended with a serious cliffhanger.
"€œThis has never happened€" ever in the history of The Ultimate Fighter," says UFC President Dana White in the clip, but what the hell is he talking about? What happens?
Think about his statement for a minute too there have been a combined 20 seasons of The Ultimate Fighter already, and whatever happens this week has never happened before.
We've seen all kinds of good, bad, funny, sad, gross, awesome stuff take place over the years, and now we're about to have another first. You know you're dying to find out what went down.
Don't worry you're not alone.
Davey Grant (8-1) vs. Anthony Gutierrez (4-0)
This week, it's a pair of Team Rousey fighters set to battle it out for a place in the finals, as the winner of this one will meet Chris Holdsworth later this month at the Mandalay Bay Events Center in Las Vegas.
Because of Cody missing weight, we haven't really seen much of Anthony in the cage this season. He won his qualification bout by decision, but it was one of the contests that was just kind of skimmed over and summarized on the first episode of the year.
He trains alongside UFC fighters James Krause, Zak Cummimgs, and Tim Elliott in Lee's Summit, Missouri, and has earned four first-round stoppage wins under the Titan Fighting Championship banner prior to his arrival in Las Vegas this season.
Davey, meanwhile, has shown his finishing abilities twice so far this season. He earned a much-needed second-round stoppage win over Alliance MMA product Danny Martinez in the qualifying round after losing a point for an illegal blow, and then followed it up with a dominant submission win over Louis in the quarterfinal round.
Like Anthony, all of Davey's eight career wins have come by way of stoppage. He's only seen the second round twice, and despite being more of a striker, seven of his wins have come via submission.
Who will go on to represent Team Rousey in the finals and how will they get there?
Find out on the next explosive episode of The Ultimate Fighter: Team Rousey vs. Team Tate.