"King" Of Everything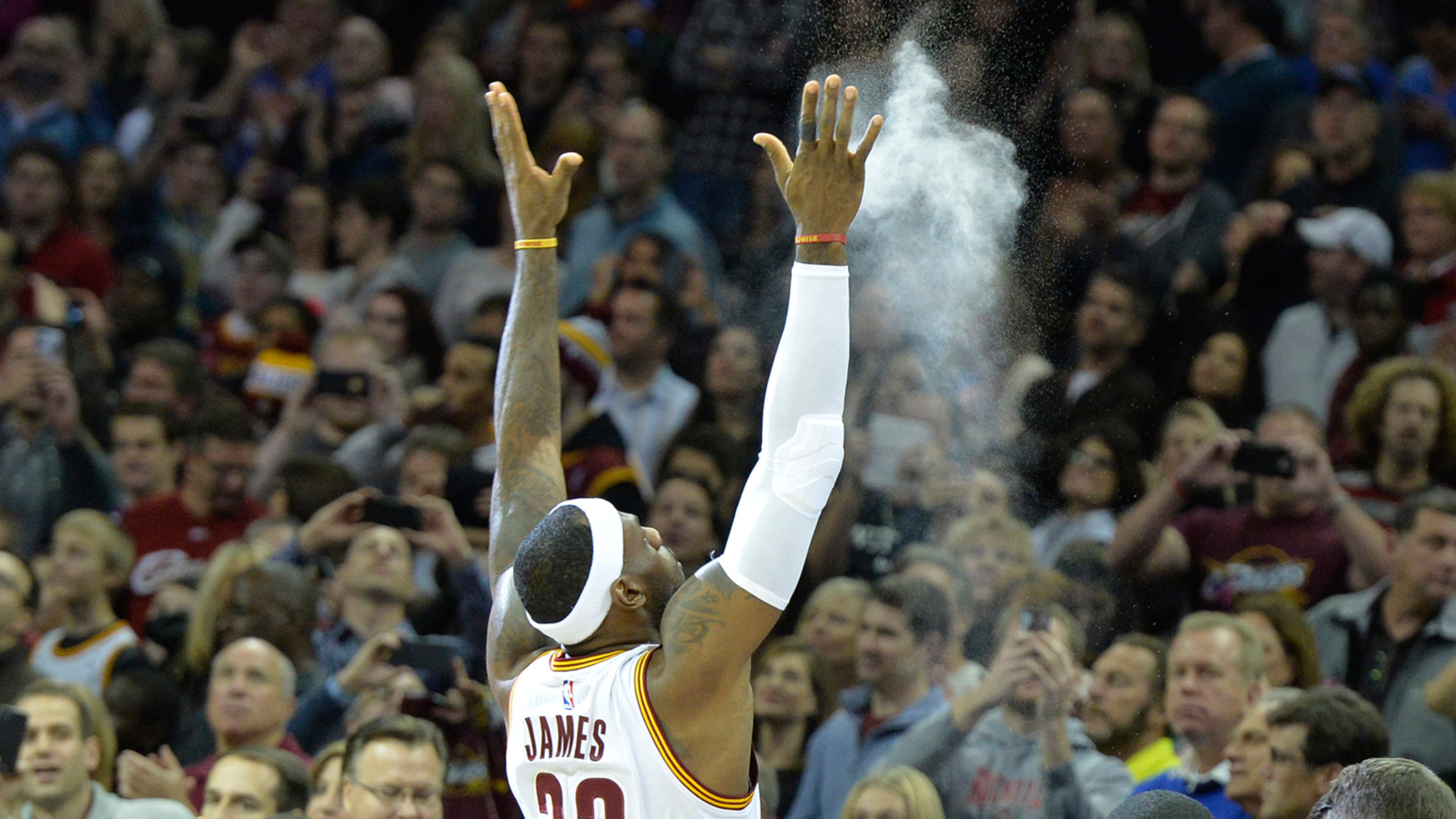 There's something remarkable unfolding in Cleveland.
No, not the slow start. That's happened before. In fact, there's plenty of examples of NBA "superteams" struggling to coalesce. It happened when Pippen came to Houston to join Hakeem and Sir Charles. It happened when Malone and Payton came to Los Angeles to join Kobe and Shaq. Heck, it even happened to LeBron, just a few years ago, when his newly formed Miami Win Machine sputtered to a ho-hum 9-8 start.
It's important to remember that the Cavaliers are less than a month into LeBron's new grand experiment. Years from now, we may look back on these first weeks as mere growing pains on the route to an NBA dynasty. Or, James' second tenure in Cleveland could end up more frustrating than the first. In this era of more analysis, more statistics, more coverage, more everything, sometimes we lose sight of the fact that no, we don't actually know what's going to happen. Believe it or not, we actually do have to wait for the games to be played, even though Nate Silver is working for a sports site.
Yes, the Cavs may succeed, and they may fail. Neither would be unprecedented. But what's truly fascinating about the newest iteration of the wine and gold is where the power lies. If you haven't noticed, as the team scuffles, everyone is looking in the same direction for answers. Not to first year General Manager David Griffin. Not to first time NBA Head Coach David Blatt. And not to owner, real estate mogul, and hideous typeface aficionado Dan Gilbert.
No, this is LeBron James' team now. He is for better and for worse, no longer just a star player. He is a coach, he is a GM, he is, in every sense, the Franchise with a capital F. His nickname, from the moment he stepped into the NBA, has been "King". And now, a decade into his career, he reigns as perhaps the most powerful superstar athlete we've ever seen.
We know, of course, exactly how we got here. With only five men on the court, a basketball superstar is arguably the most important individual athlete in a team game. And just a month before he turns 30, LeBron is at the height of his basketball powers: Old enough to have established what he can do, but young enough to continue doing it for quite a bit longer. That's why the NBA universe briefly stopped orbiting back in July. The rest of the basketball landscape couldn't really take shape, not until the best player in the world had made his choice.
Additionally, there's the matter of LeBron's unique leverage over the Cavaliers in particular. James' occupies a unique place in sports history, because never before has an athlete been able to point so directly at what happened when he was gone. We all remember 2010. We remember the burning jerseys, the outraged fans, and Dan Gilbert's absurd promise:
And then, of course, we remember what happened later, as the Miami Heat contended for rings every season, and Cleveland sank into a sad version of basketball purgatory. It's not just that the lost, it's that they ceased, for years, to even matter. Four years ago, LeBron James sentenced the Cavs to hoops irrelevance, and that moment still hangs over everything that unfolds from here on out.
It's been well chronicled that when he returned to the Cavs, LeBron James chose to take only a two year deal, one that actually includes an opt-out, and could permit him to become a free agent again next summer. Of course, James has said, to anyone who will listen, that he lacks the energy to go through free agency again, that he's not planning on another departure. And it makes sense, if only because at this point, James doesn't need to negotiate, or intimidate the Cavaliers. The leverage is already his.
That's why it's so widely assumed that LeBron helped orchestrate the trade for Kevin Love. That's why LeBron played such a major role in the additions of Mike Miller and Shawn Marion, and that's why, at this moment, every examination of the Cavaliers' issues begins with LeBron James. His body language is dissected. His confidence in David Blatt is analyzed. His relationship with his new teammates is scrutinized at every turn. None of this is improper, or unexpected. That's because everyone, fans, reporters, analysts, and power brokers around the league, surely realize that James is calling the shots. The Cavs badly needs their superstar on board with every move they make. Four years after "The Decision", LeBron is facing some big choices.
This is the new normal for James, and clearly, he realized this was coming. You can hear the responsibility, and the burden, in just about every interview, every comment to the press. "I'm not doing my job," said LeBron earlier this week, before the team got back on track with a 104-76 win over the Magic. "I got to do a better job, and it will help our team." Indeed, there is much truth in LeBron's tough assessment of his own play. Over at SB Nation, Mike Prada has put together a thorough and comprehensive assessment of the fact that, in a number of key areas, James has struggled this season, at least by his own incredibly high standards. So yes, LeBron's job begins with improving his own play, but it certainly doesn't end there.
"Me being the leader of the team, if I start hanging my head low then it's going to start going to everyone else," LeBron added at that same Monday shootaround, "They look up to me. They look to me to make a difference and I've got to stay positive even through the rough times. As I've said before, this is not the darkest point that we'll see this year. I've seen dark and this is very light to me."
Such quotes are standard for the veteran leader of an NBA team, but as the season continues, James will be responsible for more than morale. Ultimately, he will decide whether the current roster is championship worthy, or if changes must be made. He will get a major say in how much rope Head Coach David Blatt gets to fix the "fragile" Cavaliers team. LeBron will be empowered to change the offense, influence rotations, heck, he'll probably be given control of the team's in-flight movies. This isn't based on any inside information. It's simply grounded, instead, in an understanding of how authority works. LeBron holds the cards, and that means LeBron makes the rules.
For anyone who hasn't noticed, it's a fascinating time for power dynamics in the NBA. Just a couple weeks ago, Michele Roberts, the new Executive Director of the NBA Players' Union, fired a shot across the bow of the league's owners, making it clear that she intended to reframe the relationship between players and management.
"There would be no money if not for the players," said Roberts in one of her more blunt appraisals of the situation. "Thirty more owners can come in, and nothing will change. These guys [the players] go? The game will change. So let's stop pretending."
That, ultimately, is what the NBA's next round of labor talks will be about. Not just a revenue split, or a salary cap, or an age limit. It seems clear that Roberts is determined to completely reframe the narrative, to make it clear to the world that the NBA's success, its popularity, and yes, its revenue, are generated by the men on the court, and not the ones in the owners' boxes. And as one might expect, the league's biggest stars will be central in that effort.
Earlier this week, Patrick Redford authored an outstanding piece for Vice Sports on why Kobe Bryant, even as his game declines, remains a perfect figure for the union to rally around. His refusal to apologize for his max contract, his determination to extract the millions he's earned from the billionaires he's enriched, makes him a perfect example of the aggressive attitude that the players must take in the next negotiation.
And if Kobe represents the assertiveness that the players must demonstrate, LeBron embodies the power that they must wield. If Michele Roberts is on her game, (and all indications to this point are that she is a woman not to be trifled with), she is surely taking note of the fact that right now, there is no more important athlete in the country than LeBron Raymone James. He is the man that the world comes to see. He is a star powerful enough to make a franchise bend over backwards for his services. And it's an interesting piece of timing that his influence on the NBA has never been greater, just as the league locked up a new, $24 billion dollar television deal. The world knows how important LeBron was in securing that agreement. So don't be surprised when James, and Roberts, take every opportunity to remind the league's owners from now until 2017.
So sure, LeBron's second era in Cleveland is less than a month old, but there's plenty we've learned already. Namely, that at this point, King James is more than a basketball player. He is a scout, he is a teacher, he is an executive, he is a spokesman. He is the Cavaliers. And maybe more than any superstar since Michael Jordan, he is the NBA. That's what makes it so fascinating to see where he takes the franchise, and the league, from here.
Back in Cleveland, King James still towers over it all. And once again, "we are all witnesses."