UFC: Welterweight is 2017's Most Interesting Division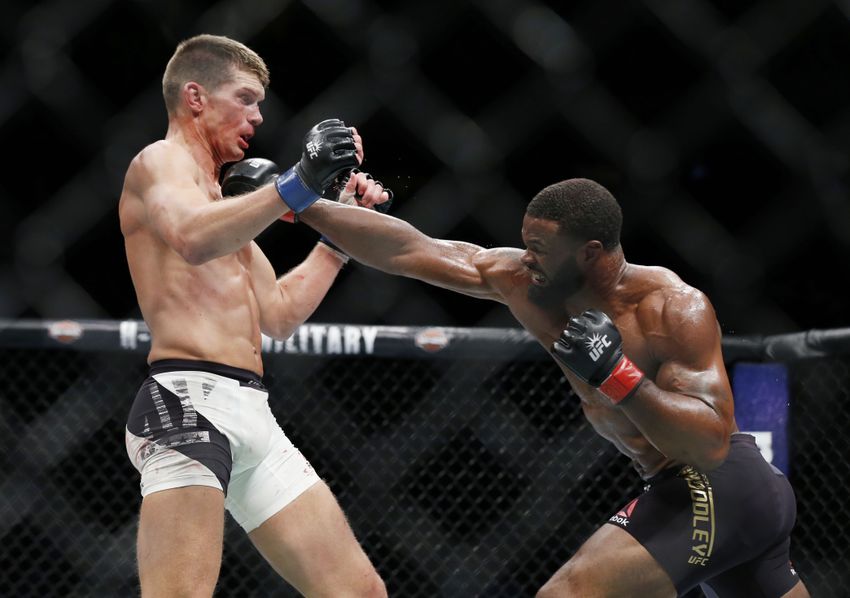 With several top-tier fighters throughout the promotion tied-up in 2017, it's the UFC welterweight division that gives us the most to look forward to next year.
Lengthy layoffs for fighters, especially those at the top of the game for a period of time, are nothing new in the UFC. When the promotion kicks-off 2017 next month, it'll be facing several months without a few of the biggest names in the organization.
When talking about major stars in the UFC in 2017, nobody comes before Conor McGregor. Unfortunately for fight fans, the 155-pound champ will be on the sidelines until the summer at the earliest.
We won't see Jon Jones return to the Octagon after another suspension is through in the summer as well, tying up two of the sport's brightest stars. And the guy it makes the most sense for him to fight, light heavyweight title-holder Daniel Cormier, is even out until sometime in the spring.
Ronda Rousey is back, at least. Albeit, reportedly with just a few fights left. What happens at UFC 207 on December 30 will go a long way in deciding just how interesting the women's bantamweight division is in 2017. As will Max Holloway and Anthony Pettis' fight for the 145-pound interim belt at UFC 206 with the featherweight division.
Right now, there's one division that stands-out above the rest, and will have our attention all year-long: welterweight.
Beginning at the top of the division, defending champion Tyron Woodley has a long-list of fresh contenders throughout the top 10. Both of his title-contests in 2016 were among the top fights/results of 2016, and with the guys currently gunning for the 170-pound belt, we're expecting more fireworks from the champ next year.
Stephen Thompson is likely at the front of the line when it comes to taking on Woodley, not that it means he'll challenge for it next. His majority draw with the champion at UFC 205, a five-round battle that won Fight of the Night honors on the legendary card, showed he deserved the bout. A rematch, sooner rather than later, is something we're expecting to see in 2017.
If you go by results, veteran Demian Maia has more than an argument that he deserves the next title-shot. The Brazilian has won six consecutive fights, with his last loss coming against now-Bellator welterweight Rory MacDonald in February of 2014. Submitting three of his last four opponents, the greatest jiu-jitsu practitioner in MMA today has said he's willing to wait for that title-shot. When it comes though, could be an issue for the 39-year-old.
And then, there's Nick Diaz. Fresh off of finalizing his drawn-out dealings with the Nevada State Athletic Commission (NSAC), Diaz was called out by Woodley on Twitter, mentioning UFC 209 in March as a potential destination. Regardless of when in 2017 the bigger Diaz brother gets back in the Octagon, we will be watching.
Want your voice heard? Join the Cage Pages team!
We haven't even brought up former 170-pound champ Robbie Lawler, who lost his title last summer. Lawler had defended the belt twice before getting knocked-out by Woodley in the first-round in July.
His return will be an interesting one for the UFC, and Lawler, who finds himself in the most top-heavy division in the promotion. It will likely be against a top-5 ranked opponent, and back-to-back losses puts anyone behind a long-line of contenders at 170-pounds.
Oh, don't forget about Donald Cerrone, either. The relatively new welterweight is off to a hot-start in the division, winning three consecutive fights, including two Performance of the Night bonuses. A win over Matt Brown at UFC 206 on December 10 will go a long way to putting Cerrone in the running for a title-shot sometime in 2017. He's a fan-favorite for a reason, and whatever division Cerrone is in, we pay attention.
There are a couple of major wild-cards at welterweight as well. The most obvious being Georges St. Pierre. The Canadian's comeback has been well-documented, and it's more likely than not that 'GSP' makes his return to the UFC in 2017. We don't care who he fights. Of course, some options are better than others. Realistically, we just want GSP back in the Octagon.
Carlos Condit is another fighter we'll be watching next year. Condit has lost five of his last seven bouts dating back to November of 2012, but nobody is doubting the 32-year-old's track record. Yet, after is his disappointing first-round submission loss to Demian Maia in August, even Condit was questioning how much he has left. We hope there's some, because adding Condit to this batch of fighters adds yet another dynamic to the already stacked weight class.
Welterweight also has some fresh-faces ready to make their mark on the division in 2017. Both Bryan Barberena and Colby Covington are 2-0 this year, with the chance to go 3-0 when they match-up on December 17 at UFC Sacramento. The 25-year-old Mike Perry will also be on the card, taking on Alan Jouban at 170-pounds.
There's even more depth in the division, in the form Neil Magny, Gunnar Nelson, Jorge Masvidal, and more. Despite the loss of veteran Rory MacDonald, and potential loss of Lorenz Larkin, the division is as healthy, and interesting as ever.
From top-to-bottom, and the start to the end of the year, the welterweight division offers more for fight fans than any other in the UFC. Whether you want legendary names, crazy championship tilts, new names, or just high quality fights, the 170-pound weight class is the one to watch in 2017.
This article originally appeared on