Urijah Faber: 'I'm the guy' people want to see fight for the title next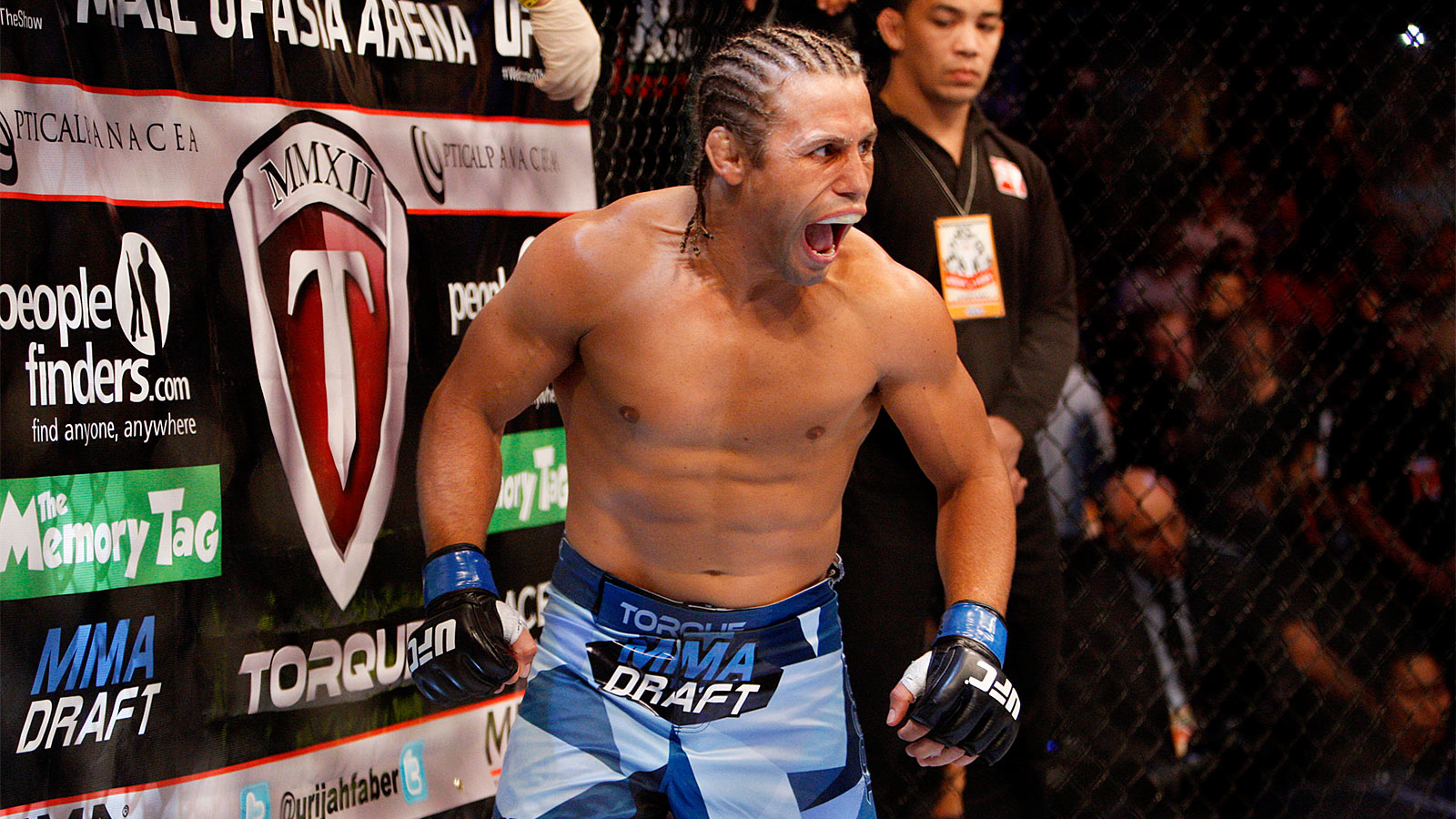 Urijah Faber has been a top contender for almost his entire career but as he approaches his fight with Frankie Saenz this weekend at UFC 194, he's got a renewed vigor to make a hard charge at whoever is left standing from the next bantamweight title fight in January.
The matchup pits Faber's greatest rival Dominick Cruz against his former protege, TJ Dillashaw.
Faber has been trying to punch Cruz ever since their third fight was cancelled in 2012 after the former bantamweight champion suffered a serious knee injury that has forced him to miss the biggest part of the last three years. As for Dillashaw, things are a little more personal there after Faber helped cultivate his MMA career directly after college but just recently watched him jump ship in favor of joining a new team.
In either scenario, Faber has something to prove and he's ready to show why he's still one of the best bantamweights in the world by facing the winner in 2016.
"I'm the guy. I think there's no secret about that," Faber told FOX Sports recently. "I think I'm the guy people want to see in there next. That's what I'm in this for. I took myself kind of off the market for a little bit just because (I was) being a nice guy but that doesn't always work out as the story goes. Here it is, I feel amazing right now and I have a new motivation. I feel like that's probably the next fight for me."
Faber has bounced between bantamweight and featherweight for his last couple of fights and he admits there are a few challenges in each division that interest him. Obviously the winner of Cruz vs. Dillashaw is at the top of the list but there's also a part of Faber that would love to settle the score with Conor McGregor after they coached against each other on the most recent season of "The Ultimate Fighter".
I'm the guy. I think there's no secret about that.
— Urijah Faber
Faber knows no matter which direction he goes next there will be a big fight awaiting him, but he can't look too far into the future because he still has to get through Saenz on Saturday night at UFC 194.
"There's some big fights out there for me. I think there's three that stand out in my mind. You could probably pick those out," Faber teased. "A couple are at 135 and one or two at 145. I have a tough task in front of me. This Frankie Saenz, not many people know who he is, he's a high-level wrestler and he brings a wrestler's pace and a wrestler's mentality.
"He's got a heavy overhand right and he likes to grind. I know I have my hands full here and before I have my view at anything else I want to take care of this guy."
Faber knows deep down that a win should put him right back in line for a title shot for a multitude of reasons, but none may be bigger than the fact that he's still one of the most attractive draws for any fighter from the featherweight division down to the flyweight division in the UFC.
Faber has always been one of the most popular and watched fighters on the roster and he's arguably still a bigger name than the current champion in his division.
So it's no secret that his name will likely pop up as a top contender once again if he wins on Saturday night because Faber will sell whichever fight he gets for the title and both of them come with a built-in story to help promote it as well.
"Look at the top contenders. Look at TJ and Cruz. I'm always the guy," Faber said. "It's just something I'm used to. I've got a more notable name than most of the guys in the division if not all the guys in the division."
Faber will look to make a strong statement with his performance against Saenz and then wait to see the outcome of the fight between Cruz and Dillashaw in January before making his next move. Whether it's against an old rival like Cruz or a former teammate in Dillashaw, Faber is gunning for the gold and both men would be wise to start looking over their shoulders.
"Make no mistake," Faber said, "I'm definitely in the hunt for a title and that's the goal."
Faber headlines the UFC 194 prelims airing live on FS1 starting at 8pm ET on Saturday night from Las Vegas.